Morning Coffee: SKUSA SuperNationals XXIII
Post-race thoughts from the EKN Tower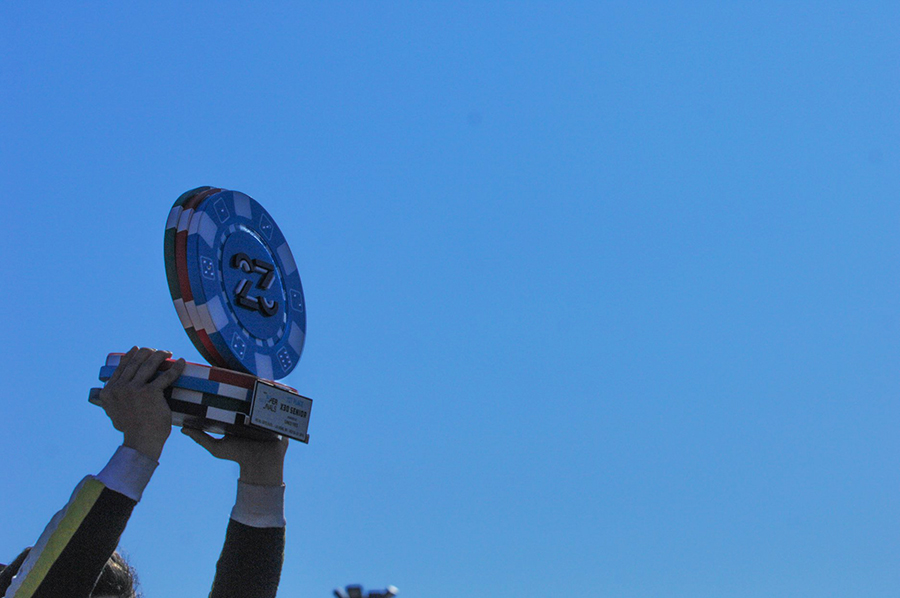 I've either been part of the announcing team or the sole official voice of the SKUSA SuperNationals for all 23 of the editions now. It's an honor that I don't take lightly and I prepare with this thought in mind. The five-day long event is my favorite of the year, tied with the one and only Indianapolis 500. It's surreal to me that I have the unique position to be part of the race call for both of these iconic events. One of the odder similarities between the two races is probably not that surprising, because I expect that we all feel the same way. I literally want to sleep for three straight days right now. The SuperNationals is an incredibly intense experience, and the days are long for me and my team. I'm exhausted, happy that it's over, and already starting the countdown to next year's edition. As part of our wrap-up, which will include our Debrief event review podcast and additional post-race social media coverage, I thought I'd get some of my thoughts down on 'paper' for a new Morning Coffee instalment. Plus, it will allow David and I to take today off. We need a day to decompress and recharge after traveling home on Monday.
Overall, I thought the racing was just tremendous. The nature of the track penalized defensive driving lines, bringing those behind quickly into the fray. The fights for the race wins were intense in many of the categories, and the last lap action was frantic. Zachary Claman Demelo slipping past Jak Crawford and Danny Kierle for the X30 Senior win was epic, and the final lap fight between teammates Kai Sorenson and Enzo Deligny in Mini Swift had everyone on their feet. I thought the performance of Brandon Lemke in KA100 Senior was the stuff of legend, coming back from a disastrous opening lap shunt that dropped him to 16th. Lemke stormed back to take the win on-track, but a pushback bumper penalty dropped him to fifth and advanced Pauly Massimino to the win. Pauly showed class in congratulating Brandon, and it was easy to see that this was not how he wanted to win. Pauly has a new fan in me after his gracious acceptance of the victory.
This year's trophies were easily the most unique in the history of the event. Eyenovation's Chris Ortenburger came up with the wild idea of stacked poker chips and then pitched it at Steve Barros from J&M Trophy to see if he could make it a reality. Barros was all-in and the results of his work was simply stunning. The winner's trophy was truly a work of art and the design for the remainder of the top-five trophies were unique as well, with raised graphics and a suspended custom SKUSA poker chip. I was especially happy to see the winner's trophy being unique from the others, instead of simply being the largest of the matched set. It's little things like this that help raise the bar of any event and both Chris and Steve deserve kudos.
It was a pleasure to work with the crew at Greenlight TV once again. Host Kevin Harris is an absolute pro and loves the event, and it's an honor to stand in front of the camera with him. They knocked the live video coverage out of the park with multiple cameras and expert use of the drone to provide incredibly unique angles of the action. The view numbers of the videos on the Superkarts! USA Facebook page are already staggering and they'll only continue to grow. I want to thank everyone who shared the feed on their own Facebook accounts, and I'd also like to thank everyone for the kind words on the broadcast and our EKN Trackside Live coverage. We appreciate any and all feedback.
Speaking of my race calls on SuperSunday, I'm happy that I feel my voice was the best it's been for the main events in years. I've worked hard to develop my voice because it's what I do. I called 29 races in 2019 and it's part of who I am. I love being a broadcaster. I'm going to attribute the improved tone, strength and longevity this year to taking it a little easier on Thursday, Friday, and Saturday, as well as having a couple of guest announcers joining me on Situation Saturday. Chris Wheeler and Xander Clements spent some time in the tower with me, allowing me to rest up a little. Finally, the 'Medicine Ball' from Starbucks was the game changer. A hot mixture of green tea, honey, ginger, and lemonade helped a ton. Thank you to the lovely Jodi Holden for bringing me my first one early in the day, because the line at Starbucks was simply too long when I was coming out to the track. Midway through SuperSunday, I was starting to feel it again and wondered who I could convince to actually turn away from the incredible racing to hook me up with another one, and low and behold, Tyler Brooks came out of nowhere to save the day. That second cup powered me through to the finish. My voice is shot now after a night of shouting over music at the VooDoo Lounge AfterParty, but today's day off will certainly help.
One of the coolest parts of the weekend for me was getting to see the Trackmagic family back at the SuperNationals to support the relaunch of the brand and the KZ program of Mathias Ramirez. Inaugural SKUSA ProMoto Tour S1 champion Jason LaPoint heads up the program along with Ryan Pfau, working with the last ever Trackmagic factory driver Gary Carlton. Seeing Kyle Martin, Oliver Rowen, Landon Yee, and other former drivers, staff, and racer families was so heartwarming. Trackmagic was front and center during the formative years of my career, when I launched my first magazine – Shifter Kart Illustrated – and these people were good friends. It was a treat to see them every weekend back in the late 1990s and early 2000s, and it was equally as special in 2019. Ramirez was close to giving his new Trackmagic family a podium finish, but a blown engine ended his run two laps early. Nonetheless, he did them all proud (including the late Fausto Vitello), in representing the black and yellow.
I've said this time and time again, but we couldn't do what we do for the sport without the industry members who support us through advertising and marketing programs. All four of our primary broadcast partners returned in 2019 and I hope that means that we're doing something right. If you want to improve your racecraft and your results in 2020, get instruction from the legend Alan Rudolph at his Alan Rudolph Racing Academy. It's a no brainer to invest in yourself or your driver. When you're ready to make a purchase of any type of karting product or safety gear, please order from Curtis and Brooke at Acceleration Kart Racing. Our sport and community is lucky to have them. If you're a kart shop owner, please contact Mike Courtney and add one or more of his product lines to your store shelf. Lastly, Matt Hamilton again showed the speed of the Aluminos chassis, adding another SuperNationals win to the brand's resume. Maybe one more sponsor plug…if you're buying new tires for your car, choose Cooper tires. They're the only mainstream company that continues to support karting and EKN.
We've been waiting years to add to the four-time winner level, and that wait is over. Aussie Kip Foster bagged his fourth win in the X30 Master category, joining Connor De Phillippi with a quartet of victories. SuperSunday was capped with an emotional win for Billy Musgrave, his third straight victory, which gives him four wins as well. The threepeat ties him with Canadian Michael Valiante, who won the Formula C category in 1997, 1998, and 1999, exactly 20 years ago. Billy's pure emotion and elation speaks volumes about the SuperNationals and what they mean to so many racers.
Only two 2019 SKUSA Pro Tour champions backed up their titles with SuperNationals victories. Race Liberante completed his domination of the Pro 2 Shifter class, driving his CompKart to P1. Mini Swift champ Kai Sorenson also put an exclamation point on his season and his time in the category in a photo finish triumph.
I want to wrap this Morning Coffee edition by paying tribute to my team at eKartingNews. My man David Cole killed it all week and heading into the race, as well. The class-by-class previews take a great deal of time to assemble, and I'm simply fortunate to have David's work ethic and dedication on my side. David's been with me for 15 years now, and we definitely act like an old married couple on occasion, but we wouldn't be able to provide the unparalleled spectrum of coverage that we do without him. David's developed into a talented photographer and he's shown increasing skill and comfort in our podcasts and our EKN Debrief Live shows on Facebook. Big thanks to David for his unwavering support of every hair-brained idea I pile on to keep EKN on the forefront of content delivery.
She'll hate being in the spotlight, but my partner-in-crime Alycia Hodapp managed our social media at the SuperNationals, and Instagram in particular, and her graphics and presentation were so spot on. Anything you saw or shared on our IG account and IG story came from her. We all know how important social media is these days and Alycia took that to the next level for EKN this past week. Thank to you both of them for playing their roles in our EKN Trackside Live coverage.
And to wrap, I want to thank you, the EKN reader, viewer and follower. EKN Nation is filled with incredible people, all super passionate about our sport. When we're pounding out 12-hour days at the track and in the hotel room on the laptop, it's your comments and words of thanks and support that fuel us to go the distance. This year's SKUSA SuperNationals took the event to the next level once again, and we hope that you enjoyed all the coverage and insight that we provided through all of our platforms.
Book it.