Jak Crawford Leads Most Laps at SuperNationals Main Event then Falls Victim to Aggressive Racing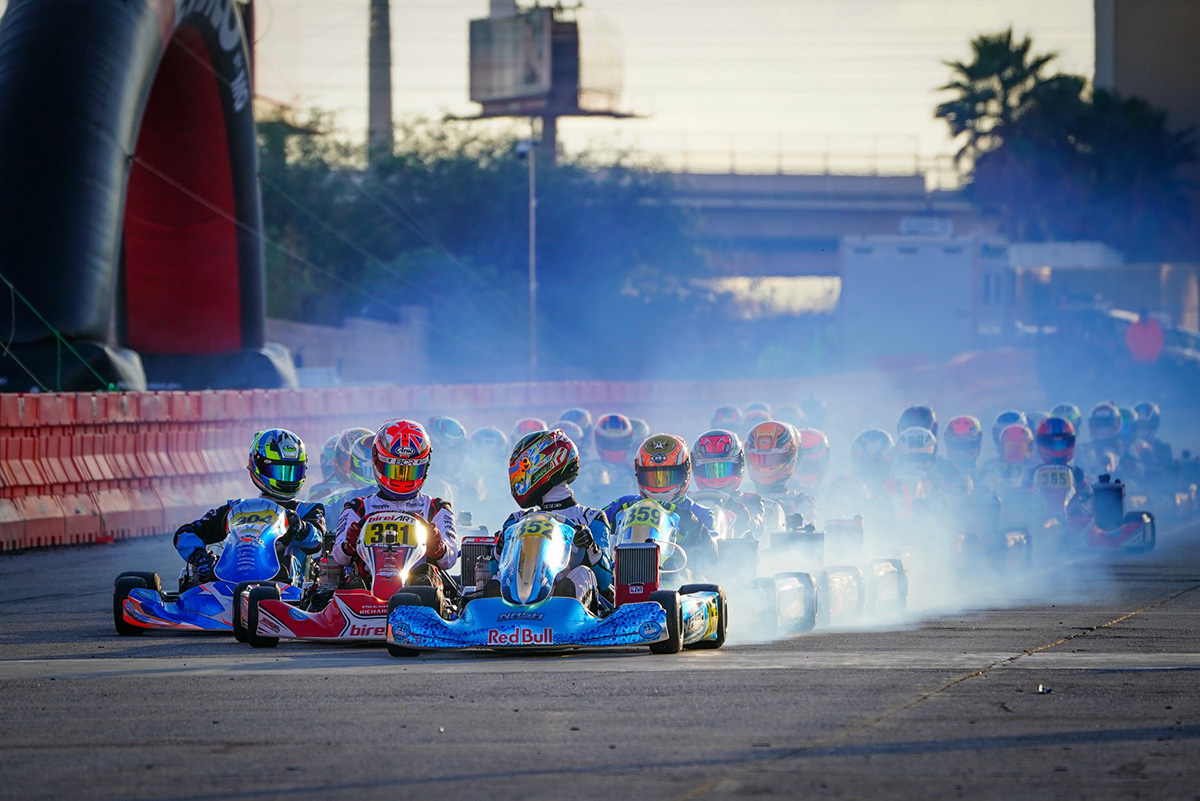 Jak Crawford shines again in Las Vegas as he battles some of the worlds best at the SKUSA SuperNationals
(Photo: On Track Promotions)
Returning to the Superkarts! USA (SKUSA) SuperNationals as a former champion and multi-time podium winner, 14-year-old Jak Crawford entered the X30 Senior class as a rookie. Always a threat on the temporary street circuits, the young Houstonian was in the mix for another SuperNationals title until the final few corners of the 25-lap X30 Senior main event as he went head-to-head with a World Champion. When the dust had finally settled and after contact on the final circuit, Jak Crawford would climb to the third step of the podium, two steps away from what he rightfully deserved.
"This one definitely hurts more than any other," explained Crawford. "I could say this was the closest that I have ever run to a near perfect race. I feel my decisions were correct, my engine temperature and carburetion changes were perfect, the times I chose to be calm or aggressive were good and the defense I had played on the final two laps were difficult, but I was able to hold off competitors until two corners from the end. I didn't give the kart behind me enough room to squeeze through, but he decided to send it in there anyway. You would think a 21-year-old professional kart racer like Danny Kierle could keep from taking me and him out, but he either misjudged or hit me on purpose. Either way he let two other karts through when him and I could have battled alone for the win."
Jak makes no secret that the SuperNationals even in Las Vegas is his favorite karting race. In temporary track racing in Las Vegas, Jak has six podiums in six years and almost a third win on Sunday. He can flat out drive on circuits others find difficult. As seems to be the case, he was fast from the start. After pacing several of the unofficial practice sessions, Crawford just narrowly missed the pole position in qualifying by a scant half a tenth. The field knew that the young, upstart 14-year-old came to take care of his business against several World Champions in the field, as well as many other phenomenal Senior racers from around the world.
"Jak had only raced two other karting events in 2019, but he has made more than a year's progress in that time," says Seth Nash, the team owner at Nash Motosportz where Jak has raced since he was eight years old. "In one year, he has become someone with a ton of talent who could win a lot of races to a true professional driver. He is so confident and wants to be the best. His future is so big."
In the first heat, Crawford barely lost a near tiebreaker at the line and finished second. Looking good in heat two as well, with a 1.5 second lead over his second-place competitor a double yellow was thrown that cost Jak a win. Then on the restart, he was shuffled back to third and the aggressiveness of the senior level competitors became apparent as Jak was sent into the barriers and lost six or seven spots. By the time the heat was over he was only able to garner and 11th place result.
Back to the track on Saturday and needing a strong finish to secure a top-ten starting spot, Crawford delivered again with a three-way tie at the line where he finished third. Biding his time and fine tuning his equipment for Sunday, the multi-time champion was happy with his pace and ready to go for it all on Sunday.
With the main more than double the length of the heat races, Crawford was able to work his way forward from his sixth place starting position quickly. He was in fourth position with just a few laps run. As the race wore on, Jak made good decisions that put him at the front a two-kart battle. He led the most laps of anyone with nine leading laps out of the 25 total laps. With two laps to go, Jak had to go into defensive mode but Crawford remained composed and worked with a competitor to draw back away from the field. A game of chess was being played as the rookie was going toe-to-toe with a World Champion and holding him at bay, even while others were drawing in closer behind them. Then Jak was nudged out of the way with two corners to go.
"I have never seen Jak that gutted after a race. He really deserved that win but at least this senior karting grid from around the world knows he can race with anyone," said Jak's dad, Tim Crawford. "Jak was having a hard time with it after the race, and I overheard someone tell him that he just needed to get over it and move on to the next one because there were going to be far bigger races that get away from him in the future and that they would hurt a lot worse. I thought that was a great compliment from a competitor."
With the SuperNationals now complete, so is Jak Crawford's 2019 racing season. With plans for 2020 to be announced in the near future, stay tuned to Jak Crawford Racing for some exciting developments in his upcoming race program.
Jak Crawford would like to thank Nash Motorsportz, Chris Freckelton and Precision Works Racing Engines, OMP Racing Gear, and Bell Helmets for their help and support this weekend and onwards into the future.For more information on Jak Crawford please follow him on Facebook, Twitter and Instagram by searching Jak Crawford Racing. Jak's marketing website is jetpakjak.com