Karter X: The Unknown Pro – SKUSA SuperNationals 23 – SuperSunday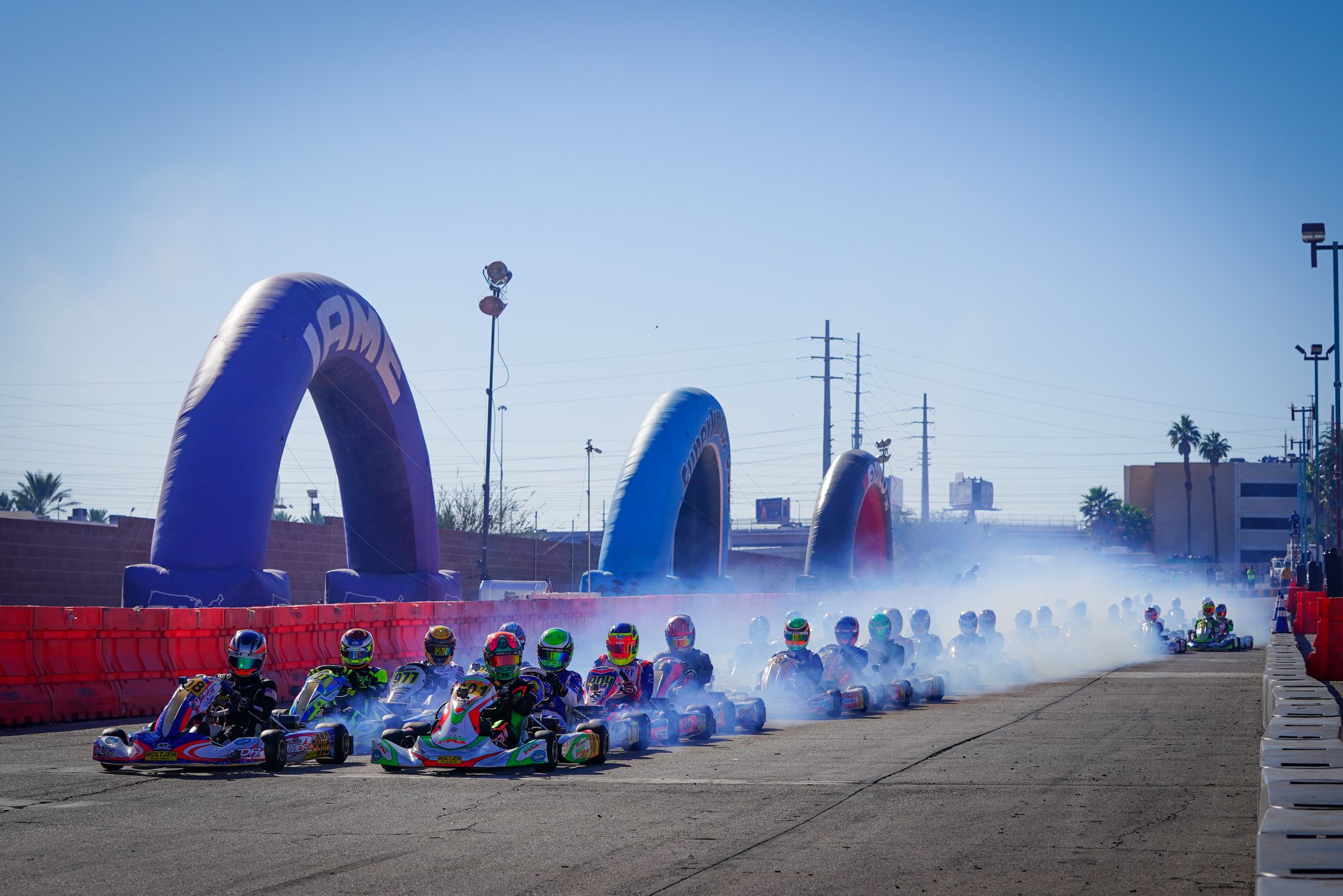 (Photo: On Track Promotions - otp.ca)
This is a new editorial offering – managed by EKN Contributing Writer Blake Hunt – is aimed at providing a unique look at the paddock and competition at major events through the eyes of one of the sport's top pro drivers. The driver always will remain anonymous, so we'll refer to him or her as 'Karter X'. She or he will be competing in the KA100 Senior class this week, so we expect much of the focus to be on that particular class. This is the fifth and final installment for this event, with published daily segments from our new contributor going through to SuperSunday. – Editor
Event: Superkarts! USA SuperNationals 23
Track: Rio All-Suite Hotel & Casino – Las Vegas, Nevada
Focus: SuperSunday
Waking up Sunday morning is a huge mix of emotions. On one hand, the mental and physical toll of being in Sin City for five days is really starting to catch up to you. The night life, the bustle and the lights of the city, the party atmosphere… After a week it gets a bit stale and exhaustive. On the other hand, the week seems to have flown by, and it's a little bittersweet to be on your last day of one of the best racing vacations you can take. Combine that with the impending adrenaline of the coming day and the anticipation of either ultimate glory or utter defeat, and you've got a cocktail of feelings more exotic than anything you could order down at the casino bar.
Our week on-track had not gone to plan at all. We come to this event every year with some of the puzzle pieces needed to win the main event, but never all of the pieces. To win on SuperSunday, you need preparation, speed, endurance, and an insane amount of good luck. Some years I come to this race with plenty of speed, but can't seem to catch a break. Other years, we leave without bending or breaking a single part, but never find the pace. This year, we had some speed, but couldn't produce it when it counted, and if it wasn't for bad luck, we wouldn't have any at all. In terms of results, it was one of the worst SuperNats I've participated in. But SuperSunday is a long day, and no matter how beat down you get, there is always still a chance to shine at the end of the week. I've seen amazing comebacks in this race, so I always know that sort of performance is in the cards.
We had another great warm-up session, had the kart dialed in, and I was still improving my driving. We definitely had the kart to run up front. The one tiny little issue was our starting spot. Obviously, my heat races were dismal, so we were nowhere near the front of the field. It was going to take a miracle combination of racecraft, luck, and capitalizing on others' misfortune to bring us anywhere near the lead group.
When it all kicked off and the dust had settled, we had made up a little ground, but not as much as I had hoped. The race went cleanly, I was proud of my driving, but one of the difficult aspects of SuperNats and the KA100 class in general is just how close the times are. It's one of the reasons I love this class, but in this case it was a frustration. The lap times were all so evenly matched, that getting through the field is a big ask. I couldn't really get any lucky breaks in traffic, so any passes were just single passes on merit. No big wrecks, no slow karts to get through. Just one tough competitor after another. I ended up moving up several spots through the race, but just didn't have the stuff to get further up the field like I wanted to. It was disappointing, but we ended the week better than we started, so we had some positives to draw from it.
And so we close another chapter of SuperNationals adventures. To be honest, by Friday, I was pretty over this year's event. When it's going well, it's an incredible feeling, and the rush of overcoming such a monstrously competitive field is unrivaled. When it's going poorly, you just feel like all your mistakes are on display for the entire karting world. In a way, it's very fitting that the SuperNationals is held in Las Vegas every year. It's an event and a town of enormous jackpots and big busts. This year was a bust for us, but it won't be the last time we go all-in and try to bring home the big money. As I sit on the plane heading for home, I can't help but start planning next year's attack on karting's duel in the desert.
– Karter X