EKN Trackside: Superkarts! USA SuperNationals 23 – Saturday Report
Grids are set for SuperSunday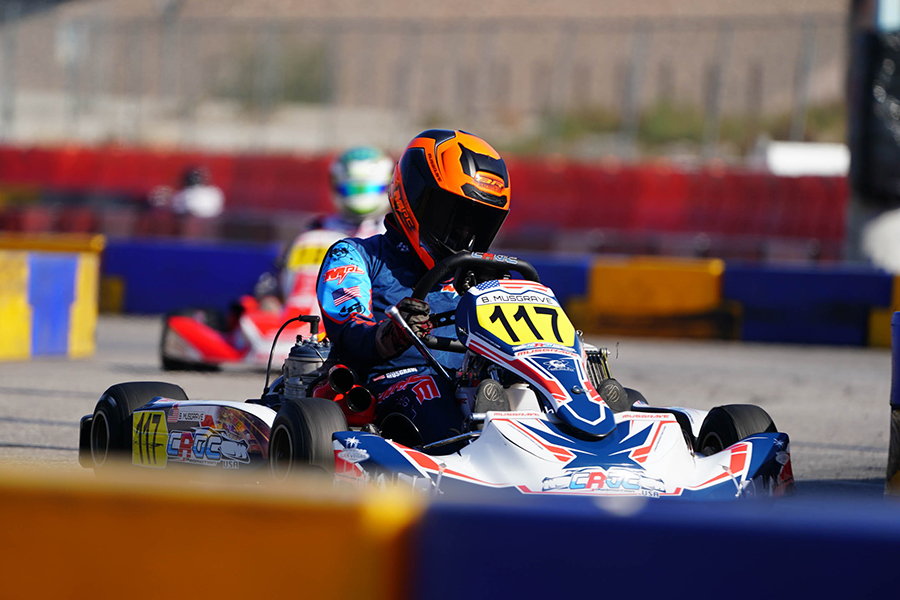 (Photo: On Track Promotions - otp.ca)
The grids are set for the Superkarts! USA SuperNationals 23 as the final round of heat races and last chance qualifiers were completed on Saturday outside the Rio All-Suite Hotel & Casino in Las Vegas. The action heated up as drivers were fighting for either a better spot on the grid or earning their way into the main event on SuperSunday.
Penalties decided the opening heat race on the day with X30 Junior AvsB. Last year's KA100 Junior winner James Wharton (Parolin) took the checkered flag but was handed a three-second penalty for jumping the start. That gave the win to Cristian Domenico Bertuca (PSL / Birel ART), moving Wharton to second and Jeremy Fletcher (Zanella / Tony Kart) up to third from 11th. The CvsD heat race went down to the wire with a near three-wide finish. Luke Lange (SCR / Tony Kart) came away with the win, edging out John Burke (Supertune / Tony Kart). Connor Zilisch (LAK / Tony Kart) was right there, as was Chloe Chambers (MDR / Kosmic). Zilisch will start from the pole position with Lange on the outside. Chambers is third, vying to be the first female driver to win at the SuperNationals.
Three-time SuperNationals winner Billy Musgrave (MRC / Croc Promotion) is vying to be the second driver to win four SuperNats, joining Connor DePhillippi. Musgrave has dominated the Pro Shifter and continued in the third heat with another wire-to-wire win. Jake French (PSL / Birel ART) kept close in second with last year's runner-up AJ Myers (CRG Nordam) in third. Musgrave and French make up the front row with Cody Hodgson (Aluminos) and Kyle Wick (RPG / Tony Kart) starting from row two. Pro Shifter 2 was mixed in with the Pro Shifter class all week, and for the main event will have a staggered start. SKUSA Pro Tour champion Race Liberante (J3 / CompKart) and Calvin Ming (MRC / Croc Promotion) are going from the front row.
Austin Olds (Synergy / Top Kart) spoiled the streak of Spencer Conrad (Nitro Kart) in Micro Swift. Olds edged Conrad out for the Heat #3 win by 19 thousandths at the line. Enzo Nienkotter (CRG Nordam) was third, and starts on the front row outside of Conrad. Olds goes third with William Calleja (KSNA / Kart Republic), who had fast lap of the race, going from fourth.
The Mini Swift class was shook up from the beginning as Kai Sorensen (Supertune / Tony Kart) was unable to get off the grid on time. The race was red flagged twice at the starts, and while he rejoined the race during one of the restarts to climb his way up to sixth from the back, officials removed him from the results. Sorensen was not able to join before the commitment cones, and thus should not have been allowed on the circuit. A number of contenders suffered bad luck and contact, and Cameron Weinberg (Benik) took the win and will be on the pole position for the main event. Kristian Janev (Benik) goes from second. Austin Jurs (Franklin / Merlin) stayed out of trouble to earn a third place start and Enzo Deligny (Supertune / Tony Kart) in fourth.
Brandon Lemke (Franklin / Merlin) has dominated the KA100 Senior class over the heat races. Starting seventh for Heat #3, he drove away to another win ahead of Oliver Calvo (LEM / Praga), Pauly Massimino (MDR / Kosmic) and Jake Drew (J3 / CompKart). Massimino starts on the outside with Calvo and Drew in row two.
Ryan Norberg (RPG / Kosmic) won a third heat race in X30 Senior as he came out ahead of Zachary Claman-Demelo (REM / Kosmic) and Jak Crawford (Nash / FA Kart) in a photo finish for AvsB. Aussie David Sera (KSNA / Kart Republic) was able to avoid any penalties and drove to a victory in CvsD in front of Brandon Jarsocrak (MDR / Kosmic) and 2017 World Karting Champion Danny Keirle (Fullerton). Norberg and ZCD start the main event from the front row. Keirle and defending winner Ben Cooper (PSL / Birel ART) fill out row two.
Kip Foster (KSNA / KF Kart) kept his perfect score going in X30 Master en route to what he hopes to be a fourth victory in the category on SuperSunday. AvsB was a 1.3-second advantage over two-time heat winner Renato Jader David (Orsolon / Tony Kart) in a battle of the top two qualifiers. SKUSA Pro Tour champion Matt Johnson (Nash / FA Kart) came away with the win in CvsD to help put him on the inside of Row Two for the main event with Bruno Martins (Piquet / CRG) on the outside.
Finishing runner-up last year, Marijn Kremers (PSL / Birel ART) is vying to be the driver on the top step of the podium in KZ. Kremers ran away to a 1.5-second advantage in the final heat race to keep a perfect score and start the SuperSunday main event from the pole position. Noah Milell (RPG / Tony Kart) drove to second to retain the outside row one starting spot. Mathias Ramirez (Trackmagic) added another third-place finish to start third in the main event with KZ2 World Cup winner Emilien Denner (DKC / Sodikart) starting from fourth.
The KA100 Junior class welcomed a third different heat winner on Saturday. Last year's winner James Wharton (KSNA / Parolin) was able to edge out the competition in a wild heat race. Heat #1 winner John Burke came just 71 thousandths short for the win with Brent Crews (KSNA / FA Kart) climbing up 11 spots to third. Top qualifier Connor Zilisch (LAK / Tony Kart) was fourth with Max Opalski (RPM / Tony Kart) fifth, all finishing within four tenths of each other. Burke and Zilisch earned a front row starting spot with Wharton and Opalski from row two on SuperSunday.
The #1 plate has been successful thus far at the SuperNationals, including in the G1 division. Four-time SKUSA Pro Tour champion Jordon Musser (PSL / Birel ART) kept his perfect score through Heat #3 with another victory. Musser was challenged once again by John Grother (DKC / Sodikart) early, but fell to third behind 2017 winner Ryan Kinnear (PGR / Ricciardo). Musser and Grother remain 1-2 on the grid for the main event with three-time winner Bonnier Moulton (MSquared / Tony Kart) and 2013 S4 winner Matt Hamilton (Aluminos) on the second row. Hamilton completed his final heat from the tail of the grid after issues in qualifying, driving up to fifth in Heat #3.
The grids are now set, and the fields are preparing for the SuperSunday activities at the SKUSA SuperNationals 23. A total of 12 drivers will earn victory and etch their names in the history books outside the Rio on the greatest day for karting.