EKN Trackside: Superkarts! USA SuperNationals 23 – Friday Report
Opening rounds of heat races in Vegas completed, early contenders recognized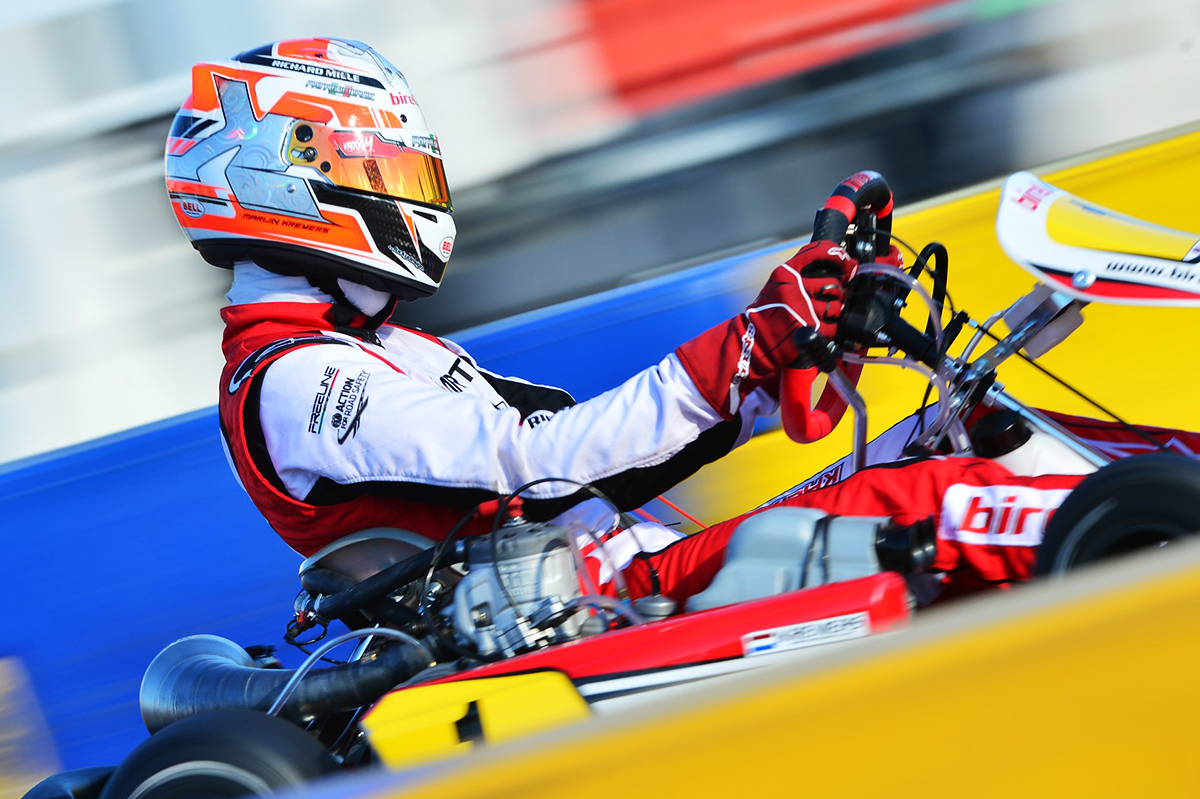 (Photo: On Track Promotion - otp.ca)
The competitors at the Superkarts! USA SuperNationals 23 were able to finally put the wheels together for the first two rounds of heat races outside the Rio All-Suite Hotel & Casino in Las Vegas. The weather was the best it has been since karts hit the track on Wednesday, with clear skies, bright sunshine and no rain. Temperatures warmed up as the day went on until the sun ducked behind the towers and the lights on the Strip lit up the race track. Things went a little behind for track repair before the warm-ups began in the morning with the day ending about 40 minutes off schedule. We finally got to see who had the pace to run at front when the green flag waved on the heat races, and saw who was able to recover from qualifying woes.
Three drivers came away with wins in the X30 Junior class, first on the race track in the morning hours. SKUSA Pro Tour champion Freddie Slater (Supertune / Tony Kart) picked up the win in both of his sessions, just ahead of top qualifier Andrea Kimi Antonelli (KSNA / Kart Republic). Three USA drivers led the BvsC race as 2017 Mini Swift winner Connor Zilisch (LAK / Tony Kart) led Luca Mars (SCR / Tony Kart) and Luke Lange (SCR / Tony Kart). Chloe Chambers (MDR / Kosmic) became the first female driver to win a heat race, probably since 2012 with Sabre Cook in S2, leading inaugural Micro Swift winner Vinicius Tessaro (NF / Kosmic).
Billy Musgrave (MRC / Croc Promotion) has stamped his authority in the Pro Shifter division and the drive for a third straight, fourth overall SuperNationals victory. Musgrave led wire-to-wire in both to remain perfect after earning the fast time in qualifying. Jake French (PSL / Birel ART) drove to second in both after AJ Myers (CRG Nordam) finished second in Heat #2 but was removed for a rear width violation. That will hurt his grid position for SuperSunday.
In the sold out Micro Swift category, Spencer Conrad has Nitro Kart en route to defend the class victory. Conrad won both of the heat races, but not without some drama in the second moto. Conrad made contact with the inside barriers at the apex of turn, bunching up the drivers behind him but remained the leader. Jenson Burns (KSNA / Kart Republic) and Brazilian Enzo Beltrao Nienkotter (CRG Nordam) were runner-up in behind Conrad.
Kai Sorensen (Supertune / Tony Kart) came up short last year for victory in Mini Swift category, placing fifth. Friday, he's on the path for the pole position on SuperSunday with two heat wins. Both were wire-to-wire ahead of teammate Enzo Deligny in Heat #1 and 2017 Micro Swift winner Vinnie Phillips (Fusion / Kart Republic). Behind Sorensen the results are mixed with drivers having one good heat race and one bad, so Saturday will be very important for those who want to battle the 2019 SKUSA Pro Tour champion.
EKN's Rob Howden and David Cole picked Franklin Motorsports / Merlin driver Brandon Lemke to win on SuperSunday in his KA100 Senior debut. While he qualified seventh, it was his race pace that shined on Friday. Lemke drove his way to the win in each heat race. Heat #1 was pulling away from Pauly Massimino (MDR / Kosmic) while Heat #2 was a last lap, last corner pass on top qualifier Jake Drew (FW / CompKart). Aussie Scott Foster (KSNA / KF Kart), Oliver Calvo (LEM / Praga) and Sonny Cervelli (GFC) are among the contenders in what has been a very exciting class to watch.
X30 Senior opens up the afternoon groups and to no ones surprise, four-time SKUSA Pro Tour champion Ryan Norberg (RPG / Kosmic) is among those to beat. Setting fast time in the shootout and the $1,000 payday, Norberg won both of his heat races to set a zero score going into Situation Saturday. He won against the best with 2017 World Karting Champion Danny Keirle (Fullerton) and defending winner Ben Cooper (PSL / Birel ART) placing runner-up to him. Oliver Hodgson (J3 / CompKart) bested 14-year-old Jak Crawford (Nash / FA Kart) in BvsC while Aussie David Sera (KSNA / Kart Republic) won BvsD. A pushback bumper penalty after getting locked up with Keirle early in the race, dropping him to eighth in the order and gave Emiliano Richard (RPL / Ricciardo) the win up 11 spots in the 12 laps.
Two drivers stood out in the four heat races for X30 Master. Defending champ and three-time winner Kip Foster (KSNA / KF Kart) dominated the A heat races from the pole position, winning both comfortably. The other was 2016 victor Renato Jader David (Orsolon / Tony Kart) as he won the B heat races. The two will face off in Saturday's heat race, to basically decide the pole position for SuperSunday. SKUSA Pro Tour champion Matt Johnson (Nash / FA Kart) is right there, placing runner-up to both and has a chance to steal the pole position for the main event.
A perfect score thus far in the KZ division for 2019 World KZ Karting Champion Marijn Kremers (PSL / Birel ART). Securing pole position, the Flying Dutchman went wire-to-wire in both heat races. Noah Milell (RPG / Tony Kart) and Maximilian Paul (DRT / DR Kart) were runner-up. Paul had a DNF in Heat #1 and thus hurting his grid position thus far. Mathias Ramirez is carrying the Trackmagic brand well in its return to the SuperNationals, placing fifth and third with KZ2 World Cup winner Emilien Denner (DKC / Sodikart) and two-time SuperNats winner Danny Formal (LEM / Formula K) in the mix.
John Burke (Supertune / Tony Kart) and Connor Zilisch (LAK / Tony Kart) each took a win in the KA100 Junior category. Burke won Heat #1 ahead of Max Opalski (RPM / Tony Kart) and Zilisch, who won Heat #2 in front of Burke and Bryson Morris (RPG / Kosmic). The second heat race went down to the wire with the top-six finishing within seven tenths. Another driver may stand out in their final heat on Saturday.
Jordon Musser (PSL / Birel ART) has many titles to his credit, including four SKUSA Pro Tour championships. The one thing not on the shelf, a SuperNationals victory. To this point, Musser is perfect with the fast time in qualifying and winning both heat races. John Grother (DKC / Sodikart) has grabbed the holeshot both times but beaten by Musser. 2017 winner Ryan Kinnear (PGR / Ricciardo) was runner-up in Heat #1 but a spin in Heat #2 hurt his point total . Grother was runner-up in Heat #2 with defending winner Rob Logan (Nash / CRG) seventh and third. The story has been Matt Hamilton (Aluminos), who starts each heat race in 21st after a mechanical issue in qualifying put him off track with no laps. The 2013 S4 winner drove up to fifth in Heat #1 and one spot better in Heat #2, needing a third strong finish to put himself in the hunt on SuperSunday.
Situation Saturday is next as the competitors will complete the heat races with Round 3 for all 10 race groups and 12 classes. The X30 Junior, X30 Senior and X30 Master classes will set the provisional field with the final few spots to be determined with the Last Chance Qualifiers. The first 34 drivers in points move directly to the main event while the top six from the LCQ move on to SuperSunday.