EKN Trackside: Superkarts! USA SuperNationals 23 – Predictions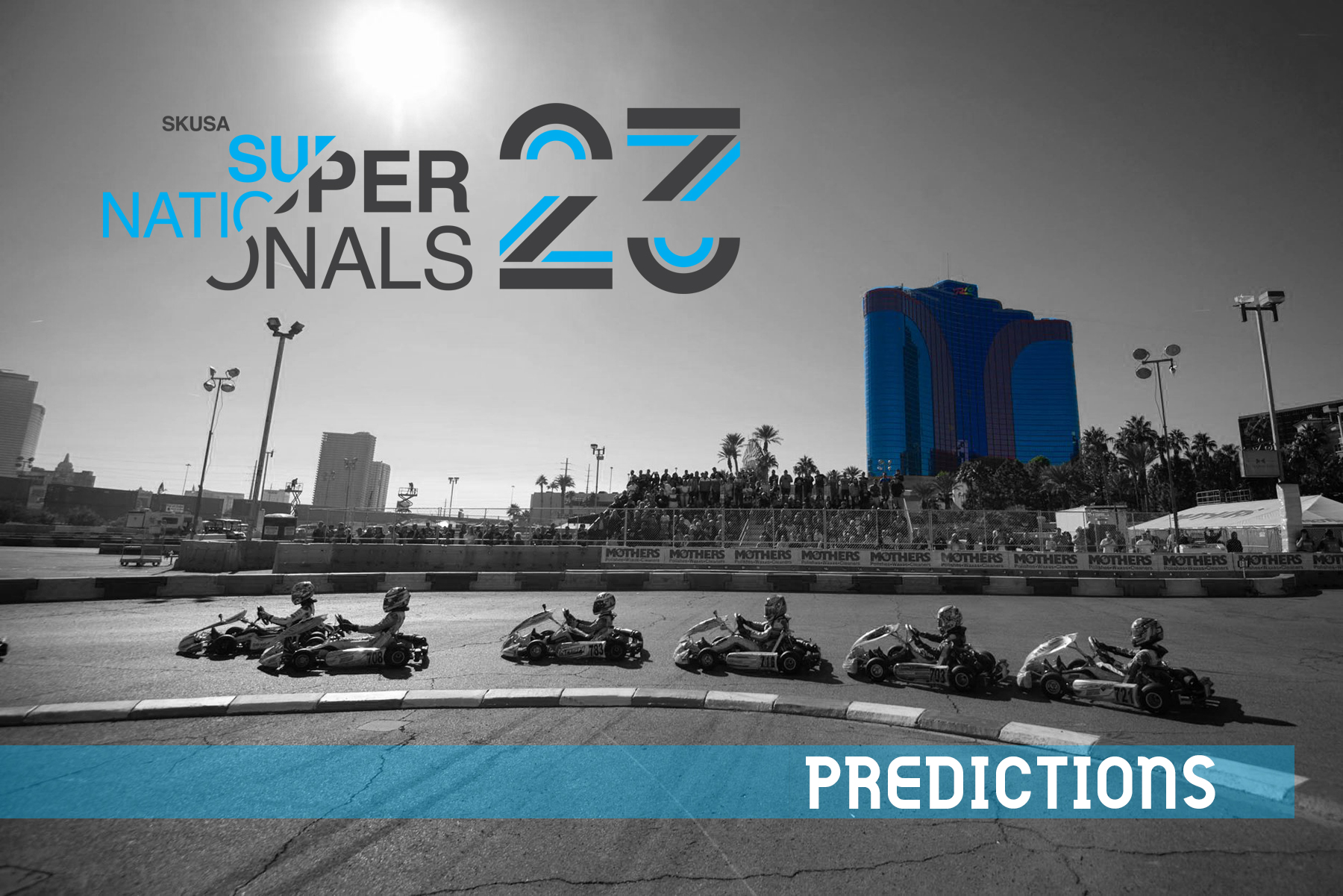 Las Vegas – the city of lights, excitement and of course, placing some friendly wagers. The Superkarts! USA SuperNationals 23 is taking place this weekend outside the Rio All-Suite Hotel & Casino, overlooking the famous Las Vegas Strip. Nearly 500 competitors from around the world will be competing in 12 categories, fighting to put their name into the record books as winner come SuperSunday.
The staff at EKN – Rob Howden and David Cole – recorded two podcast episodes, debuting the new EKN OutLap. In each, the duo broke down the 12 classes, and provided their predictions for the top-five in each. Below is a link to each podcast where you can listen to them break down the fields and their selections. And for those who want to keep track, here are the selections in stone.
Micro Swift
David Cole
Spencer Conrad
Aryton Grim
Logan Chambers
Jack Iliffe
Enzo Beltrao Nienkotter
Rob Howden
Aryton Grim
Jack Iliffe
Alfie Slater
Spencer Conrad
Enzo Beltrao Nienkotter
Logan Chambers
Mini Swift
David Cole
Christian Miles
Kai Sorensen
Caleb Gafrarar
Brandon Carr
Cameron Brinkman
Rob Howden
Kai Sorensen
Christian Miles
Brandon Carr
Caleb Gafrarar
Enzo Deligny
KA100 Junior
David Cole
Brent Crews
James Wharton
Cole Morgan
Connor Zilisch
Max Opalski
Rob Howden
Brent Crews
James Wharton
Connor Zilisch
Kyffin Simpson
Andrea Kimi Antonelli
X30 Junior
David Cole
Robert de Haan
Luca Mars
Connor Zilisch
Jason Lueng
John Burke
Rob Howden
John Burke
Luca Mars
Connor Zilisch
Robert de Haan
Jason Lueng
KA100 Senior
David Cole
Brandon Lemke
Josh Hotz
Scott Foster
Jake Drew
Austin Osborne
Rob Howden
Brandon Lemke
Josh Hotz
Blake Hunt
Jake Drew
Austin Osborne
G1
David Cole
Matt Hamilton
Jordon Musser
Ryan Kinnear
Joe Ruch
Rob Logan
Rob Howden
Matt Hamilton
Ryan Kinnear
Rob Logan
Jordon Musser
Bonnier Moulton
G2
David Cole
Nathan Stewart
Brett Harrelson
Patrick O'Neill
Ken Schilling
Carl Lewis
Rob Howden
Nathan Stewart
Patrick O'Neill
Brett Harrelson
Ken Schilling
Carl Lewis
X30 Master
David Cole
Kip Foster
Matt Johnson
Renato Jader David
Martin Pierce
Billy Cleavelin
Rob Howden
Kip Foster
Matt Johnson
Renato Jader David
Leonardo Nienkotter
Scott Kopp
KZ
David Cole
Marjin Kremers
Emilien Denner
Mathias Ramirez
Danny Formal
Noah Milell
Rob Howden
Marjin Kremers
Danny Formal
Emilien Denner
Mathias Ramirez
Noah Milell
Pro Shifter
David Cole
Billy Musgrave
Austin Garrison
Mathias Ramirez
Jake French
AJ Myers
Rob Howden
Jake French
Billy Musgrave
AJ Myers
Kyle Wick
Austin Garrison
Pro Shifter 2
David Cole
Race Liberante
Connor Robles
Graig Alvarez Jr.
Micah Hendricks
Gavin Bayliff
Rob Howden
Race Liberante
Connor Robles
Calvin Ming
Blair Hosie
Mark Snyder
X30 Senior
David Cole
Taylor Barnard
Jake Craig
Ryan Norberg
Danny Keirle
Ben Cooper
Rob Howden
Christian Brooks
Ryan Norberg
Jake Craig
Taylor Barnard
Ben Cooper