Alan Rudolph Racing Academy Confirmed As EKN Live Presenting Sponsor for SKUSA SuperNats
Sport's foremost coaching and instructional school partners with leading website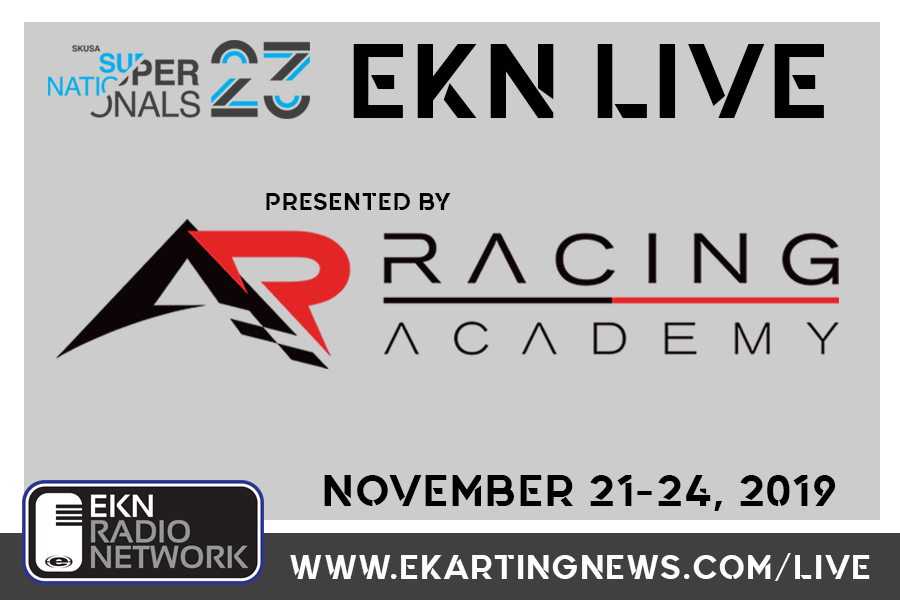 The eKartingNews.com staff is pleased to announce that the Alan Rudolph Racing Academy is once again partnering with the sport's leading website to present its unparalleled EKN Trackside Live coverage for next week's Superkarts! USA SuperNationals at the Rio All-Suite Hotel and Casino in Las Vegas, NV (November 20-24). For the second straight year, the Alan Rudolph Racing Academy will be front and center in the title branding of our coverage, including our live streaming audio play-by-play from qualifying through to the SuperSunday main events.
"I consider it a privilege to have the Alan Rudolph Racing Academy name attached to anything we do at EKN," offered Rob Howden, EKN Editor-in-Chief and Publisher. "Alan's been at the forefront of the sport for over 25 years and his contributions to karting through his work as a coach and a teacher cannot be unvalued. The opportunity he received to launch his own school at Speedsportz Racing Park in Houston will pay dividends back to the sport for years to come."
The Alan Rudolph Racing Academy offers a full spectrum of basic driving courses through to one-on-one competition training, bringing new racers from their rental kart program while also taking current racers to the next level. There is no another karting school like it in North America.
"The SKUSA SuperNationals is the largest karting event in the world and I am excited to be sponsoring the EKN Live coverage this year," Rudolph said. "Rob Howden has been the voice of our sport and the promoter of us drivers for many years. Without Rob, David and EKN, karting in America would not be the same. I'm proud to put our Alan Rudolph Karting Academy brand on their work."
Our EKN Trackside Live coverage will begin on Tuesday, November 19 with insight, photos and news from the SuperNationals paddock. We'll provide the first look at the track layout and will be posting loads of content on social media all week long. Look for daily reports from the track action and nightly Facebook Live 'EKN Debrief' shows with Rob Howden and David Cole from the warmth of the Rio Hotel. Our EKN Live audio broadcast will begin with qualifying at 10:00 am PDT on Thursday morning. Bookmark www.ekartingnews.com/live to tune into all the action.
Check out the Alan Rudolph Racing School online and following them on social media:
Website: https://speedsportzracingpark.com/racing-academy
Facebook: @alanrudolphracingacademy
Instagram: @alanrudolphracingacademy