OnTrack: Comet Eagle – Rob Howden
EKN staff ride American-made steel to solid Battle at the Brickyard finishes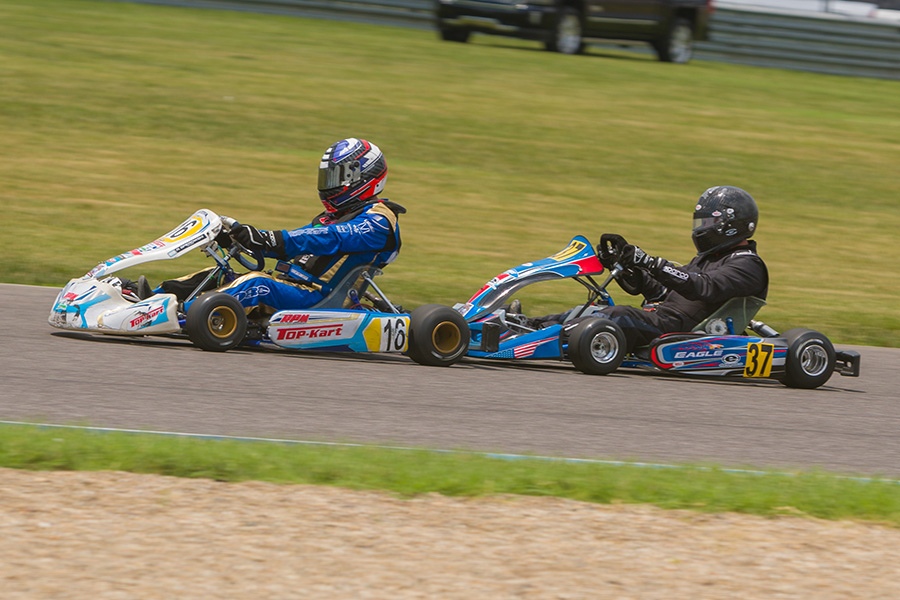 EKN Editor-in-Chief and Publisher Rob Howden competed at the USAC Karting Battle at the Brickyard aboard a Comet Eagle with the Comet Kart Sales team
(Photo: Stephen Flatt)
In early July, the EKN crew of Rob Howden and David Cole were offered the opportunity to join the Comet Kart Sales team to compete in the USAC Karting Battle at the Brickyard. In this two-part series, Rob and David will detail their experiences with the American-made Comet Eagle chassis at one of the coolest races in US karting. In this second and final segment, Rob offers his thoughts on driving the Comet Eagle and getting a feel for the karting layout at the Indianapolis Motor Speedway.
I've been extremely fortunate over the years to have been offered the opportunity to announce at the Indianapolis Motor Speedway with the Road to Indy Presented by Cooper Tires and the IMS Radio Network. Sitting in the PA booth alongside a legend like Bob Jenkins makes you pinch yourself, and working pit lane for the last four Indianapolis 500s has been simply surreal.
Any experience that puts you in direct contact with IMS is one that you'll always cherish. And this precisely why the USAC Karting Battle at the Brickyard has quickly become a bucket list race in North American karting. From my experience this July, however, the event is not something that I want to cross off a list…I want to be there every year.
As David stated in his article yesterday, during the 'off-season' we were offered the chance to race a pair of Comet Eagle chassis in the Briggs 206 Masters class. As I recall, I was having a pre-dinner cocktail at a Longhorn steakhouse during a race event when Gary Lawson and Mark Dismore Jr. made their pitch to pair me with Cole under the Comet tent and I quickly jumped at it. It was a no-brainer. I was already planning to race at IMS in the Margay Ignite Masters class under the Margay tent, and the ease of that program opened the door for a shot at more seat time. I ended up adding the vintage race group to my track time as well, as it would be my first opportunity to drive the 1982 Margay Xpert II that Mike Birdsell had built for me. In the end, it was a much busier and more exhausting weekend that I had expected. None the less, I wanted to drive, and racing the Eagle was something I was extremely interested in.
Having arrived in Speedway on Thursday afternoon, I got registered early to make sure I was good to go for Friday morning. I headed over to the Comet Kart Sales tent and first up was the seat and pedal fitting after I picked which kart I wanted. The karts were identically prepared so I just pointed to one and away we went. Our mechanic Colten Smith had installed a Beasley Low VCG seat and from the first time I slipped into the fiberglass, I was instantly comfortable. The seating position really worked for me and I loved my arm-to-steering wheel angles. I knew before I ever drove it that I was going to love the seat position.
Friday's practice sessions were short and with the long length of the lap, we were only getting three laps at speed each time out, which made it tough. David and I went out together but the initial sessions were truly only good for learning the track and pushing the entry speeds in the tougher corners. I struggled a little with exit speed out of the lone hairpin (turn four), but I continually pushed the corner speeds in the other turns until I was flat in many areas. David and I joked when the weekend was over that we'd be much quicker out of the gate in 2020, having the feel of taking more of the track at higher speeds. I've always been cautious to come up to speed more patiently, although I don't really think it hurt me all that much thanks to the fact that I was also getting track time in the Margay. By the time we headed into qualifying, I felt pretty good.
Our plan for qualifying was to wait for most of the drivers to leave pit lane and then work together to each get a couple of good laps in the draft. David got out of the hairpin better than I did on our first flyer and slipped past a slower kart, and it took me a few corners to get through, which changed everything. I kept my head down while I tried to claw my way back up to Cole, eventually benefitting from his draft to post a pretty quick lap. David had elected to stay on the throttle to get some clean laps himself, but that strategy hurt him, as with such a short session (only four laps at speed), he was only able to get a half-lap in my draft after I finally caught him. Funny enough, I was physically calling out in my helmet for him to wait for me…"DUDE, WHAT ARE YOU DOING?? WAIT FOR ME!!". I did what I could to get to him, but it was too late. Having benefitted from reeling him in using the draft, I qualified eighth out of the 53 drivers, which tells you where we could have both ended up. Without the draft, DC was 19th and in more danger of trouble during the opening laps of the heat race.
In the Saturday morning heat race, I got cleanly through the opening two corners but the run down to the hairpin was pretty chaotic. The guys around me were incredibly aggressive and a little impatient and there was quite a bit of contact, and I almost spun from contact from the back and emerged from the confusion in 13th. With a little open track in front of me, I let the Eagle run free with light hands on the wheel and it was just a pleasure to drive. The kart was quick and I immediately got back to ninth thanks to help from behind. We had a strong group lined up to move forward, including Jeff Dolian. Knowing my draft partners, I started to think about the potential result and just got too ambitious myself midway through the race. I got greedy as I tried to grab two karts in the Turn 3 right-hander. I had to get hard on the brakes to avoid more significant contact and all but came to a stop at the apex. Thankfully, I was able to get pointed in the right direction and spooled back up, and continued on to finish 15th. Not horrible, but it should have been a top-10. As I debriefed in my mind post-race, I had to admit that my race craft was very rusty and I needed to show more patience. With a Prefinal and Main Event still to come, I vowed that I'd try to be smarter to make sure I'd come away with a quality result. I chatter a lot when announcing about the virtues of being patient and I just didn't follow my own advice. I was pretty pissed at myself.
The rains came on Saturday afternoon, which had initially scuttled our Prefinal, but USAC officials were able to shoehorn a short five-lap race on Sunday morning to give everyone a chance to improve their grid positions before the final. I finished in the top-10 in the Margay Ignite Masters Prefinal on Saturday before the rain, so I was feeling good for the Briggs 206 Masters race. I had changed my mindset and played the long game in the Ignite race, working with Tim Hannen and Pete Vetter to solidify our on-track position ahead of Sunday's main.
The opening corner of the track at pit-in begins with a little bend to the left, touching the IndyCar curbing, before shooting to the right around the plastic barriers that provide the apex into the old F1 inner loop. At the start of the Prefinal, I ended up on the being pinched to the inside as we all approached the corner and in an effort to make the turn, I checked up more than needed and the entire outside line streamed around, over the grass on the exit and all of us on the inside got freight-trained. I'm sure I fell back to 25th or so. At that time, I knew that I needed to go to work, but still remain patient. I chipped away and grabbed a handful of spots quickly, and benefitted from some other incidents. I worked my way back to 15th, and found myself upon David on the second last lap. He had gone off on the exit of turn three, so I pushed him all the way over the turn six before slipping inside him to take over 14th. Cole locked onto my bumper and never left me, running wingman so we could get out of the Prefinal with a decent starting spot for the main.
Overall, the main event went well, although I needed just a little more to grab the top-10 finish that I was targeting. The start went smoothly and cleared the chaos of turn one and slipped into breakaway pack with Jake Collison, Jeff Dolian and Chris Dugan. Through the middle of the race, it ended up being just Collison and I running together, which brought a smile to my face. I've raced on and off with Jake for over 20 years, from my first season in the sport at the Waterloo Regional Kart Club in Ontario in 1995. Jake's family has been a cornerstone of the WRKC and Ontario karting for years, and I felt a sense of safety knowing that we'd be able to push together. We were running eighth and ninth, but I just didn't have the speed to catch the lead group and we were slowly getting reeled up by a draft pack that eventually caught us on lap 10. A group of four karts rolled by me heading into turn three and, stuck on the outside and trying to salvage a position, contact sent me off-track to driver's left. I returned to the pavement behind Jake, who just put up his hands in disbelief. There wasn't much we could have done.
Overall, I finished 14th after losing the five spots, but a top-10 was most definitely in the cards. We came in and showed that we can run with the established 206 Masters veterans and regulars and I know that David and I would love to do it again with the Comet Kart Sales guys. I can tell you this with certainty, if I was in the market for a kart, I would have taken my Eagle home with me that day. I loved the feel of the chassis and I'd really like more time in it.
Big thanks to Gary and Mark, and of course, our weekend mechanic Colten Smith. Racing at IMS, in the shadow of the Pagoda, added a new dimension to my love for the place. As karters, we're incredibly fortunate to have this opportunity and I'll cap this OnTrack review with a shoutout to USAC Karting and Mike Burrell. I loved the event and cannot wait to get back there in 2020.