Two Pole Positions, Five Podiums and Two Main Event Wins for Birel ART North America at ROK the RIO
Kinnear and Tatikian win in Las Vegas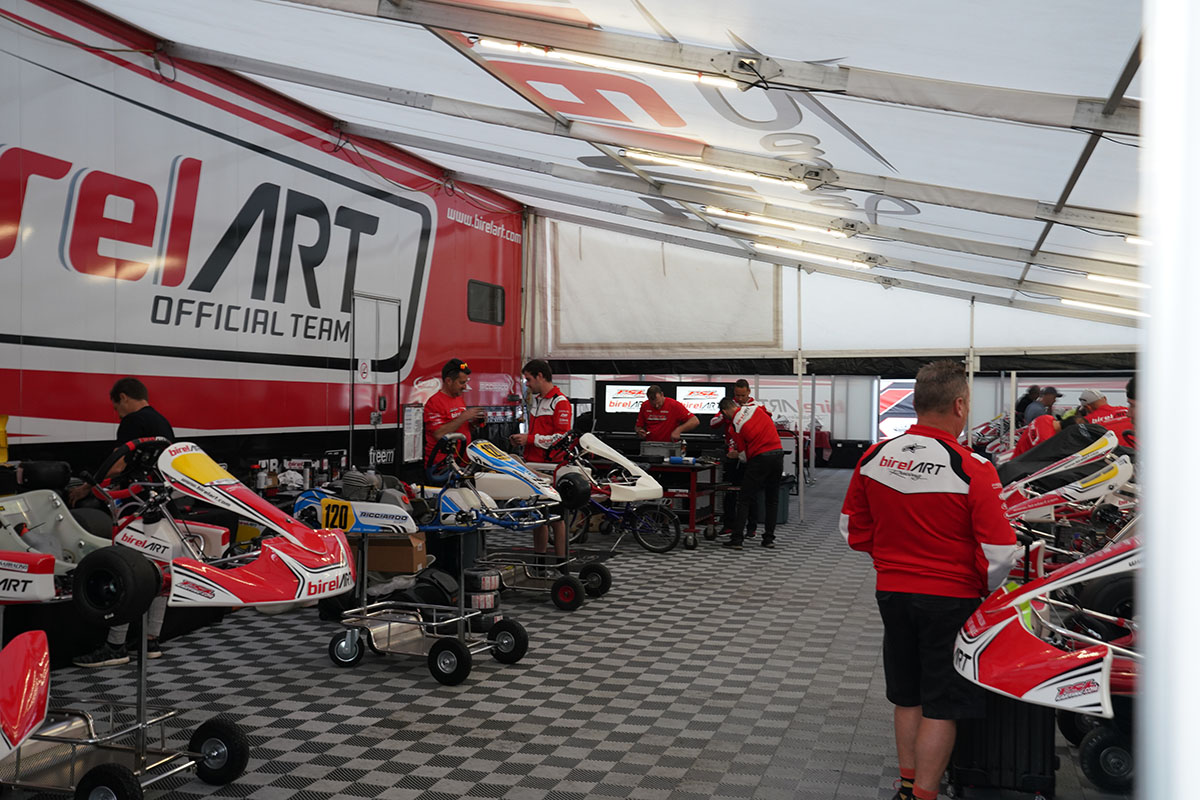 Closing the 2019 ROK Cup USA season, Birel ART North America left Las Vegas with two more main event wins at the second annual ROK the RIO. Taking place at the Rio All-Suite Hotel & Casino in Las Vegas, Nevada, Birel ART North America topped the podium blocks in Shifter Master ROK and Masters ROK as a total of five Birel ART branded drivers visited the podium on Championship Saturday.
Progressing through Wednesday practice sessions, teams and drivers approached Thursday with added pressure as qualifying and the first wheel-to-wheel action of the weekend would take place. Frankie Esposito lead the way in Mini ROK qualifying as he and Caleb Grafarar put their karts in the top-ten, qualifying sixth and eighth respectively. Following the heats, Grafrarar's results lined him up on the inside front row for the main event while Esposito rolled off P9. With a field full of more than forty Mini ROKs, all three Birel ART branded drivers finished in the top-20 with Grafrarar leading several laps but eventually finishing on the second step of the podium. Dane Idelson drove to a 15th place result while Espositio fell to 19th. Caleb Campbell ended his ROK the RIO with a 35th place result after starting the main event in P25.
Colby Dubato qualified second in the Senior 100cc class and started his main event from the outside of row two in fourth. In an intense battle and hard racing over the opening stages of the main event, Dubato was able to maintain a top-ten presence and eventually closed his weekend in sixth.
The best results of the weekend came from the seven competitors registered in the ROK Shifter Masters class. Ryan Kinnear scored a perfect weekend of racing taking the pole position, four heat race wins and main event victory while Jordan Musser joined him on the podium in third. Nicholas Bedard and Christian Gysj put four Birel ART North America drivers in the top-ten finishing seventh and eighth respectively while Dany St-Hilaire ended his weekend in 15th and Ben Schermerhorn in 27th after qualifying in the top-ten.
Ben Cooper was one of the main drivers to beat in the ROK Senior class as his pole position and heat race results set him up for an inside front row starting spot in the main event. Teammate Thomas Nepveu lined up in P3 as the duo ran first and second for several laps in the main event. Nepveu was a victim of an on-track incident while making a bid for the lead while Cooper took advantage of the situation and was able to stay out of trouble and add a second place podium result. While the end results did not match the pace of the brand due to a host of incidents, Colby Dubato would be classified 31st, Nepveu 36th, Marco Silva 43rd and Patrick Woods-Toth in 45th.
Logan Toke and Jacob Hoover scored top-ten finishes on Saturday as the duo drove forward in the Junior 100cc main event after starting 15th and 11th respectively. In the Master 100cc class, Ricardo Arruda showed steady improvement qualifying eighth, starting the main event in seventh and finishing sixth overall. Jensen Burnett ended his ROK the RIO weekend with a 12th place effort in Micro ROK and Junior ROK driver Marco Filice managed to gain a ton of temporary circuit experience and eventually be classified in 33rd.
In an aggressive Master ROK main event, Vatche Tatikian came out on top bringing Birel ART North America their second ROK the RIO championship of the weekend. Starting the final lap in P3, Tatikian pushed hard to take advantage of some contact by the leaders to score the win. Andres Fonseca had a tremendous set of heat races to start the main event in third and was able to add a third Birel ART driver in the top-ten to finish seventh as Chad Wallace crossed the stripe in ninth. Stephan Clark ended his weekend 18th while Michael Giles and Ed Quinn were just outside the top-20.
Jake French qualified third in Shifter ROK and hounded the leaders through the four heat races to have a string of impressive results. In the end, a multi-kart incident on the first lap forced him to the sidelines, ending his weekend and a chance at the win. Vincenzo Sarracino found his way to the top-ten finishing sixth in a stacked field of shifters while Cooper Becklin drove to an 18th place result, improving from qualifying. Justin Lujk, Henry Knox and Owen Clarke all finished outside the top-20 but were able to push the Birel ART brand and perception throughout the paddock.
"Birel ART North America would like to thank Prime Power Team, Phil Giebler Racing, Full Throttle Karting, MDG Karting, PKS Kart Supplies, PSL Karting and 3G Kart Racing for helping push the Birel ART product line to the next level and attain weekend results that we are very proud of," explained Dominic Labrecque. "Our pace was on par from the very first practice session and that is a true testament to our preparation and equipment."
For more information to become part of the Birel ART or Ricciardo dealer networks or information on how to join the PSL Karting Race Team onwards into 2020, please contact Dominic@PSLKarting.com.
Birel ART North America (PSL Karting) is the National Importer and Distributor of Birel ART products and accessories, including Ricciardo Kart, Kubica Kart and Freeline accessories. Visit www.pslkarting.com to find a retailer near you or to become a dealer. Follow our racing team and product updates via our social media @pslkartingofficial.