Mechanic Minutes: Dan Schlosser – Rok Cup Superfinal
Third event overseas takes Mars-Schlosser duo to South Garda Karting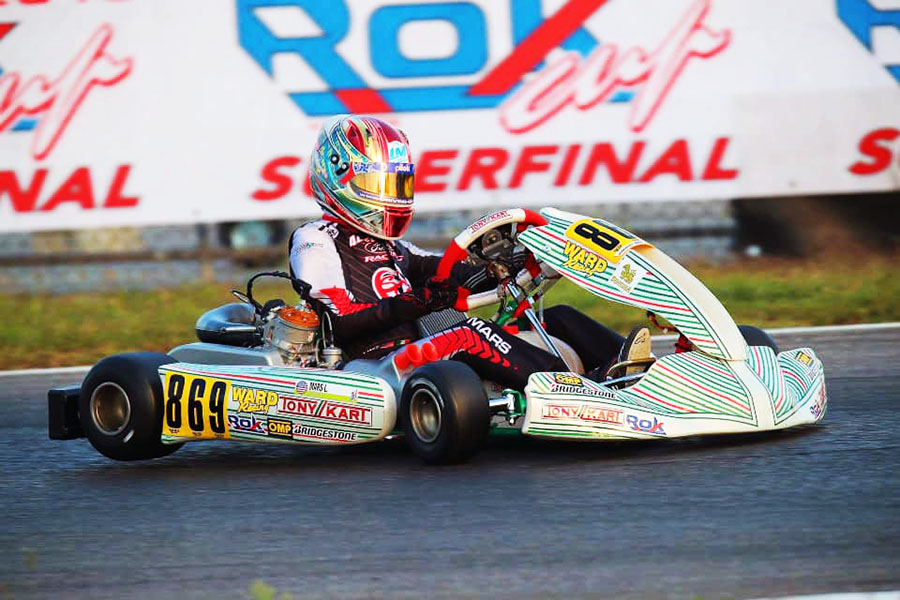 Luca Mars taking on the South Garda Karting circuit for the ROK Cup Superfinal (Photo: Cody Schindel - CKN)
The 2019 season is coming to a close and some of the major events from around the world are taking part. One of the first to kick off the 'majors' of karting was the Rok Cup Superfinal at the South Garda Karting facility in Lonato, Italy. Drivers from around the world converge on the historic circuit to compete in the Vortex Rok-based categories. Among the competitors that traveled from the United States to Italy was Luca Mars. The Florida Winter Tour champion and ROK Fest Biloxi winner earned a ticket to compete at the event, making his third trip to the international event.
Along for the ride and throughout 2019 is Dan Schlosser. The former karting director at the Pittsburgh International Race Complex was there at the beginning with Mars when he began karting seven years ago. For roughly 15 years, Schlosser has worked with a number of drivers, with he and son Andy Schlosser working with Mars since he turned his first laps in a kart.
Mars was selected as the United States of America representative for the 2019 FIA Karting Academy Trophy program. The 10th season for the program welcomes 51 young drivers aged from 12 to 14 from 47 countries, including five continents, all competing on OTK chassis equipped with Vortex engines from the OK-Junior category on Bridgestone tires. Mars competed in Germany and Italy, slated to race at the series finale at South Garda Karting in September. Unfortunately, Mars suffered a wrist injury in August, during a non-karting paddock incident, and was forced to miss the event. Thankfully, he healed in time to make the journey in October for the Rok Cup Superfinal.
Schlosser continued to provide us with his viewpoint of working as a tuner in a foreign country in our Mechanic Minutes segment.
---
There are many great facilities in the karting world but there is something truly special about South Garda and any chance to compete there is an honor. The track has a long, rich history in the sport and the area is truly the epicenter of the karting world. As someone who grew up in and around the hallowed grounds of the Indianapolis Motor Speedway, South Garda to me is the karting world version of Indy and I try to enjoy every aspect of the opportunity to race there.
The 2019 Rok Cup Superfinal would be our third Rok Cup season finale and our fourth time overall at the track in Northern Italy. Luca competed in the Mini Rok class at this event first in 2015 and then in 2017 came back to score a 4th place finish! We also ran a DKM race in the OK Junior class there this spring finishing 5th running with Ward Racing, the same team we would be competing with at the Superfinal.
In addition to having had success at the track and familiarity with our team, we just came off a very productive season stateside in ROK Junior competition scoring the Florida Winter Tour Championship and the ROK Fest Biloxi win. This all let us head in to the event with a measured bit of confidence!
While the racing aspect of this event is always the focus, there is no denying that this trip also takes us to one of the most beautiful areas in the world with top notch dining, travelling, wine, pizza and amazing scenery. Most racing trips involve early alarms, late nights at the track and a quick bite on the way back to the hotel before doing it all again the next day. However, the Lake Garda region is just somewhere that you just have to take advantage of the opportunity of what the area offers!
Friday, October 11, 2019
We have wrapped up day three of the Rok Cup Superfinal here at South Garda Karting in Lonato, Italy. I was told that I was slacking on my Facebook duties this trip by a few people. I have to confess, I planned to do some updates earlier but this has been a unique trip to date for us!
Luca and I have been on the road together now since Wednesday, October 2 – first running the Trofeo Autunno race also here at Lonato, taking a day off and then jumping right in to the Rok Cup Superfinal event. In our previous trips abroad, I've either not been turning wrenches (Rok events), I've had Andy with me (Rotax events), or as in the case of FIA Academy there is less actual kart work because the engines, gearing, set-up options, etc are more limited. This time around once Luca and I wrap up for the day, get cleaned up and a bite to eat, there just hasn't been much downtime to hit the keyboard!
It has been a lot of fun travelling with Luca though – he is one of the easiest travelling companions as he knows where to go, when to be there, etc and there is zero drama with any aspect from the travelling to sharing a room, to working together at the track. Mature beyond his years when it comes to the life of a vagabond racer!
We are here working with the Ward Racing team again and there just aren't enough platitudes to describe how professional this group is. From top to bottom they are knowledgeable, talented and incredibly welcoming.
So long story short regarding last week, we hit the track Friday and got a day of practice in before rolling into the race event. We were using it strictly as a testing endeavor, but Luca still managed to bring home two third-place heat race finishes and a fifth in the Final. Fun to hit the ground running and be on pace right away.
Probably our biggest take away from the Trofeo weekend was knowing our driver was fully healed. After a day or so of running with a brace on, he tried to go without for a session and never looked back. Regarding the chassis though, despite running the same 2019 OTK products that we run at home as well as the same Bridgestone YLR tires, the setups that we used with Ward were decidedly different. This was partially to do with the fact that Garda always has rubber – the track is used day in and day out by racers, with rentals filling in the gaps on non-race weeks and evenings. So unlike at home, the track is always grippy regardless of the level of buildup. We found ourselves with a stiffer seat mounted fairly far back with no seat struts – way different than our norm! Up front we were way more aggressive with initial turn in as well. By the end we found ourselves with a kart that was different than usual but one that Luca was really comfortable with. It is really a lot of fun to work with other people, like Karol Struzek at Ward this week, and think outside of your box for a change. Experiences like this not only make the driver sharper but the mechanic/tuner as well.
This week. we had practice Tuesday and Wednesday before Qualifying and the first two heat races made for a busy day on Thursday! Qualifying was a disappointment though, we somehow ended up 10th in our group and 34th overall. Thirty-four is all that transfers into the A-Main with no LCQ so we were going to be on the hot seat from the drop of every green flag!
With 102 entries, the class is split in to six groups and we race each of the groups for a total of five heat races. As the sixth fastest kart in the D group, we'd be starting every race from the 6th row – versus A, B & C from the right side of the track, E & F from the left lane.
That's five races with no wiggle room and Luca responded appropriately first day scoring a sixth place finish in Heat 1 from 12th and third in Heat 2 from 11th! The speed was back to what we needed and Luca had great starts before digging forward with last lap passes in both races. We certainly felt like we were headed in the right direction. Our post qualifying debrief showed that we probably gave too much credit to an engine configuration change. Then when we took another step further for qualifying it certainly showed up on the timesheet and on the data. A quick 180 degree change back the other way was all we needed to right the ship.
It became pretty clear that the left lane was the preferred lane in a hurry though so we knew Friday would be a challenge with both starts from the right side, but we'd get to close out the fifth heat from the left side Saturday morning. Twelfth to 8th and then 10th in the two races on Friday was not what we had hoped for but those were the cards we were dealt from the outside row. Both starts had us back 3-4 spots by turn three so it was a battle to just to get back to our starting spot before picking up a few positions in each race.
While we love the starts in general over here and the lack of carnage, the disparity this week between the left and right lanes was a challenge to overcome. Interestingly the change they made to the starts here has resulted in a complete flip of fortunes. In the past the drivers came around the last hairpin on to the front straight before getting the green, resulting in the left lane just having to travel much further around that last corner and thus everyone outside of the first two karts maybe lost ground to the inside lane. Now they use a cutoff between the two right hairpins so the left lane no longer has that long distance travel disadvantage and actually rolls on to the straight a bit faster. Interesting how a minor change can have such a big impact!
All we know for sure is that we've gained spots as Luca went forward in all four races. We've moved off the 34th spot bubble and hopefully are sitting inside the top-20 with one heat remaining. A huge number of front runners have had some really bad finishes so with a little luck maybe we can sneak close to the top-10 even!!
We are staying in the amazing little lakefront town of Desenzano del Garda, Italy just across the street from the lake and a short walk to the old town center. The scenery, food and atmosphere is just fantastic and this isn't even in season for the town!
Luca and I were able to take a side trip on our day off to the OTK chassis factory courtesy of the ROK Cup USA staff. This was a real treat but unfortunately our pictures are limited to the outside and lobby. They are very welcoming but they really aren't sharing details freely (laughing). All I can say is that everything they do from the automated inventory bins to the robotic welders, to the lines upon lines of tube benders, CNC machines, robotic mills, etc is simply amazing to see. Everything is meticulous and most importantly working…. around the clock. The attention to detail and repeatability of the OTK karts that we see is no accident, that is for sure.
One of our fun sidebars on the trip has been we've spent a bunch of time in the evening with our Junior compatriots Connor Zilisch and his tuner/mechanic Gary Willis. They've been spending a lot of time here this year and have shown us some pretty awesome places around town. Just good fun hanging out together over here. Connor is having a great weekend so far sitting near the top of the points standings – hoping to join them at the front by the end for another strong Team USA showing!
Saturday, October 12, 2019
It was finals day today at South Garda Karting for the Rok Cup Superfinal! The weather was perfect and the place was packed with families and spectators – a spectacular atmosphere at a truly iconic venue.
We started the day with high hopes, needing a good finish in Heat 5 for Luca to secure a starting spot in the final that could put him in striking distance of the leaders.
Things looked great moving from 11th to 8th in the first few corners before an errant spinning kart from behind forced Luca to take evasive maneuvers. Despite getting dropped to mid-pack, he rolled off some purple laps (fastest lap of the session) on the run back up to 11th (15th after bumper penalty from opening lap incident).
That put us in 19th for the Final, effectively ending our hopes for a fight at the front. Luca was on the gas from the start though, picking off several spots early but once the field strung out, it became a battle among 4-5 karts hoping to slide in to a top ten finish. The best we could do at the end was a 12th. While the finish was not what we had expected coming in, it still was a solid effort fighting back from our 34th spot in qualifying. The lesson learned is that there is just no room at this level for an off session, particularly qualifying. We'll be back soon enough though!
The Rok group really does an awesome job with the spectacle part of this event. Their driver parade was 400+ long and took up most of the front straight! Then they move all the drivers to their iconic stands under the giant "South Garda Karting" sign for a huge group pic. The neat part is that these aren't just Rok photo ops as the parents and team people are able to move around and take all the photos they want as well. After all the racing is done they host a really fun awards and after party as well in their giant tent with ample food, drinks and entertainment. They really pull out all the stops and put on a truly amazing event from beginning to end.
A huge thanks to everyone at Ward Racing – Joakim for great engines, Karol Strużek for all the work with us to put one of the fastest karts on track in every race (we need to work on our ziptie development program though) and Anny Rebecca Ward for keeping us pointed in the right direction at all times. The whole team has been a treat to work with and we hope to get the opportunity to run with them again soon!
Also, thanks to everyone at ROK Cup USA for all the fantastic events in 2019 that led up to bringing a great group of drivers to this event. Most importantly though thanks to Ursula Ustariz who is always calm, cool and correct despite having to deal with manic racer personalities constantly – we truly appreciate all that you do!
Congrats to our buddy Connor Zilisch for a podium in this tough Junior field – he and Gary Willis have been putting a tireless effort in and its great to see them reap some rewards. The entire Team USA effort was probably the strongest to date actually – great work by everyone!
Lastly thanks to the Mars family for continuing to include me on this adventure. There simply is no better gig in racing than this one and I appreciate it immensely.
Only one travel note of interest today – on the way back from the track I spotted a food truck roundup/pop-up bar looking event at the roadside Fruit & Nut stand. There was no way I was passing on that opportunity – WWTD!!! So with some pointing and just enough communication skills I ended up with the best sandwich I've had in a long time! They had a DJ playing, tons of people, an actual permanent bar area, outdoor seating, etc – an entertaining stop for sure!