Sodikart: RMCGF 2019 – 10th Consecutive Success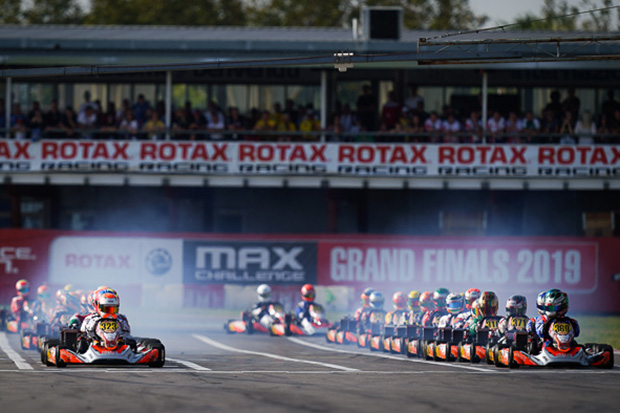 As a key element of the Rotax Max Challenge Grand Finals' success as the supplier of the Senior Max and DD2 Masters chassis, Sodikart refines its active participation in this global event every year. During the 20th edition, which took place in Sarno, Italy, from 19th to 26th October 2019, the French brand once again achieved a flawless result that satisfied every user of the chassis "made in France".
As Rotax's chassis partner for the 10th year, Sodikart had perfect control over the logistics of such an event. It must be said that in this respect, the 2019 event was easier to manage in terms of transport than the previous competition in Brazil. With its expertise and knowledge, Sodikart successfully transported the 152 karts manufactured and equipped at its Couëron plant near Nantes, thanks to the efforts of all its employees. Everything was in place for the draw for karts on Sunday morning at the Sarno circuit.
"It's always a great challenge!" said Bertand Pignolet, Sodikart's Managing Director. "We must remain vigilant down to the last detail to ensure that everything runs smoothly once on site. Our teams are constantly on the alert to prepare for any eventuality and to ensure the best service to the drivers. In fact, it is the same approach as with our customers all over the world: to ensure quality production and provide the best possible after-sales service. I personally always enjoy going to a Rotax Grand Final. It is a unique and special event for every participant from all over the world. This year, Rotax has proved more than ever the quality and fairness of its 125 Max Evo engines and Mojo tyres. We have a great formula for the development of karting. Sodikart is proud to continue its partnership with Rotax to supply the chassis for the Grand Final. As a Rotax France importer, we are delighted with the success of the Rotax Max Evo engine and its scope for improvement."
Sporting equity takes priority
In an event like this, equality of opportunity is essential. The extremely small gaps between competitors throughout the competition were a source of satisfaction for Rotax and Sodikart as well as for all the participants who succeeded according to their own talent. Rarely have races taken place with such tight groups of contenders for victory.
Quality and service at the heart of our concerns
In addition, the Sigma RS3 and DD2 chassis of the 2019 Racing range from the French manufacturer convinced the drivers and their mechanics that they were so pleasant to drive and easy to adjust. During a week of racing, there is no shortage of feedback from users used to other brands and all comments are useful. In Sarno, general satisfaction reinforced Sodikart's ongoing commitment to efficiency and driver service with a spare parts pricing policy aimed at minimising the expenses of participants from all over the world.
Exciting races
An epic battle raged in the Senior Max Final between Clayton Ravenscroft (GBR), Vincent France (DEU), Oakley Pryer (GBR), Rhys Hunter (GBR), Ryan Norberg (USA) and Elia Galvanin (ITA). Finally, Axel Saarniala (FIN) was declared the winner after Guy Cunnington (GBR) was penalised, separated by three thousandths of a second on the finish line.
The fight was also intense in DD2 Master with five successive leaders. Roberto Pesevski (POL) regained nine places to narrowly beat Rudy Champion (FRA) and Matias Rodriguez (ARG).