2019 IAME International Final – Saturday Report
Seven world IAME champions crowned in France - Miles and Costa finish top-five in Mini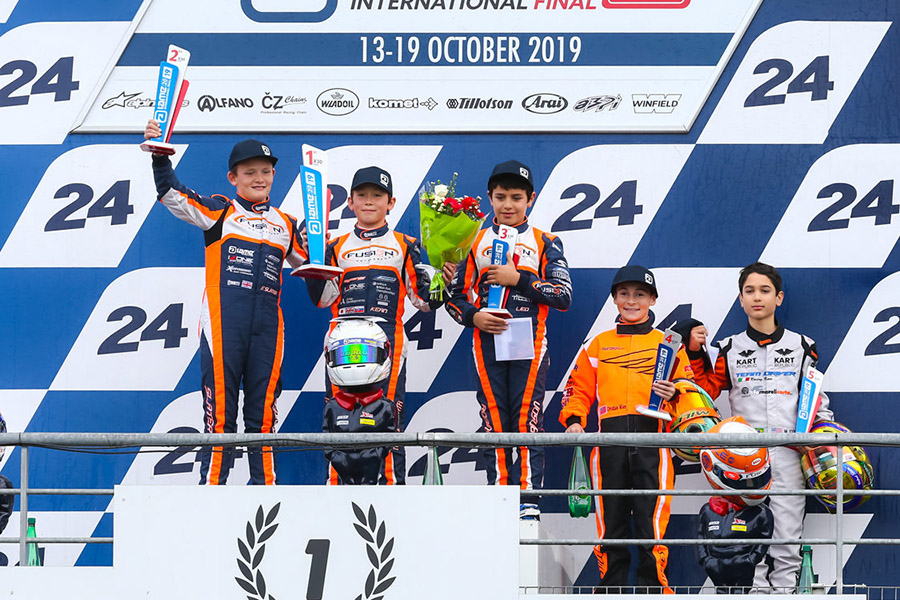 Christian Miles and Miguel Costa (both right) on the Mini podium in fourth and fifth at the 2019 IAME International Final (Photo: iif.iamekarting.com)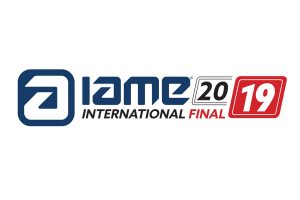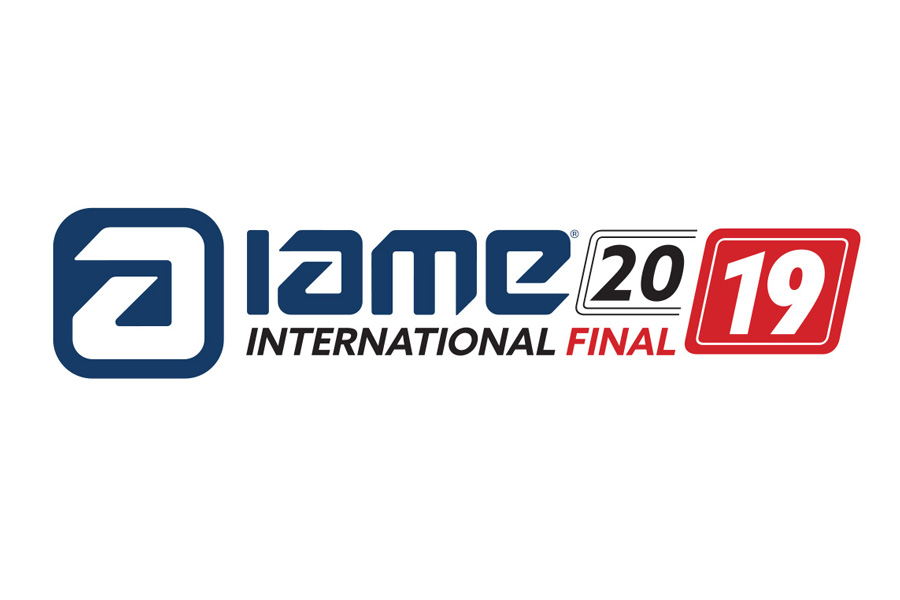 The 2019 IAME International Final came to a close on October 19 with Championship Saturday. The 34-driver grids were set for the seven categories competing at the Le Mans Karting International circuit with a Prefinal and Final races completed. The track began wet and eventually dried by the main events. Five of the 15 drivers representing North America – including IAME USA East and IAME USA West – qualified into their respective main events, with USA drivers Christian Miles and Miguel Costa landing in the top-five in X30 Mini.
---
X30 Mini (70 entries)
All four of the driver representing IAME USA started the Prefinal inside the top-10. A drying track was still two seconds off the dry time, and the goal was to survive without any damage. Unfortunately for top qualifier Max Garcia, his race came to an end quickly. The Sunshine State Karting Championship title winner had his chain guard come off during the formation lap, and was flagged off the track. Garcia, before pulling off, recorded the fast lap of the race. Freddie Slater – the Superkarts! USA Pro Tour X30 Junior champion – was able to maintain his pole position, as did United States Pro Kart Series title winner Christian Miles and Costa.
The main event was among the most exciting races of the day. The lead group included all three representing IAME USA with eight drivers total. Eventual winner Kean Nakamura-Berta was able to get away after the halfway point with the battle for second heating up. Miles was able to put himself at the front of the fight with two laps remaining, until Slater and his teammate Leo Robinson worked by Miles. Costa would lay down the fast lap of the race, crossing the line just behind Miles to put all three on the podium and in the top-five. Garcia was able to knife his way forward from 34th to pass 16 karts in the nine laps.
#802 – Ivanna Richards (Mexico) – Parolin
Final B: 20th
#806 – Freddie Slater (GBR) – Kart Republic
Warm-Up: 10th – 1:14.757
Heat Points: 1st – 3 points
Prefinal: 1st
Final: 2nd
#839 – Ian Qiu (Canada) – Parolin
Final B: 3rd
#858 – Christian Miles (USA) – Kart Republic
Warm-Up: 16th – 1:15.111
Heat Points: 4th – 9 points
Prefinal: 4th
Final: 4th
#859 – Max Garcia (USA) – Kart Republic
Warm-Up: 21st – 1:15.163
Heat Points: 8th – 18 points
Prefinal: 34th
Final: 18th
#860 – Miguel Costa (USA) – Kart Republic
Warm-Up: 17th – 1:15.114
Heat Points: 10th – 21 points
Prefinal: 10th
Final: 5th
---
X30 Junior (108 entries)
#3 – Ian Aguilera (Mexico) – Exprit
Final C: 15th
#23 – Kyffin Simpson (USA) – Exprit
Final B: 3rd
---
X30 Senior (135 entries)
#203 – Ricardo Escoto (Mexico) – Parolin
Heat Points: 129th – 208 points
#228 – Zach Hollingshead (USA) – TB Kart
Final C: 19th +5-second penalty
#252 – Edward Portz (USA) – Tony Kart
Heat Points: 103rd – 171 points
---
X30 Master (59 entries)
Superkarts! USA Pro Tour champion Matt Johnson nearly pulled off a top-10 result in his first international start. Johnson was able to survive the Prefinal, gaining two positions to move up to Row 9 for the start of the Final. Johnson was able to put himself in a group battling for entry into the top-10. With two laps remaining, contact at the end of the long straight resulted in a DNF for Johnson, taking away a possible top-15 finish.
#402 – Gerardo Maya (Mexico) – Kart Republic
Final B: 22nd DNF
#403 – Carlos Frigolet (Mexico) – Tony Kart
Final B: 12th
#468 – Matt Johnson (USA) – Tony Kart
Warm-Up: 33rd – 1:13.486
Heat Points: 20th – 39 points
Prefinal: 18th
Final: 28th DNF
#469 – David Galownia (USA) – CompKart
Final B: 9th
---
1:02:00 – X30 Master Prefinal
2:30:00 – X30 Mini Prefinal
4:07:00 – X30 Master Final
5:32:00 – X30 Mini Final