2019 IAME International Final – Wednesday Report
Rain the major factor as racing gets underway in France - Garcia wins one of two heat races to lead North American contingent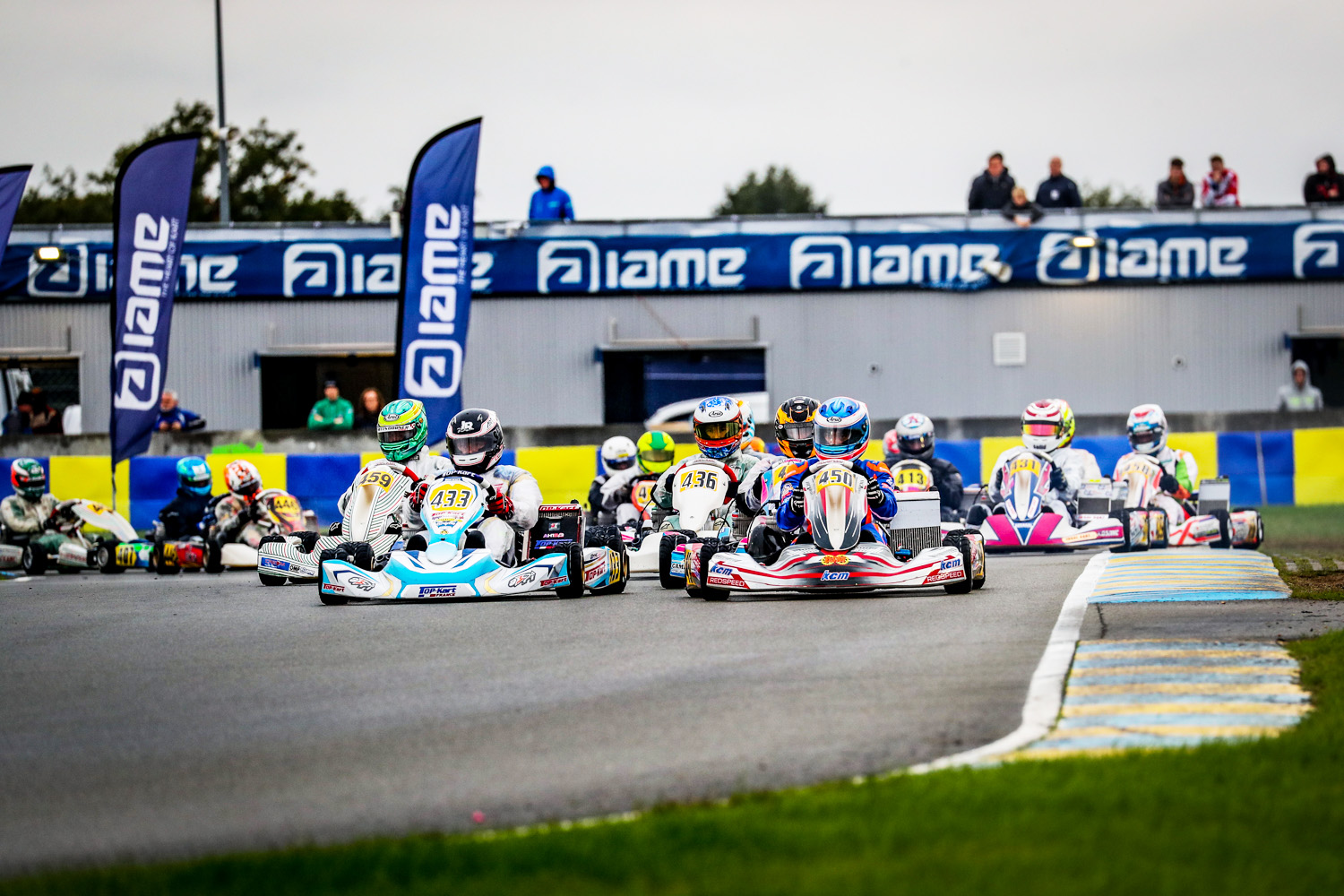 (Photo: Twenty-One Creation - iif.iamekarting.com)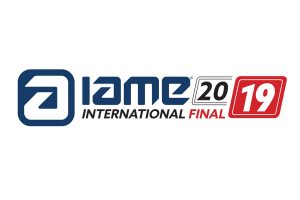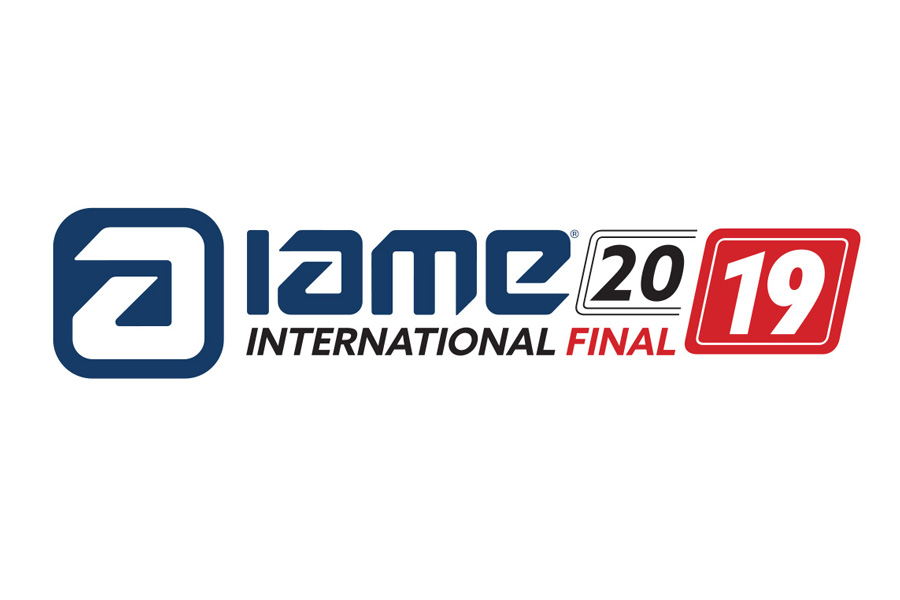 The second day of the 2019 IAME International Final was a wet one. It has become accustom for each edition of the IAME world championships at the Le Mans Karting International circuit to welcome wet weather. The rain stayed on and around the French circuit throughout the day with a brief period of the track drying before the clouds opened up again for the remainder of the action. The first wheel-to-wheel action was conducted for the 460 drivers from around the world helping to set the stage for an exciting four days of racing. The 15 drivers representing North America – including IAME USA East and IAME USA West – battled to either maintain their position after qualifying or improve upon their results to better their chances for a spot in the main events on Saturday.
Live timing and video will be available throughout the event at the IAME website
---
X30 Mini (70 entries)
The Mini category, for the second year, is now using the heat group format. Each group will race each other with two rounds today and one on Thursday to decide those in the B-main and the big show on Saturday. The first round of races were on a damp track with not as much rain falling compared to the second round of heat races. Top qualifier Max Garcia from the Sunshine State Karting Championship in Florida slipped back in his first heat race but held the lead for his second moto to claim his first heat race win of the event. United States Pro Kart Series champion Christian Miles also slipped back in both heat races, remaining in the top-six for both results. Florida driver Miguel Costa, carrying the Italian country tag on the weekend, was top-six in his two heat races. Superkarts! USA Pro Tour X30 Junior champion Freddie Slater placed second in the event last year to two-time winner and USA driver Brent Crews. Slater was not old enough to compete in X30 Junior, thus vying for a title in Mini. Slater improved in both of his heats, putting down a demanding victory in his second to help clinch a front row start for the Prefinal on Saturday. Canadian Ian Qiu had two top-10 results in hand. He was running seventh in his second heat until an incident on the final circuit took him out of the race one lap short.
#802 – Ivanna Richards (Mexico) – Parolin
Warm-Up (Group 2): 27th – 1:18.635
Heat Group: D (Row 14)
Heat CvsD: 23rd
Heat BvsD: 30th +5-second penalty
#806 – Freddie Slater (GBR) – Kart Republic
Warm-Up (Group 2): 2nd – 1:16.068
Heat Group: D (Row 2)
Heat CvsD: 3rd
Heat BvsD: 1st
#839 – Ian Qiu (Canada) – Parolin
Warm-Up (Group 1): 14th – 1:16.901
Heat Group: B (Row 4)
Heat AvsB: 9th
Heat BvsD: 32nd – DNF
#858 – Christian Miles (USA) – Kart Republic
Warm-Up (Group 1): 21st – 1:17.703
Heat Group: C (Row 1)
Heat CvsD: 6th
Heat AvsC: 3rd
#859 – Max Garcia (USA) – Kart Republic
Warm-Up (Group 1): 11th – 1:16.745
Heat Group: A (Row 1)
Heat AvsB: 5th
Heat AvsC: 1st
#860 – Miguel Costa (USA) – Kart Republic
Warm-Up (Group 2): 20th – 1:17.528
Heat Group: A (Row 2)
Heat AvsB: 4th
Heat AvsC: 6th
---
X30 Junior (108 entries)
The X30 Junior group had a mixture and were able to take advantage of a drying track for their second heat races on the day. The opening heats were on a wet track, and Sunshine State Karting Championship ticket winner Kyffin Simpson had one slip cost him several positions. A great start put him into the top-five until dropping two wheels off the course on lap three. It dropped him outside of the top-15 and was not able to recover. The dry heat race saw Simpson keep his position, salvaging important points to qualify for the main event. Mexican driver Aguilera was able to maintain his starting position in the wet but an issue on lap four dropped him to the tail of the running order. Two more rounds of heat races are on the schedule for the Junior drivers on Thursday.
#3 – Ian Aguilera (Mexico) – Exprit
Warm-Up (Group 3): 26th – 1:13.672
Heat Group: E (Row 10)
Heat EvsF: 20th
Heat AvsE: 35th
#23 – Kyffin Simpson (USA) – Exprit
Warm-Up (Group 2): 30th – 1:14.156
Heat Group: B (Row 3)
Heat AvsB: 18th
Heat BvsC: 5th
---
X30 Senior (135 entries)
It was all rain sessions for the Senior competitors with tough results for the Team USA drivers. United States Pro Kart Series vice-champion Zach Hollingshead made early progress in his opening heat until getting shuffled to the back after the halfway point. The driver from Florida stayed out of trouble and was able to improve into the top-20. West coast racer Edward Portz was able to have the removal from the event revoked and only be disqualified from the qualifying session after 'not respecting the flag signals' for what was a missing transponder. Starting last in all the heat races, he made up seven spots in the opening heat but a pushback bumper penalty dropped him out of the top-30. The second heat was much better, slowly making his way forward and putting in good laps once he got clear track. Penalties to others helped him record a top-20 finish. Each have three heat races for Thursday afternoon.
#203 – Ricardo Escoto (Mexico) – Parolin
Warm-Up (Group C): 34th – 1:14.452
Heat Group: C (Row 14) – 107th overall
Heat CvsD: 28th
Heat AvsC: 33rd
Heat BvsC: DNS
#228 – Zach Hollingshead (USA) – TB Kart
Warm-Up (Group A): 28th – 1:13.083
Heat Group: A (Row 13) – 97th overall
Heat AvsB: 34th +5-second penalty
Heat AvsC: 19th
#252 – Edward Portz (USA) – Tony Kart
Warm-Up (Group F): 33rd – 1:17.387
Heat Group: F (Row 17)
Heat EvsF: 31st +5-second penalty
Heat FvsH: 20th
---
X30 Master (59 entries)
The X30 Master group flirted with a dry track for their second round of heat races. The track was wet in the first heats, with Superkarts! USA Pro Tour X30 Master champion Matt Johnson improving two spots. The second for him was when the rain returned. He and many of the front runners were dry Komet tires and had to drive the 11 laps trying to keep it on the track. All but 12 of the drivers were lapped by drivers who went out on rain tires. Johnson was one of them, and fell back outside the top-20. United States Pro Kart Series champion David Galownia has not shown the pace in the wet weather. He survived both heats, only able to move up in this second but still remains outside the top-20. Just like Mini, they have only one more heat race to decide if they make the show or are racing in the B-Main on Friday.
#402 – Gerardo Maya (Mexico) – Kart Republic
Warm-Up (Group 2): 21st – 1:13.814
Heat Group: A (Row 9)
Heat AvsB: 16th
Heat AvsC: 21st
#403 – Carlos Frigolet (Mexico) – Tony Kart
Warm-Up (Group 1): 28th – 1:19.660
Heat Group: C (Row 15)
Heat CvsD: 28th
Heat AvsC: 10th
#468 – Matt Johnson (USA) – Tony Kart
Warm-Up (Group 1): 24th – 1:14.401
Heat Group: C (Row 5)
Heat CvsD: 7th
Heat AvsC: 23rd +5-second penalty
#469 – David Galownia (USA) – CompKart
Warm-Up (Group 2): 26th – 1:15.276
Heat Group: B (Row 14)
Heat AvsB: 27th +5-second penalty
Heat BvsD: 22nd