MIR Raceline Italy and PTM Foods Form Technical Partnership with Chloe Chambers for 2020
Chambers set to take on 2019 ROK the RIO in Las Vegas later this month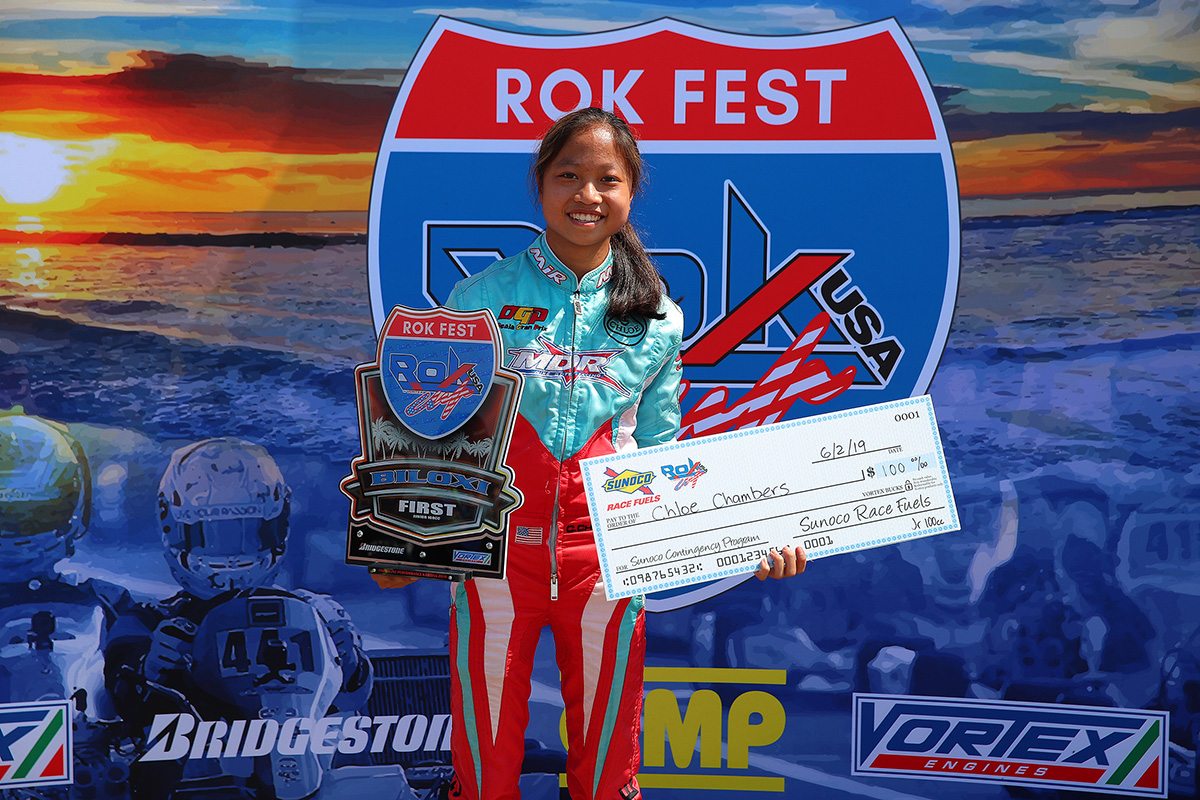 Chloe Chambers will be aiming to bring her A game and reach the top step of the podium in Las Vegas
(Photo: CKN)
As a young 15-year-old female in a male dominated sport, Hudson Valley, New York resident Chloe Chambers is on the fast track to success. With countless race wins and podium results to her name, the veteran karter has now formed a technical partnership with MIR Raceline Italy, MIR Raceline USA and PTM Foods that will extend throughout the 2020 season. Set to compete at the largest Vortex ROK race later this month in Las Vegas, Chloe Chambers will be aiming to bring her A game and reach the top step of the podium.
Born in China but a motorsports competitor of the United States, Chambers looks to follow in the footsteps of other successful and professional female race drivers. Learning her technique at a young age and perfecting it over time, Chambers has now entered the business side of motorsports with her newfound partnerships.
"I am super excited to be working with MIR Raceline and PTM Foods," exclaimed Chambers, who is fresh off her TaG Junior Gear Up F-Series Championship. "My next event is the ROK the RIO race in Las Vegas, and I look to make them proud. Looking forward to 2020, I am honored to be able to be an ambassador for both companies and look to represent them above their expectations."
As leaders in their respective industries, both MIR Raceline and PTM Foods showed similar excitement with the new technical partnership.
"In working to build a suit for Chloe in the beginning of 2019, Bob Falcone of MIR Raceline USA was giving me some exciting news about who we were building a suit for in the United States," explained Rick Mazzeschi of MIR Raceline. "An incredible racer, a young female with a tremendous talent and already many championships to her credit. At this time, I had also learned about Chloe being on television with David Letterman and Lewis Hamilton. For me this was incredible as we had dressed Lewis Hamilton for many years while he was in professional karting in Europe and around the world."
Mazzeschi continued, "When MIR USA sent me the proposal for Chloe, I was immediately excited to be part of the project in 2020. As a factory, we will help Chloe to become an ambassador of our brand and to become a factory driver of MIR products and a USA Driver Academy pilot for MIR Raceline USA."
"When Chloe approached me and my company, it was an easy decision knowing that the MIR factory was already on board and so excited to help with her safety equipment in 2020," expressed Pete Maletto of PTM Foods. "I am very excited to be a part of Chloe's racing development program and honored to have her adorn the PTM Foods logo on her race gear. She is an amazing young racer with a determination to win each and every time she goes on track. She has an infectious smile and is such a wonderful young lady to work with under the same tent. We always work as a team, we race together, have dinners together and help each other for one common goal…TO WIN! Chloe, I hope we can do a lot of that in this coming year!"
"When we were approached by the Chamber's family with a proposal, I remembered back to the beginning of the year and how the factory was so impressed by Chloe's race program and race results. When the factory and I spoke about Chloe being asked to be a guest on the David Letterman "My Next Guest" Netflix series, they were extremely excited," added Bob Falcone of MIR Raceline USA. "Rick Mazzeschi from MIR said that we should always keep this rising star in our thoughts for the future. When the factory and Pete Maletto from PTM Foods received the sponsorship proposal, I immediately reached out to both and what I received in return was an immediate 'YES! Let's do this!'. We are proud to have MIR Raceline and PTM Foods join forces together and outfit Chloe in MIR safety equipment. We will all work together in 2020 while she becomes a North American Ambassador of the brand. Welcome aboard Chloe Chambers."