2019 Rok Cup Superfinal Set for October 9-12
Over 400 drivers, including many from North America, set to battle at famed South Garda Karting in Italy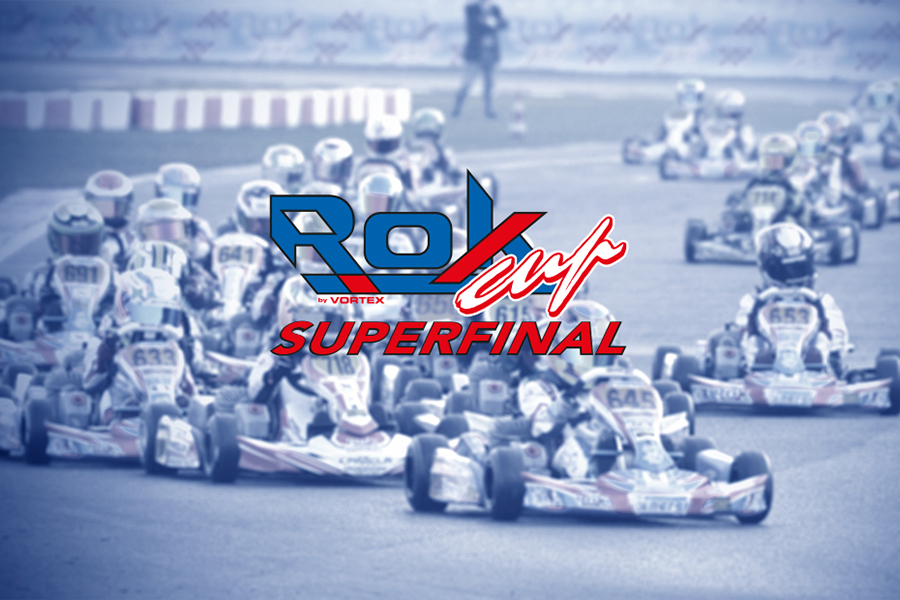 The seventeenth edition of the Rok Cup Superfinal is set to welcome 'Rokkers' from all over the world to the South Garda Karting facility on October 9-12. A total of 435 drivers from 52 countries and five continents will compete in seven Rok categories at the famed Lonato, Italy facility. The event is non stop action as competitors clash to become the world ROK title winner in their respective division.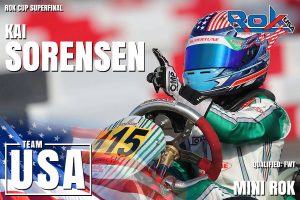 The largest category once again is Mini Rok with 134 drivers. Junior Rok is just over the century mark (102 drivers) with Shifter Rok (72 drivers) the third largest. Senior Rok (65 drivers), Super Rok (28 drivers), Expert Rok (21 drivers) and Expert Rok Plus (13 drivers) make up the seven classes.
There will be another large contingent racing in the Mini Rok division, racing under the ROK Cup USA and ROK Cup Canada with nine from the United States. Two from USA are making a return to Italy from last year – Florida Winter Tour champion Kai Sorensen and Florida driver Miguel Costa. Sorensen finished 17th while Costa was 21st. With another full year under their belts, they should be among the top contenders heading in. Challenge of the Americas champion Enzo Deligny joins them along with Nitro Kart driver Cameron Weinberg, Salvador Della Vecchia, Casey Moyer, Matias Orjuela, and Xander Reed. Earning his ticket via ROK Cup Canada is North Carolina driver Caleb Gafrarar. Finishing second at the Canadian Karting Championship, Gafrarar will make his first start at the Rok Cup Superfinal. Jamaican Alex Powell finished second at last year's event, and is back to improve his spot by one position.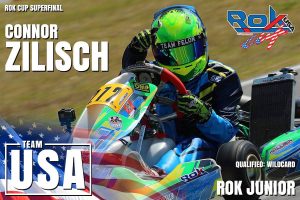 The largest contingent for North America is in the Junior Rok division, featuring nine drivers. Among them are returning drivers Dale Curran and Connor Zilisch. The Canadian Curran was among the top contenders last year with a top-10 qualifying effort and starting the main event sixth, but contact took him out in the main event. Zilisch, the 2017 Mini Rok champion, was another top qualifier with contact dropping him out of the main event after starting 8th. Florida Winter Tour champion Luca Mars is returning to the event after a year away, making his first start in Junior after racing Mini in 2017. Mars has two international events under his belt this year after racing the FIA Karting Academy Trophy program, yet is making his first start since a broken wrist in mid-August. Representing Challenge of the Americas is William Ferguson, with the California driver set to make his international debut. Son of Formula One Emerson Fittipaldi – Emmo Fittipaldi – is set to join the Team USA squad along with Santiago Biagi and Nicola Zeechinato. Filling out Team Canada is Gianluca Savaglio and Andrew Maciel.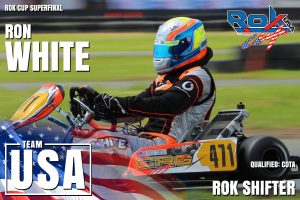 A number of champions make up the North America squad in the Shifter Rok category. Florida Winter Tour champion AJ Myers is making his third start at the event in the class. Challenge of the Americas is sending three champions to Italy in the class. Ron White, veteran driver and former European winner, is making his Rok Cup Superfinal debut alongside Rod Clinard, the Masters champion at COTA. Senior COTA champion Cooper Becklin is moving to the shifter division for his first start in Italy. Finishing second to Myers at FWT was Daniel Formal, earning his ticket via the ROK Fest in Biloxi. Formal is the lone driver returning from last year, where he placed 16th after a pushback bumper penalty. Florida Winter Tour Shifter Masters champion Victor Jimenez joins the Team USA squad along with Orlando Kart Center's Andre Martins with Josh Conquer and Davide Greco representing Team Canada. Greco and Conquer finished second and fourth at the Canadian Karting Championship.
The Senior Rok roster from North America is just three. Emma Delattre is the lone USA driver, returning as the winner of the OMP Trophy race (B-main). Canadian champion Xavier Harris is also returning to Italy, placing 15th in the B-main. Nicholas Hornbostel will join him on Team Canada.
Jace Denmark-Gessel is back again as the lone entrant from North America in the Super Rok class. The category utilizes the direct-drive ROK DVS powerplant. JDG finished 13th in last year's main event.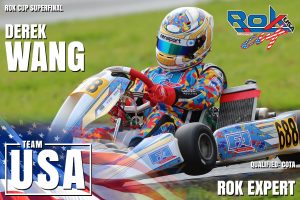 A solid roster of Expert Rok drivers will represent North America. Challenge of the Americas champion Derek Wang is making his first start at the event after a tenured career of international starts. USA driver Ariel Castro and Canadian Joe Crupi are returning drivers. Castro was a DNF after sitting in a podium spot last year while Crupi finished fifth. Brazilian Renato Jader-David swept the Florida Winter Tour program for his ticket to Italy with Yannick Rolland joining him under the Team USA banner. Californian Vatche Tatikian earned his ticket with victory at the Canadian Karting Championship and will race under the Team Canada banner. The lone driver in the Expert Plus Rok class is Californian Tim Meyer, making a second straight trip back after placing 16th overall, ninth in class.
EKN will have complete coverage of the event, with daily reports and social media updates as the race weekend unfolds from Italy. Click HERE to get a timeline of the event.