Another World Podium for Energy Corse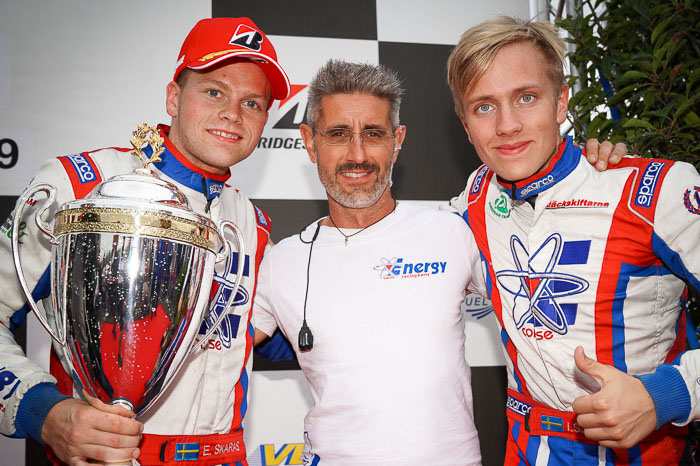 Sweden's Emil Skaras and the Energy Corse team have confirmed their European KZ2 Championship win by mounting the third step of the podium of the International Super Cup, a true World Cup in this difficult category, which again assembled a field of more than 120 drivers at the Lonato circuit. The entire Energy Corse-TM Racing team is more than ever a famous benchmark in high level international races.
Skaras ignites the Final
In the presence of the world's best KZ2 drivers, all the manufacturers and teams were in the starting blocks on Lonato's famous South Garda Karting circuit for the big event of the season. In these particularly competitive conditions, perfection was needed to hope to get on the podium and the Energy Corse team was in control of the situation thanks to the huge amount of work done. The performance of the equipment never faltered during this demanding meeting, the technical staff played their role admirably and Emil Skaras exploited this competitiveness perfectly.
"It was an extremely difficult race," admitted the Swedish driver. "After having achieved 3rd in Qualifying, my run in the heats was impeccable with three wins and three 2nd places! Starting on the front row in the Final, I knew that victory was possible. I also managed to take the lead and I hoped to win the Cup for Energy Corse, who have already won in the past. But the situation got tense in the next corner and I lost some places. I remained focused and managed to win my place on the third step of the podium. I would like to thank the Energy Corse team who provided me with a really effective chassis and Galiffa Tuning for its high performance TM Racing engines. European Champion and 3rd in this great world race is beautiful!"
Brilliantly qualified in the Final, his compatriot Isack Sjokvist unfortunately had to retire early in the race, while the Italian Moritz Ebner and Estonian Kaspar Kallasmaa gained a lot of experience at this meeting.
Results at all levels
In previous weeks, the Energy Corse team also distinguished itself several times. At the FIA ​​Karting World Championship at Alahärmä, the Finn Rasmus Joutsimies was one of the revelations of the OK category. He took a brilliant 5th place after the long marathon of Qualifying Heats, but an incident in the Final deprived him of an excellent result. In OK-Junior, Robert De Haan drove his Energy Corse-TM Racing to a 7th place finish after a remarkable gain of 10 places!
In the Italian Championship, Jamaican Alex Powell took another podium in the last event at Val Vibrata and finished 3rd in 60 Mini. ASD Revolution drivers Francesco Marenghi from Italy and Norway's Marcus Saeter fought at the forefront, with Saeter even winning in Race 2. "Training young drivers is a role we have always taken very seriously," concluded Mick Panigada, the head of Energy Corse. "Our goal is to support them so that they can climb the ladder with competitiveness and a strong mind."
The Italian brand also celebrates the successes and podiums achieved by Energy Corse distributors around the world.  Congratulations to them all…