Mechanic Minutes: Dan Schlosser – FIA Karting Championship Academy Trophy – Italy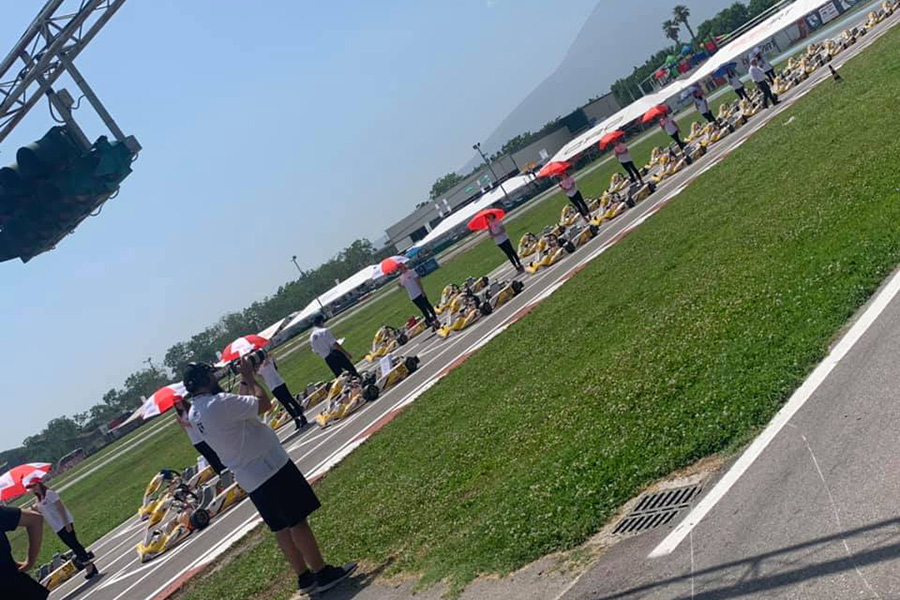 Karts on grid for the second event of the FIA Karting Academy Trophy (Photo: Dan Schlosser)
2019 marks the 10th season for the FIA Karting Academy Trophy program, which opened up at the Pro Kart Raceland facility in Wackersdorf, Germany on May 2-5. The United States have sent drivers to race in the unique championship series against drivers from all over the world. The 2019 season is welcoming 51 young drivers aged from 12 to 14 from 47 countries, including five continents, all competing on OTK chassis equipped with Vortex engines from the OK-Junior category on Bridgestone tires.
Representing the United States of America at the 2019 FIA Karting Academy Trophy series is Pennsylvania driver Luca Mars. The 13-year-old is among the top Junior drivers in North America, earning the SKUSA Winter Series and Florida Winter Tour championships this winter. At the beginning seven years ago when Mars first got behind the wheel of a kart at the Pittsburgh International Race Complex, Dan Schlosser was there. Schlosser was key to building the karting program at the Wampum, PA facility until branching out on his own Kartwerks USA program. For roughly 15 years, Schlosser has worked with a number of drivers, with he and son Andy Schlosser working with Mars since he turned his first laps in a kart.
Schlosser was able to provide us with the first edition of the Mechanic Minutes from Germany in May. Below is what transpired during their trip to the Circuito Internazionale Napoli in Sarno, Italy as Schlosser turned the wrenches for Mars during the second event of the FIA Karting Academy Trophy.
Thursday, June 13, 2019
We are off on another International adventure, once again competing in the FIA Karting Championship Academy Trophy series. For the second round we find ourselves on some familiar footing at the Circuito Internazionale Napoli in Italy – the same venue where Luca competed in the ROTAX – New Age Karting Grand Finals in the Mini Max class at the end of 2016. Today covers a bit more of the travel and scenery so if you are waiting to see race coverage, that kicks in tomorrow!
Everything so far about this trip has been a bit easier and more comfortable. Not just because we are in an area, or at a track, that we've travelled to before but also due to having one of these events under our belt already. The tension of not wanting to be 'those guys' at the first round was palpable but now we come in feeling confident in our program and of course our driver!
Our travel to this round was decidedly easier as all of our flights went off as scheduled and we also gave ourselves an extra cushion day after the delays and nearly missing the first day in Germany for Round 1. After a brief layover in Boston, we hopped an Alitalia flight to Rome. Boston Logan is rapidly becoming a favorite international hub – well thought out, spacious and easy to navigate – despite all of the Patriots and Bruins banners. That said, landing in Boston is always an adventure coming in over the water and this flight was no exception as we dipped up and down and seemed in yaw one way or the other until half way down the runway!
Alitalia was a nice flight but some hard seats and uncomfortably high temps made it tricky to get a good sleep on the overnight leg. The Rome airport was a great surprise after hearing so many stories about how crazy it is – really clean, easy to navigate and efficient. We were out the door and on the road for the 2+ hour drive to Sarno with a nice Italian surprise – a free Alfa Romeo Giulia upgrade as they were out of what we had booked.
We do not have to bring anything other than Luca's gear bag, a tool bag for myself and our GoPro cameras. Another factor that makes this Academy program so outstanding and also makes travel pretty simple.
One thing we noticed as we left was that there was a more tropical feel to the foliage leaving Rome. Little did we know that was probably a sign of what was in store… The drive took us between a few mountain ranges and some spectacular scenery despite the haziness. The valleys were green and dense but the mountain sides were also very lush and green – way more than we could recall when we were last here in November.
Our hotel is a story in itself – designed in the image of Mt Vesuvius that looms in the distance. This is easily one of the most interesting and unusual hotels you'll find anywhere. The hotel itself is part of a complex called Vulcano Buono – the Good Volcano! Other than a few doorways tucked back in to the structure it truly looks like a volcano complete with lush foliage covering the entire 'mountainside'. In addition to the hotel there is a cinema, two level mall and a huge open courtyard in the 'mouth' of the volcano.
This morning we did finally get to the track for the task at hand. Luca had several meetings as the FIA makes this a thorough education experience for the drivers with their Formula Medicine Academy Program. Today involved testing of reaction times, vision and more as they ran the drivers through several activities similar to what they'll experience as they move up the motorsports ladder.
On the prep side, we retrieved our kart from last round and had a random draw for an engine, #128 this time around – hoping it's a good one! For me, today was when all the work, cleaning and prepping the kart after last race paid off. It didn't take long to put it all back together and mount the engine, which made all the other tasks a breeze – retrieving and mounting practice tires, taking care of Sporting & Technical Checks, getting Luca's new helmet approved, picking up general supplies, etc.
For the record, it was hot here today. Bloody hot. Biloxi hot truthfully for those that read about our exploits in Mississippi where Luca won the ROK Cup USA Battle at the Beach in sweltering 95+ degree heat and southern humidity. That's the good news as it's supposed to be even hotter tomorrow. Damn….
Tomorrow we have just three 20 minute hot-pit practice sessions before qualifying. Definitely a different approach to most big events at home where it seems like we practice for days on end before we finally get down to official business. Luca normally picks up whatever we throw at him very quickly whether it's a new kart, track, tire or engine package so hopefully we can give him a solid baseline and let him make us look good again! It'll be a very intense but fun exercise.
We do have what we feel is a very good baseline for the 2019 OTK kart so we will start there on the chassis. Vortex provides us with a starting gear – and the ability to add or take away just one tooth – plus a sealed carb so the engine package is fairly straightforward.
Friday, June 14, 2019
We'll keep it mostly to racing tonight as it was an exceptionally hot and long day and frankly my creative side is a bit dehydrated…
This is a very compact schedule for Academy and Friday is arguably the most important day as you have just three 20 minute practice sessions before rolling in to qualifying. While it is challenge, particularly when going up against drivers that run here multiple times a year in top level European competition, this is exactly what we gladly signed on for! Luca traditionally learns tracks very quickly and the communication we all have together makes these events really exciting to tackle as a team.
Out of the gate the track was very, very grippy thanks to all the shifter racing in the KZ and KZ2 classes and their multiple days of practice ahead of the race. We ran fairly well in the first session – 11th in our group, 23rd overall about seven tenths off of fast time. A fair start but we saw some areas we could improve with both driver and kart. Our Ward Racing teammates had some input too that proved valuable.
Following that session we dropped rear ride height to deal with the grip while we actually added gear. In the second session we made a big leap forward and the chassis direction seemed to be on the money. The gear seemed to make us a sitting duck on the very, very long straight but really looked good in the technical sections. The changes pushed us to 6th in our group and 16th overall.
For the third session we dialed Luca in a little tighter as he was braking a bit too hard where this track rewards a light brake and rolling speed. On the kart, we dialed more grip out of the kart and trimmed the gear back a tooth as we figured we'd be able to roll more speed and take advantage of the lower gear (more top end, less pull off the corner) with the new tires.
This turned out to be patently wrong in most every way possible in the third session! Fortunately, we have always lived by the notion that no test is bad so long as you learn something good or bad. And that's a good thing as we were slow and lacked grip so we were searching for something to make us feel good!
What we discovered is that all the low rpm pulls off the tighter corners all the way around the track were way more valuable than the speed gained by the run down a single long straight. Also, the crazy heat here (96 and muggy) changed the rubber on the track midday from grippy to greasy, based on Luca's comments of having poor rear grip.
For qualifying we raised the rear ride height back to baseline to combat the lack of grip from Luca's feedback and changed to a bigger gear to get the drive back off the corners that we lacked in session 2. Dominic, Ward Racing's lead person here at Academy, had some good input for the front of the kart to combat the oversteer we were seeing in the high speed corners. An awful lot of changes compared to our usual methodical approach but we were confident (even without data still – argh!!!!) that these changes were actually well within what we had tested and not just throwing ideas at a wall.
Luca and the changes both responded well and we ended up qualifying 15th out of the 51 entries, which puts us in the fourth row for each of our heat races!
The day wasn't quite over though as we once again 'won' the random draw to change engines with another competitor as soon as we rolled off the scales. Also, we discovered the seat had taken an impact along the way and needed replaced. So once again we got to watch a sunset over the track while walking out alone after an extra couple hours of work in the sweltering heat.
It turned out to be a very good day as we look forward to tomorrow's two heat races to keep learning and moving forward.
While it was mostly an on track day we did have a few fun sidelines. Luca was interviewed on camera by the crew that creates the content for the FIA productions and website. He did a great job!
Also, it was awesome to see the camaraderie amongst the kids despite what some would see as language and cultural barriers. There is a fun pic of Luca and buddies from the UK, Ukraine, South Africa and Lithuania playing Foosball while the five of them and several others were together all day yesterday swimming at the trackside pool between and after their various activities. Children, teach your parents well….
Lastly, it was great to see our Speed Concepts Racing teammate Justin Arseneau from Team Canada get untracked after an untypical event for him in the first round of Academy. Justin was among the fastest all day and ended up P10 in qualifying!
Saturday, June 15, 2019
Day 2 on track is in the books and it was an up and down affair in more than one way.
With the seat change the night before we also changed seat position in hopes of helping the lack of grip in the high speed corners. When Luca was P7 overall in morning warm-up, and was even faster than he qualified on new tires, we were pretty happy with the changes.
Heat 1 saw Luca get a phenomenal start going from 8th to 3rd in the opening corners! Unfortunately, race control called for a 'do over'. The second attempt was still solid going to P7 at the start. We definitely had much better pace early in the run compared to any session to date and Luca started to work through the field toward the front. A late pass attempt in turn two didn't quite work as planned and Luca was shuffled back several spots. Unfortunately, things got a little dicey on the last lap and Luca ended up off track with another kart overtop of his rear bumper two corners from the checkered flag. The net result was a drop from the 10-12 spot range to 19th. Definitely puts some pressure on for the remaining heats.
Off track, well on grid technically, it was also a dicey outing…. I was run over on pit lane by the driver behind us after push starting Luca. It is definitely an un-choreographed ritual where the mechanics all push the karts then move quickly off to the side – left lane mechanics go left, karts go right. For some reason the driver behind Luca decided he wanted to go to my left instead. Of course I went tail over head with a shoe flying off. All I wanted personally from this experience was to not be 'that guy' on a world stage. Sigh….. Haven't seen photo or video proof yet at least. So maybe it didn't happen….
Luca had another great start in Heat 2 moving from 8th to 5th. The choice of line here seems irrelevant for the front row or two but from third row back, the extra speed gained coming around the last corner in the outside lane to the green is really a benefit. Luca passed for 4th and was closing on the lead trio quickly before a small mistake in Turn 2 at the end of the long straight dropped him in to a battle for 4th and 5th. Luca crossed the line less than a hundredth behind at the end, finishing 5th.
All in all, a good day despite the DNF that earned us yet another engine swap to close out the day. Generally you have to welcome the swaps though as it is usually an indication you are finishing well. They use that as a tool for parity and it acts as quasi-post race tech as well. Although they do check other things such as fuel and tires regularly.
Unfortunately, I missed dinner with the gang as I desperately needed a shower and a nap that lasted way longer than planned. Fortunately though the restaurants, bars and small towns around here don't close until midnight or later. I had spied a few interesting places when I was too stubborn to turn the GPS on the night before, managing an interesting tour of the backroads from the track to the hotel. I was able to reverse engineer that episode and ended up with a few nice surprises!
When traveling, particularly solo, I adhere pretty strictly to the WWTG philosophy – What Would Tony Get or Where Would Tony Go. Tony being Anthony Bourdain, the chef and travel/culture host of several amazing and influential shows. With his birthday coming up soon just a year after his passing, this seemed like a fitting tribute.
This lead me to Addo' Vicienz, which while sounding fancy possibly, is actually a road side food trailer with picnic tables, playground and apparently some Jenga like parking experience that defies anything rational. Italian Street Food! I ordered "one of those things I'm pointing at that the other guy is holding" (no menus or signboard and no one that spoke a lick of English) and a Peroni. Technically, I never got the beer when I asked for the Peroni, only when I finally asked for a PEER O NAY! The Panini was a pressed sandwich made with a spit roast pork loin with cheese, fries, ketchup and mustard. I think. It was dark (laughing). The really funny part was when the clearly Italian woman and I were failing to connect, she called another lady over because she should be able to help. She also spoke no English but did speak German. Obviously it was no help but for those that know me, it's pretty clear why she figured I was German! Can't deny the physical traits although I'm as much Italian as German!
I closed out the night in Palma Campania, a town that has to be centuries old with a really cool town square and a heck of a night life sprawling in to the streets. I did have a pretty great chocolate crepe at a little cafe along the square before heading on my way as well. Again a lot of pointing and exchanging shockingly little money for a tasty return. There was an amazing sounding bluesy, rock band playing somewhere close by as they could easily be heard echoing off the old masonry buildings but I gave up trying to find the source in and out of the avenues & alleyways and headed back to the hotel to call it a night.
We are back on track Sunday for a warmup, the third heat and hopefully the final!
Sunday, June 16, 2019
We finally made it to the day that counts, but we did still have Heat 3 to deal with to make sure we qualified for the Final first. Coming in to the day we were in a pretty safe zone in real tight points standings – Top 5 could move us up a few spots, Top 10 we would hold station but a 20th could put us in the danger zone of missing the Final. With just 34 of the 48 drivers making the final it is a guarantee some darn good racers are watching the final from the fence.
First up, we had a rather unremarkable morning warm-up. Luca looked great in the opening laps as he typically does (nearly always at the top of the sheets on cold tires), but by the end of the session he had fallen to mid pack on the charts. Some of those laps were in heavy traffic, so we didn't worry too much about the pace.
Heat 3 brought some anxiety to the camp though as Luca squeaked out an 11th place finish, while seemingly driving pretty well. With the lack of data available to us, the stopwatch became the truth detector and there was little doubt we were struggling hard off the corners. It didn't take long to point the finger at the engine that we received at the end of the previous day as the culprit.
I went first to Therese, the Vortex data person before we left the grid and asked her if she could download the data and let me know if she saw any variances between the engines or if it was driver. I can accept either answer honestly, so long as I have a direction to work with. At first, she asked to have the carb looked at by the Vortex tech staff. As that was happening, we talked some more about deltas from our lap times to the leaders in this and previous sessions, as well as how the previous driver who had this engine, Alexander Spetz, ran before and after he had the same engine. They revisited the data once again and before the carb was even finished, they had another engine sitting on the table for me to swap with.
A little ironic after our praise of the engine swap system yesterday, but this didn't change our opinion at all. I know a lot of people would bitch and whine about getting a bad engine but frankly I couldn't be happier with the way it was handled. They bring 60+ identically prepared engines but don't really have control over them once they leave their transporter. Rather than argue with us or get defensive, they were instantly responsive to our request, utilized the tools at their disposal to assess the situation, took full responsibility for the issue and rectified it. There is not a thing more that you can ask for in a situation like this – total professionalism! Things like this will happen – it's racing – and there is a chance that it'll happen to you. Be polite and professional with folks like this and you receive it back in spades when it counts. They have more than earned my respect.
With the 11th place finish, Luca slotted in 18th on grid for the 17 lap Final. Not what we had hoped for but certainly workable after dodging a few bullets. The prerace ceremonies were neat with a marching band playing and the drivers doing their parade along with introductions. At this round, FIA Karting President and former Ferrari F1 driver Felipe Massa greeted the drivers for their medals along with the track owner of Circuit Napoli. Once the race was underway, it was a relief to see driver, kart and engine back working in unison. Luca had yet another amazing start picking up 4 spots on the opening lap and then methodically picking his way forward 12 spots to earn a sixth place finish – in the points for both events now!
A couple of huge shoutouts after the race:
Ward Racing – an outstanding finish with all 4 supported drivers in the top 6 out of 48 karts – 1, 2, 4 & 6. An amazing job boys!
Justin Arseneau – massive rebound from Round 1 for our Speed Concepts Racing teammate, great qualifying, a factor in every race and a 4th in the Final.
Robert de Haan – absolute heartbreaker of a DQ after the win on track for a non performance or driver related issue. The complete package all weekend long – hold your head high.
Energy Corse Racing Karts – congrats to Mick Panigada and our friends for earning the KZ2 European Championship!
And a few other thoughts:
While we didn't win the race to get out of the paddock, we did manage to beat 8 other teams back to the racks this time.
It was so damn hot every minute that we were there. I don't think Biloxi, Phoenix or even Homestead at their worst could compare – just brutal.
I was not missing dinner with everyone this night and apparently, we all owe Tony Tesoro for the suggestion of Santa Maria as it was truly a remarkable dinner and atmosphere. The wood fired grilles and pizza ovens turned out stunning food and the company of the Mars and Dodds gangs was really a blast. And there is no doubt that this also fit in to the WWTG paradigm!
To close out this race weekend, here are a few things that were on my mind on the drive back to Rome to fly home:
There is absolutely no highway police presence and yet things are fairly orderly and not outlandish. Police work seems to be geared around something more important than generating revenue from writing tickets…
I'm sure the speed control zones every ten Kilometers or so help that cause. They are well marked and not hidden in any way. They are there to keep speeds down, not catch people speeding (although that still happens, particularly for the non-locals).
The truck traffic contained to the right lane, and middle lane only when passing other trucks (restricted when they can do this even) is an absolute godsend. Wake up North America!
Audi sedan/wagon drivers in Italy are what BMW drivers are to North America.
While appreciate eating actual chocolate instead of a product that includes some chocolate – If you are thinking about getting a Kinder snack while on the road just assume the chocolate will be melted to the plastic. Every. Damn. Time. Besides, Ritter is just superior – why bother with the others?
After the heat and haze and humidity this week, the trip to the airport was just beautiful – postcard view upon postcard view. Most of this country is just a feast for the eyes – everything you'd imagine Italy should look like!
After a few trips now to Germany and Italy both this year I think I've figured out some primary differences between two of the dominant sources of my gene pool. The Germans do things so proper and purposeful from design to engineering to execution. Driving around the country I found that it was just aesthetically soothing or pleasing and satisfied a part of me that enjoys things having a purpose or place and things that are done or built just…. properly. The Italians do grandiose things with a style and flair that is exciting and unmistakable from street lamps to sculptures to buildings and everything in between. It's also often just not done completely or the minor details just aren't as important. Most importantly both are stubborn and truly don't want outside input unless you are agreeing with them. The primary difference seems to be that the Germans do things because someone told them they can't do it and Italians do things because someone told them they shouldn't do it. Certainly explains both sides of my family quite well and the inner turmoil of my daily circumstance! Sure glad I have some Irish in there too to offset the stubbornness.
As always many thanks to go around most importantly though to the Mars family for making this all happen, my family for letting me chase this dream in the middle of the chaos that is our life without an actual home for a few more weeks, World Karting Association for extending the invitation to represent Team USA, eKartingNews.com for running with our rambling stories from these events, OTK Exprit Kart and Vortex Engines for the incredible equipment and support, FIA Karting Championship for these amazing events, Ward Racing for the support and great teammates and of course my badass driver Luca Mars who just never quits!
Following the event in Italy, Mars returned to the United States and won the Stars & Stripes Open event at his home track – Pittsburgh International Race Complex. The weekend following while at the SKUSA Pro Tour SummerNationals, Mars suffered a broken wrist in a non-racing incident in the paddock. The injury will force Mars to miss the final event of the FIA Karting Academy Trophy, set for September 20-22 at the South Garda Karting facility in Italy. Mars is sure to be ready for not only the ROK Cup Superfinal at the same facility on October 8-12, but the Rotax Max Challenge Grand Finals in Sarno, Italy on October 19-26.