eKartingNews.com Driver of the Month: July 2019 – Steven Kilsdonk
Career performance with victory and two runner-up finishes at USAC Karting Battle of the Brickyard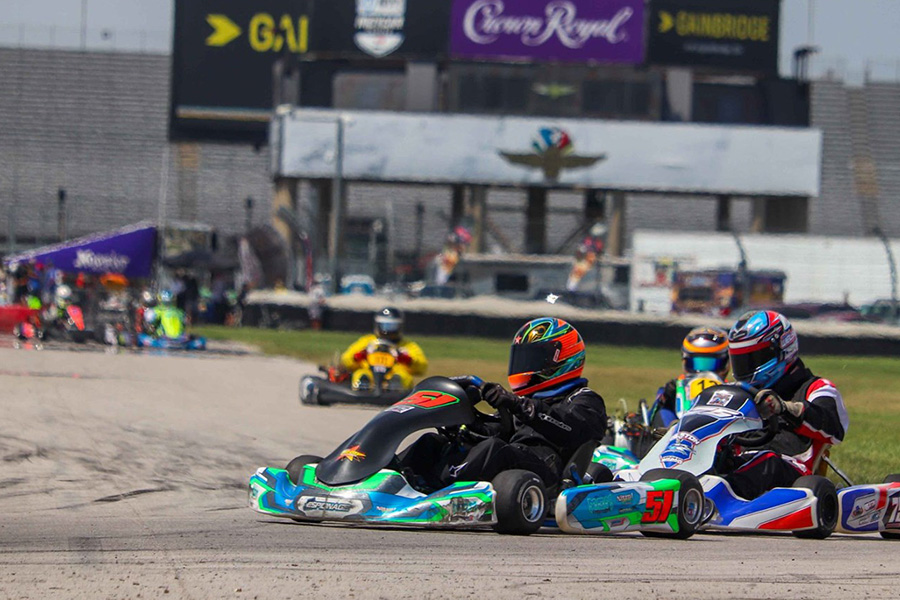 Steven Kilsdonk en route to his Briggs 206 Masters win at the 2019 USAC Karting Battle at the Brickyard (Photo: Adrenaline Motorsport Media)
In a continued effort to highlight the many outstanding performances by drivers around the country, eKartingNews.com is proud to introduce the 'Driver of the Month' program. Each month, the staff at EKN will determine the one driver who stood out above the rest and give the viewers a chance to know exactly what they accomplished and who they are.
Many of us have thought about crossing the yard of bricks on Memorial Day weekend and 500 miles of racing to be crowned the winner of the Indianapolis 500. And thanks to USAC Karting, karters have the opportunity to not only cross those bricks, but become an actual winner inside the Indianapolis Motor Speedway. When USAC Karting announced the Battle at the Brickyard event in December 2016, every karters vision of racing at the famed IMS became a daily daydream. Karts hit the famed Brickyard facility in Speedway, Indiana in July 2017, and have helped turn those dreams of winning inside the hollowed grounds into reality.
The third edition of the USAC Karting Battle at the Brickyard took place on July 5-7 inside the famed Indianapolis Motor Speedway around a one-mile course utilizing parts of the Formula One, IndyCar GP courses, and access roads. Among those to claim the USAC Karting Brick – what is now a coveted trophy in United States karting – and taste the milk is Steven Kilsdonk.
Kilsdonk is a longtime 4-Cycle racer from Wisconsin, having won a number of races in both Sprint and Road Racing competition. Recently, Kilsdonk has been a Cup Karts North America regular. Taking part in the first two editions, Kilsdonk was among the top contenders in the Briggs 206 divisions. His best finish was a fourth in Briggs 206 Medium in 2017. The 2019 event saw Kilsdonk run three categories, Briggs 206 Medium, Briggs 206 Heavy and Briggs 206 Masters for the first time. Kilsdonk ran an impressive top-four in all 12 on-track sessions for the weekend aboard his MGM chassis.
Briggs 206 Medium was the first category on the schedule, featuring 62 drivers. Kilsdonk was third in qualifying and finished second and third in the Heat and Prefinal races. Steven was the wingman for two-time Brickyard winner Gary Lawson. They ran 1-2 the entire main event, with Kilsdonk placing second at the checkered flag.
Briggs 206 Heavy was very similar, with 58 drivers taking the green flag. Kilsdonk was second after qualifying before he finished fourth and third in the Heat/Prefinal races. Just as they did in Medium, Lawson and Kilsdonk broke away from the field to settle the win on their own. It was race the checkered flag, with Steven coming up just short by 83 thousandths to Lawson.
Everything went in Kilsdonk favor in the Masters division, sweeping the event. Steven cleared the 55-driver field in qualifying by over two tenths with a 1:17.261. Kilsdonk led every lap of the Heat race and the shortened five-lap Prefinal that was run Sunday morning after a rain storm hit the area Saturday afternoon. While going untouched throughout much of the event, Kilsdonk came under pressure from multi-time Rock Island Grand Prix winner Michael Welsh. Welsh took the lead from Steven on lap 11, however, Kilsdonk was able to retake the position on the final circuit to score the victory.
Kilsdonk was also awarded the "Mickey Rupp Award" for 2019 at the Brickyard, which is given out to the karter who best embraces the spirit of the Indianapolis 500 through karting. Steven has competed in the Cup Karts North America program this season, along with opening up the year racing at the 24 Hours of Orlando. Recently, Kilsdonk took part in the latest double header KRA weekend at New Castle Motorsports Park, scoring three top-four finishes including one victory. Upcoming on his 2019 schedule is the Cup Karts North America Grand Nationals 3 at NCMP, along with the track's 125-lap endurance event.
July 2019 EKN Driver of the Month – Steven Kilsdonk
Bio
Born: March 9, 1983
Hometown: Raised in Wisconsin, living in Noblesville, IN
Marital Status: Single
Children: None
Height/Weight: 5'6" / 150lbs
Education: Bachelor's degree in Mechanical Engineering
Occupation: Software Engineer
Racing Resume
Chassis: MGM Espionage
Engine/Engine Builder: Briggs 206 / Kart City Performance
Sponsors: Mind Game Motorsports, Kart City Performance, SSI. And thanks to Jason Trennepohl, John Brooks, and my dad, John, for making it possible.
Series You Compete In: Cup Karts North America
Years Karting: 23
How did you get started in karting? The TV coverage of IndyCar frequently talked about drivers getting started in karts when they were 12 or 13, so I desperately begged for a kart when I turned 13. My dad found a co-worker who raced at the Karting Kettle in Elkhart Lake, and off we went.
What has been the high point in your racing career? Winning at the Indianapolis Motor Speedway was the dream since I was a kid. So winning the Battle at the Brickyard was a pretty big goal ever since USAC Karting announced the inaugural running.
What are your goals in racing? Win the next race. Have a good time.
In a few words, how would you describe your driving style? Smooth and consistent, mixed with most of Gary Lawson's pet peeves, haha.
Funniest moment at the race track? The "Scuba Steve" nickname is the gift that keeps on giving. I've heard some very elaborate but fictional stories of its origins.
Likes
Favorite Track: CTECH Manufacturing Motorplex at Road America
Favorite form of professional motorsports: (V8) Supercars and IndyCar
Favorite karting driver: Ryan Cassity
Favorite professional driver: Eddie Cheever (thus the #51)
Favorite website: abc.net.au/triplej (Triple J, the best radio station for new music!)
Favorite movie: Grand Prix
Favorite actor/actress: Ryan Reynolds
Favorite music/group: Ruby Fields (angsty female-fronted pop/rock)
Favorite vacation/activity spot: Bathurst in Australia
Favorite food: Jambalaya
The Real Deal
What do you do when not at the track? Hang out with friends, build up my library of old IndyCar race videos.
What are your goals outside of karting? Leave positive impressions on everyone I interact with. And make enough money to retire ASAP.
What type of street car do you drive? Subaru Outback
What type of street car would you like to drive? Porsche 911
What are your pet peeves or things that irritate you? Rap music. Freeloaders. Entropy.
What do you think could be done to improve the sport of karting? So, about shoe clutches and the LO206 class…maybe another time. The influx of big karting teams that is now working its way down to the local level is a daunting barrier to entry. My Dad and I had to learn everything the hard way; we never would have gotten involved if we thought we needed to hire a mechanic and be under a tent in order to succeed.
What are your favorite aspects about the sport of karting? Making longtime friendships with fellow racers all across the country. The ability to run the same package virtually anywhere. And everyone should try enduro karting at least once!
July 2019 Driver of the Month – Honorable Mention:
– Brian Fisher: USAC Karting Battle at the Brickyard – 1 Win (IAME Masters)
– Aryton Grim: United States Pro Kart Series – 2 Wins (Micro Swift)
– Royce Johnson: Texas ProKart Challenge – 2 Wins (Briggs 206 Senior)
– Gary Lawson: USAC Karting Battle at the Brickyard – 2 Wins (Briggs 206 Medium / Heavy)
– Race Liberante: USAC Karting Battle at the Brickyard – 1 Win (KZ)
– Miguel Mier: Texas ProKart Challenge – 2 Wins (X30 Masters)
– James Moss: Texas ProKart Challenge – 2 Wins (Micro Swift)
– Scott Roberts: United States Pro Kart Series – 1 Win (X30 Masters)
– Keith Scharf: USAC Karting Battle at the Brickyard – 1 Win, 9th, 10th (Margay Ignite Masters, Margay Ignite Senior, IAME Masters)
– Nicholas Terlecki: USAC Karting Battle at the Brickyard – 1 Win (IAME Senior)
– Jake Venberg: United States Pro Kart Series – 1 Win (X30 Pro)
– Colin Warren: USAC Karting Battle at the Brickyard – 1 Win (Margay Ignite Senior)