Littleton, Bridges, Pannell, and Scarbrough Lead Locals on Maxxis Championship Weekend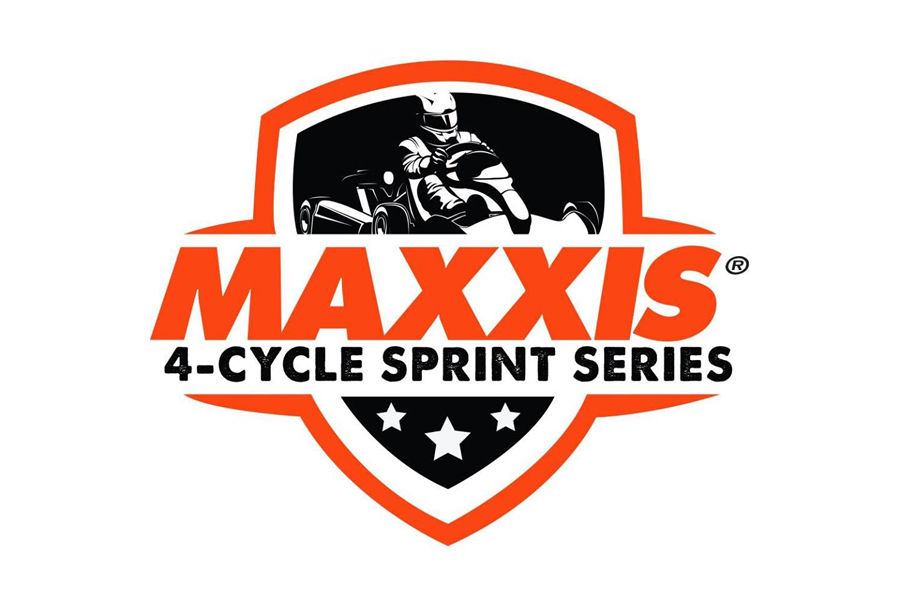 Temperatures in the high nineties, the newest school season, and the busiest weekend of  206 competition in the country did not deter the points finale for the Maxxis 4 Cycle Sprint Series from enjoying great numbers, as the series wrapped up its second season of competition at Lamar County Speedway in Barnesville, Georgia.
With a packed pits of national competition, the local contingent was well represented in victory lane as Peyton Bridges, Lane Littleton, Jocie Pannell, and Lillian Scarbrough, all regulars in Barnesville, found the top shelf of the podium on more than one occasion. While Bridges, Littleton, and Scarbrough all ran the national series, there was no doubt they were enjoying Home Track Advantage this past weekend.
After picking up her first national win a month ago in Maryland, Lillian Scarbrough roared to life both days in the Moe Racing Kid Kart class, taking the Saturday win over defending series champion Jaydyn Wilson, with Camden Boatfield, Sawyer Chambers, points leader Sydney Miller, and Caleb Wilson rounding out the race order. Day #2 found Scarbrough right back in victory lane, with Wilson once again in the runner-up position, followed by Boatfield, Caleb Wilson, and Miller. Millers finishes allowed her to take the 2019 Kid Kart Championship, while Scarbrough came home a close second, followed by Texas driver Sawyer Chambers. Here's a look at the Top 3 final standings in Kid Kart.
1 Sydney Miller: 411
2 Lillian Scarbrough: 403
3 Sawyer Chambers: 355
For Lane Littleton, the return to Barnesville victory lane was a welcome sight. After breaking his arm at the Barnesville event back in April, forcing the Georgia driver to sit out the weekend, Littleton roared to life with a pair of wins in the Mikim Motorsports Pro Gas Cadet class. On Day 1, Littleton fended off 2019 Pro Gas Champion Owen Lloyd, with Peyton Bridges, Brady Atwood, and Darryl Moglia rounding out the top 5. On Day #2, Littleton continued his pace up front, again topping Lloyd, with Atwood improving to 3rd, followed by Moglia and Mason Donahue. With his pair of runner-up finishes, Lloyd attained the 2019 Pro Gas Championship. Here's a look at this years top 3.
1 Owen Lloyd: 433
2 Mason Donahue: 405
3 Brady Atwood: 403
Much like Littleton, Peyton Bridges was enjoying sleeping in his own bed each night, which showed with a pair of wins in the Brads Karts and Parts LO206 Cadet Mains. On Day #1, Bridges led the 10-kart field to the checkers, topping Littleton, with Owen Lloyd, Darryl Moglia, and Adam Wein completing the top 5. Day #2 found a mirror image of the top 3 of Bridges, Littleton, and Lloyd, with Mason Donahue and Darryl Moglia completing the top 5. Once again, consistency on this weekend, coupled with numerous wins during the season enabled Lloyd to snare his second title of the season, with Donahue and Moglia finishing second and third in a very tight battle. Here's a look at the final top 3.
1 Owen Lloyd: 518
2 Mason Donahue: 488
3 Darryl Moglia: 485
For Jocie Pannell, a regular at Barnesville, her first experience with national competition netted the young driver her first pair of national event wins in the Coyote Motorsports/Brad Heating and Cooling LO206 Junior class. Pannell bested fellow female competitor Jenna Pearson on Day 1, while Eli Brewer chased Pannell across the stripe on the second day of competition. While not at the finale, the 2019 Junior championship was wrapped up by Maryland's Collin Miller prior to the weekend. Miller will be honored for his Junior title in December at Jacksonville on Grand National weekend.
The tightest points battles were in all 3 Vintage classes. In its maiden season, the Vintage drivers added a great element to the pits, and on track. And this past weekend, the stress to win the Swann Mechanical Limited Modified Championship was on. Sporting a slim lead in points, Gregg Redd had the pressure squarely on his shoulders, and didn't disappoint. Day 1 action found the classes Saturday stalwart in Jason Shoffner taking yet another impressive win on the season, with Redd coming home second, followed by Ken Eversole, Bob Barthelemy, and Cameron Plyler. Feeling the pressure from behind, Redd stepped up his game on Sunday, taking the top honors over Barthelemy, Tracy Pearson, Eversole, and Cameron Plyler. In the end just 4 points separated the top 3 in the final standings in the closest finish of the season. Here's a look at the top 3.
1 Greg Redd: 329
2 Bob Barthelemy: 327
3 Ken Eversole: 325
The ARC Racing Vintage Stock class had a little more of a gap in the final standings, but not much. And with 24 hungry Vintage Stock racers converging on the Barnesville course, 1 slip, and title hopes would be dashed. But for Tyler Swann, the Georgia product kept his head, staying consistent with a top 5 run on Day 1, as Todd Horton, another Saturday top gun driver took the main event win over Steve Loftin and Billy Johnson Jr. Day 2 found Swann looking to preserve that first ever title, with a win over dirt veteran Kenny Buff, while Archie Kennedy rounded out the top 3. With his win, Swann takes the inaugural title. Here's a look at the top 3.
1 Tyler Swann: 371
2 Greg Redd: 362
3 Steve Loftin: 354
This years awards ceremonies will honor a Father and Son Champion as Tyson Swann laid claim to the Dyno Cams Vintage Open Modified title. While needing some relief help on Saturday from Stevie Roberts due to extreme heat conditions, Swann and company tuned the kart just right, as Roberts roared to the Saturday Open win over Kenny Buff, Rodney Benefield, Duke Zink, and Chuck Pittman. Zink raced back for the Sunday checkered, thus coming home second in the overall standings. Here's a look at the top 3 in the final standings.
1 Tyson Swann: 340
2 Duke Zink: 319
3 Kenny Buff: 245
Fathers and Sons were also represented this past weekend in the SSi LO206 Senior class as 2019 champion Caylyn Brown topped Dad Kenner in Sundays action, while besting Peter Rigg on Saturday. Brown will be one of the many honored in Jacksonville in December for his title.
Not to be denied a pair of wins this weekend also was Chris Carroll in the Kart City Performance CIK LO206 Senior class. Carroll bested Jacob Duvall, Tyler Swann, Aren Lloyd, and Kyle Banovitz on Day 1 while returning on Sunday for a sweep of the weekends class. Duvall again came home second followed by Austin Kinny, James Inscoe, and Lloyd. With his finishes over the weekend, Lloyd secured his first ever title in CIK competition, with Carroll coming home second in the title run.
With 2019 champion Tim Clark missing from action this past weekend, the floodgates were open this weekend in the EK Kart Chain 206 Masters class with a pair of Florida veterans in Barry Hastings and Brad Farmer not only securing a pair of wins, but also locking down top 3 spots in the final standings. Hastings took the Day 1 honors over Farmer and John Seglem, while Farmer improved one notch in the order, taking the Sunday show over Seglem, Chris Cirillo, and Hastings. Here's a look at the final top 3 in the 2019 standings.
1 Tim Clark: 418
2 Brad Farmer: 389
3 Barry Hastings: 385
The weekend got off to a great start with the first edition of the Big Boy Bash, a special race for many of the heavyweights in the Vintage Stock Class. With drivers weight set at 220, 11 of the best in Vintage Stock racing ran a trio of race segments, full of inversions off track, and great racing on track. In the end, New York's Chris Cirillo came away with the first edition win, receiving some amazing awards from Tyson Swann of Swann Mechanical. Cirillo was in a huge dogfight the entire distance with Billy Johnson Jr, Joey McNeal and others before taking the prestigious win. Billy Jones fought his way to second with Randy Bloodworth coming home third.
Speaking of awards, special thanks again to Stevie and Stacy Roberts of Roberts Kart Shop and Razor Chassis for the amazing Fast Time awards. Also, Happy Anniversary to Stevie and Stacy as well.
With the 2019 season in the books points wise, all eyes are now focused on the 2019 Grand National event. Slated for December 27 and 28 at 103rd Street Sports Complex in Jacksonville, Florida, the Grand National weekend will feature the bulk of the 2019 points classes, highlighted by a $2,000 to win event for the CIK LO206 Senior class, with $500 for second, and $300 for third. Purse is subject to change for the better as the next few months proceed. Friday will be a full slate of practice from 9am-4pm, with a full day of racing on Saturday. Winners will receive the prestigious Maxxis Grand National eagle, with eagles for second and third place as well.
More details regarding the Jacksonville Grand National event, as well as the Year End Awards ceremony will be coming shortly.
On behalf of GoldspeedUSA, our sincerest thanks to everyone for making the 2019 edition of the Maxxis 4 Cycle Sprint Series a great success.