Faces of The Grid: Mike Giessen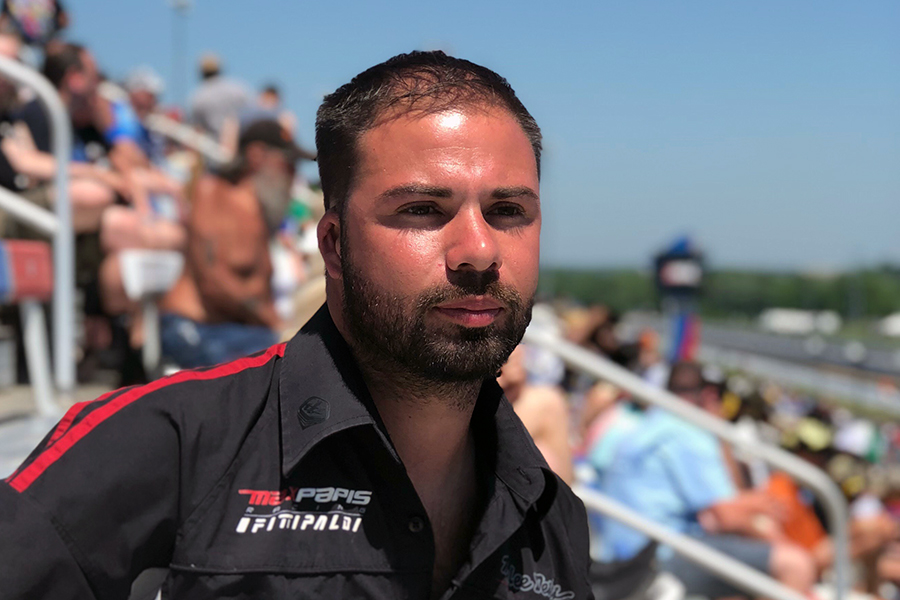 (Photo: Blake Hunt)
By Blake Hunt
Mike Giessen – a prolific name within the American paddock – is one of the most accomplished American drivers of the 21st Century. His reputation more than precedes him, having won the IKF Grand Nationals when the Federation was at its height and travelled as far as Dubai for the Rotax Grand Finals. Though he knows what it's like to compete against the best in the world, Giessen has pivoted to helping get the careers of other young Americans off the ground by providing his tuning and driving expertise. The decision to do so comes as a result of Giessen's burning passion and love for the sport. His passion for the sport has also led him to dip his toe into vintage and road racing as well as some extraordinary twin-engine kart builds. Although, he did see sprint racing action recently which he quickly found his way to the pointy end of the field as only Mike could.
EKN: A man with such a legendary past must have gotten started in the sport quite a long time ago, how did your journey into karting begin?
Mike Giessen: My father used to run lay down enduros in the late 60s and early 70s. He purchased a full size 4-cycle kart when I was almost 4 years old and I ran in empty parking lots almost every night we could until I was 7.
EKN: Having gotten comfortable behind the wheel, what compelled you to start racing?
MG: At 7 years old my father bought my first 2-stroke kart. It was a Dino with a Comer 2-stroke and we began club racing on the eastern end of Long Island. Around the age of 8 or 9, I learned to tune a carburetor as well as rebuilding a stuck engine with minimal help from my father. My local class was composed of 5 or 6 older kids that had been running against each other for 2 years before I joined. They were very seasoned and at first trying not to get lapped was my goal. By the time I was 9, I was battling it out with the older kids and eventually won my first race. In 1996, the IKF Grand Nationals were held at OVRP in Cuddebackville, NY, which I attended and got my first experience at such a high-caliber event. This event drew 450-500 entries and as I recall, I ran midpack. The next year's IKF Grand Nationals were held in Marshalltown, Iowa, where I placed first and won the prestigious "Duffy". All this took place with the direction of my father, no super team, no coach, no spare motors.
EKN: How long did you continue to compete at the top level nationally before getting the opportunity to dip your toe into European competition?
MG: In 2007, I finished 3rd running the US Rotax Grand Nationals, which were held in Colorado. That finish gave me a ticket to the Rotax Max Challenge Grand Finals in Dubai later that year. It wasn't the best experience as we struggled with motor issues in the first few practices. The time spent trying to diagnose the engine problems really put us behind on the kart setup which led to a poor qualifying attempt but had top ten pace in the heat races.
EKN: Was the jump up to the international stage a shock to the system or did it feel like a natural progression that you just viewed as another challenge?
MG: Racing overseas wasn't a shock as I had aspirations to run with Birel in Europe. In 2007, I was racing with MRP supported by the Birel factory here in the U.S. Having all the success I had here and the perception of karting in Europe, I always wanted to put myself in that situation. I've had some memorable experiences and success racing against factory supported drivers such as David Fore, Ben Horstman, Helmut Sandeen, Scott Jenkins, and Giacomo Patrono. Those races made us work even harder as they raised the bar tremendously.
EKN: Having raced against some of the biggest names in the history of the sport, you know the level that they compete at, how would you compare the level of competition here at home to that in Europe?
MG: The level of competition is comparable to Europe, but there is just more of it there. We have great teams and drivers here in the U.S. and many of them have support from Europe. It's great to see that support and influx of factory drivers coming from over there to race here. On the flip side, we have seen our drivers compete in Europe with great success in the last few years.
EKN: Did you find yourself making significant strides regarding your driving and tuning knowledge during your own time in Europe working with factory teams?
MG: Working around some of karting's greats such as Chris Lobaugh, Tim Lobaugh, Mike Wilson, Gianluca Beggio, Lynn Haddock, Woltjer family, Brandon Jenkins, just to name a few, have all influenced my knowledge and how I go about my time at the track. I'm very fortunate to have spent time with such people in my career. I never stop learning even to this day and always keep an open mind.
EKN: You've certainly driven many different types of engines in your day, what is your point of view on the single-make proliferation in the United States?
MG: I have no problem with the single make engine classes. When I know I'm going to the track, be it driving myself or wrenching for someone else, I know it'll be down to driving and tuning skills. IAME and Tilloston did a great job refining what Rotax tried to accomplish many years ago. Surely not perfect, but I've enjoyed the experience, especially the KA program. Would I like to see it return back to the way it was when I ran ICA with multiple engine and carb manufacturers? Sure!
EKN: It's quite evident you're fond of those days with the amount of vintage racing you do, how did you begin accumulating your impressive vintage collection?
MG: I enjoy the material from the earliest days of karting, but I definitely seem to have taken a liking to the 80's-90's era somewhat more. I purchased my first engine, a rotary valve 100cc Formula A, about 6 years ago from Nick Leone. The sound and simplicity of the whole package really stood out. There's nothing like the sound and sensation of 19,000 RPM with these engines.
EKN: Being so fond of these machines from the past do you plan to expose more karters to the vintage scene or simply enjoying it for yourself?
MG: It's a combination of both. I find it beneficial that I'm almost the link between vintage and modern karting. Being current in modern karting and my social media presence allows me to expose vintage karting to the rest of the karting world as I'm one of the younger people within the vintage community. I never planned for things to end up as they are now but everything has just fallen into place. The opportunity to run vintage for the first time with Lynn Haddock surfaced out of the blue and since then, running vintage karts has become the most fun I have behind the wheel. In fact, I enjoy running vintage more than modern simply because there's no pressure and you're going out there to have fun. I also enjoy the fact that I'm working with the older generation, such as Lynn, and preserving their knowledge and stories so that the legend may carry on.
EKN: Speaking of carrying on the legend, what is one piece of knowledge you'd like to pass on to the younger generation?
MG: The best thing a young driver can do is to get involved with working on and learning the kart as much as possible, such as changing gears or going over data, things of that nature. Every little bit can help. Being hands-on is the best kind of learning a kid can do. For instance, few drivers can even tune a carb these days. Having that kind of knowledge is certainly an advantage.
EKN would like to thank Mike for providing his wealth of knowledge as the basis for this article.