Karter X – The Unknown Pro – SummerNats Sunday
Final diary post from our secret New Castle contributor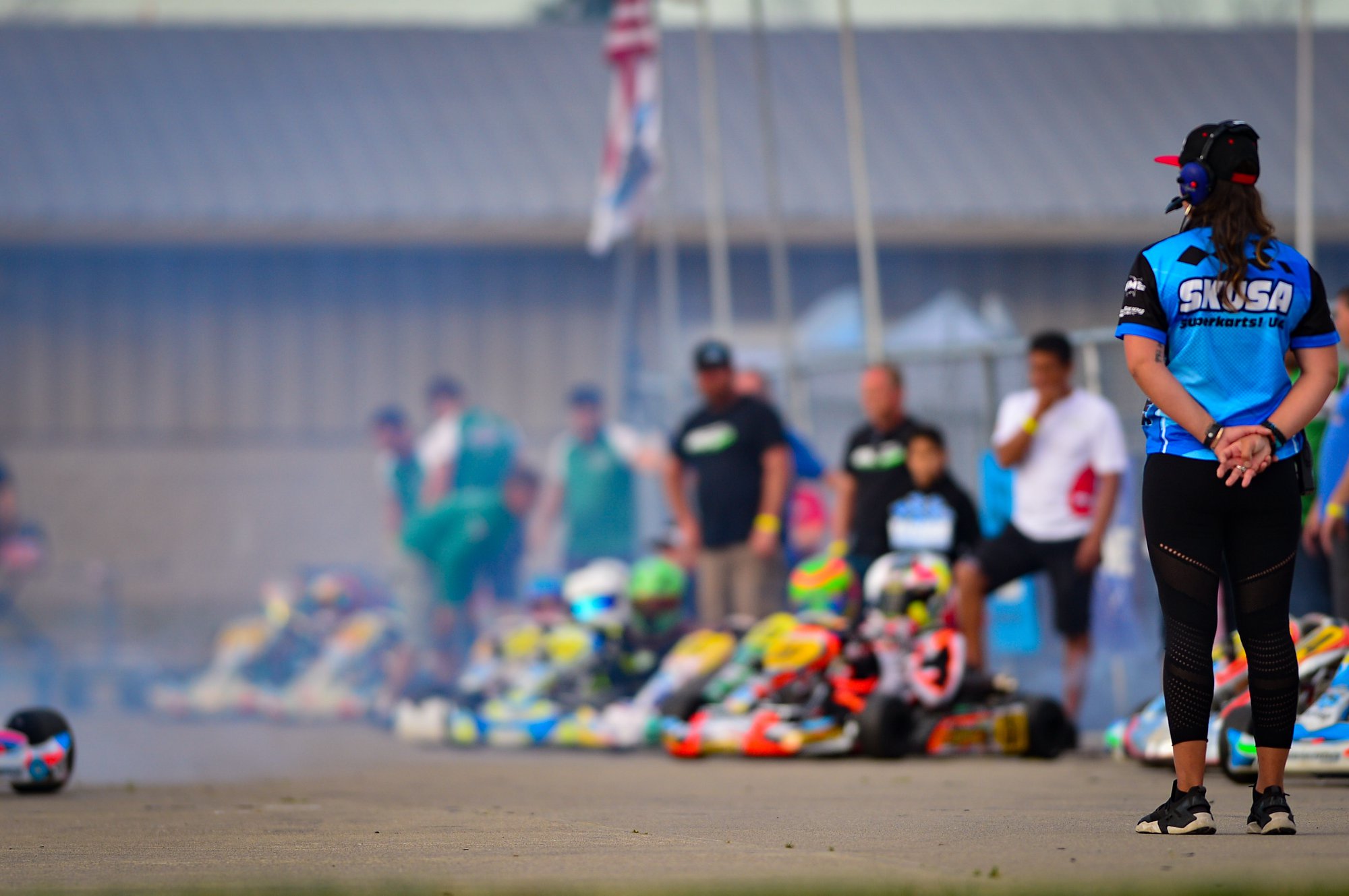 This is a new editorial offering – managed by EKN Contributing Writer Blake Hunt – is aimed at providing a unique look at the paddock and competition at major events through the eyes of one of the sport's top pro drivers. The driver always will remain anonymous, so we'll refer to him or her as 'Karter X'. She or he will be competing in the X30 Senior this weekend, so we expect much of the focus to be on that particular class. This is the first installment of this editorial series, and we hope you enjoy it. Our plan is to publish daily segments from our new contributor. – Editor
Event: Superkarts! USA Pro Tour SummerNationals
Track: New Castle Motorsports Park – New Castle, IN
Focus: Championship Sunday
My day started off somewhat early. Practice went well and my times were as equal as the leaders. I couldn't find the proper draft in qualifying to position myself further upfront, so that was kind of a bummer going into the Prefinal in a not-so-prime position. In the Prefinal, I was able to get up a few positions in the opening laps but I felt as if my kart wasn't set up as I needed, to continuously pass other people. In the Final, we changed what we thought would be beneficial, but again we missed the set-up. I was still able to advance many positions but it wasn't enough to battle with the leaders.
I preferred it this new layout over the regular layout. The reason being is because they've been running the same layout for SKUSA, and other racing series, for multiple years. The change was good and needed, in my opinion. It challenged every racer in different ways, and it made for exciting racing.
The weekend, as a whole, was a mainly a struggle. Had its ups and downs, and was a work-in-progress. We, as a team, are going to take what we learned to better us next race. With the race season nearing an end, I took some time to reflect on how my season went. From conquering a few podiums and wins, to not finishing as well as I anticipated in other races, I am thankful for my team for their support, and the opportunities they have given me.
Organizationally, this weekend was run pretty smoothly. SKUSA is normally on time, and they try to facilitate the day as professionally as possible. The taco truck event at the end of on Sarurday was pretty cool too. As far as penalties go, it seems like they don't look for anything outside the top-10. Their main focus is obviously top-five. It kinda bums me out to see a parent with a kid finishing around 20th or so due to contact, and there was no such penalty given to the racer who caused an incident. You have to look it like this; everybody spends the same amount of money to enter this race so the corner workers should play a more even role by watching the whole field. It seems like with this new dropdown bumper, that if it's not dropped down, you ran a clean race. I beg to differ. I watched multiple people this past weekend go and pod somebody off the race track and their bumper was still in position. I understand that if somebody's on the outside coming out of the corner, and they run off the racetrack from the driver pushing them out wide, but not blatantly turning the wheel right into their side pod and physically putting them off the racetrack. The dropdown bumper has made the starts cleaner, but I'm not too fond of it.
Special thanks to eKartingNews.com for this opportunity, I was able to be as blunt as possible with certain things going on at the track, and off. I hear a lot of people thinking who Karter X may be, but you'll honestly never guess who I am. I hope you guys enjoyed it.
Bye for now, maybe.
Karter X