Karter X: The Unknown Pro
Insight from the SKUSA SummerNationals paddock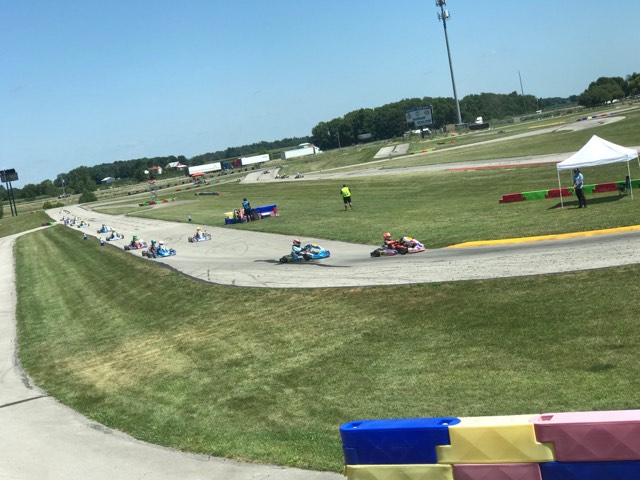 This is a new editorial offering – managed by EKN Contributing Writer Blake Hunt – is aimed at providing a unique look at the paddock and competition at major events through the eyes of one of the sport's top pro drivers. The driver always will remain anonymous, so we'll refer to him or her as 'Karter X'. She or he will be competing in the X30 Senior this weekend, so we expect much of the focus to be on that particular class. This is the first installment of this editorial series, and we hope you enjoy it. Our plan is to publish daily segments from our new contributor. – Editor
Event: Superkarts! USA Pro Tour SummerNationals
Track: New Castle Motorsports Park – New Castle, IN
Focus: Thursday Unofficial Practice
Coming in for the final round of the SKUSA Pro Tour in Indy is always a good feeling. I come to Indy a couple times a year and I always enjoy the racing atmosphere, especially knowing that the Indy 500 takes place in this town. This historic city always makes for great racing. Downtown Indy is pretty clean with nice architecture and one of the best steak places in the states – St Elmo's. I highly suggest everyone to eat there at least once during their visit here.
For this final SKUSA Pro Tour race, they added another section to the racetrack, and what separates experienced racers from inexperienced racers is the 'ski jump' corner. It's one of the most difficult corners on the racetrack because you have to be really aggressive and smooth. I've never had to deal with anything like that in my racing career, as far as the drastic changes in elevation. By far, it's one of the most technical parts of the race track. It makes it interesting for all of the other drivers who have raced here, and it equalizes the field.
My season's had its highs and lows. We are a work-in-progress and we've been testing a lot of material, getting better and better each race. With the kart set up right, I expect to have speed to run up front and will hopefully be able to challenge the leaders in the final.
I see the top five drivers in X30 Senior having a spaced-out race for the end of the final, but I don't think that the leader will be challenged much at the last few laps, because normally P2 usually fades off of P1. The Prefinal should be a pretty drastic and exciting race, with racers doing as much as they can to get a great starting position for the final. The Finals should be pretty dicey, because we have the point leader risking his championship to stay up front, but after half way everyone should mellow out.
With social media being a big outlet these days, we see a few team owners / co-owners expressing a lot through their social platforms. There was a lot of noise surrounding one team in particular today. I come to the race track to race and have a good time, not read and hear about the drama going on. Let's be real, this isn't high school. Just because you have money and a semi-new team for a few years, it doesn't mean you can run a successful and powerful race team. Yes, you can hire top finishing kart drivers for a few races but once they leave or are dropped off the team, coming after them like was done today doesn't make it right. Just because someone can be successful in life doesn't mean they can properly run a race team.
More to come on Friday night after the final day of practice.
KX