eKartingNews.com Driver of the Month: June 2019 – Jeff Dolian
Long-time Margay racer sweeps Ignite categories at Quincy Grand Prix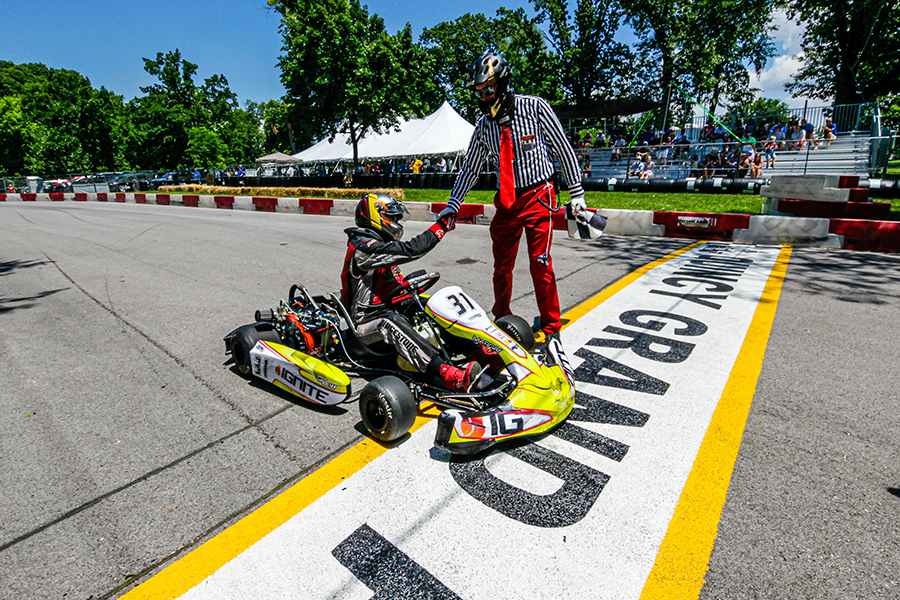 Jeff Dolian celebrating one of his two Margay Ignite victories at the 2019 Quincy Grand Prix (Photo: Mark Schwigen - Margay Racing)
In our continuing effort to highlight the many outstanding performances by drivers around the country, eKartingNews.com is proud to offer up our 'Driver of the Month' program. Each month, the staff at EKN will determine the one driver who stood out above the rest and give the viewers a chance to know exactly what they accomplished and who they are.
The Margay brand has been a historic name in United States karting for decades. Everywhere around the country, from local tracks to road racing circuits, Margay has been a popular choice for a chassis. The company remains the longest standing chassis manufacturer based in the USA, and continues to hold its loyal customers after years and decades, knowing the product is capable of winning every time it hits the track. In recent years, Margay has welcomed new loyal customers while rekindling that allegiance with former racers thanks to the launch of the Ignite program, which is cenetered on the Briggs & Stratton 206 powerplant.
Among those to renew their love for karting and the Margay brand is Jeff Dolian. The Illinois native came back to karting thanks to the Ignite program, specifically the Rock Island Grand Prix in 2015. He came inches away from winning the main event, sparking the love for the sport once again. Dolian returned in 2016 to score a Rock trophy with victory in the second RIGP Ignite Shootout. When the Quincy Grand Prix came back in 2018, Dolian took the chance to add to his two previous victories back in 1999 and 2000. Missing out on victory at the return event last year, the Texan was back again this past June, competing in four Briggs 206 divisions.
The 35-year-old was among the top contenders in all four, especially the Margay Ignite Senior and Masters classes. Dolian was able to start the 33-driver Senior division from the pole position after Evan Stamer came across the scales underweight. That was all Dolian needed as he led all 12 laps of the main event, holding off Avery Schwalm at the line by 51 thousandths of a second for the victory.
Dolian was unable to record a lap in qualifying for the Ignite Masters class, as a wreck in front of him cost the Texan the ability to complete a lap. The two-sided Le Mans style start worked in Dolian's favor as he was into the top-10 by the time they crossed the line for the first time. He quickly worked his way up into the lead group and fought for the top position. The race boiled down to a veteran group of four drivers coming to the final circuit. Last year's Senior winner Keith Scharf did not come back around after taking the white flag, and the other three charged to the line three-wide. At the checkered flag, Dolian had the inside line, and reached the stripe first ahead of last year's winner Colin Predith. Eight-time Quincy winner Pete Vetter got the worst of it, pushing out into the barriers trying to hold on through the dirty line.
The long-time Margay driver finished third in Briggs 206 Medium and was moved to second in Briggs 206 Masters after crossing the line first, but penalized for contact, to complete his 2019 Quincy Grand Prix performance. The two wins now makes it four at The Park for Dolian, moving him into a big tie for 13th in the win list total with Rick Fulks, NASCAR's Jamie McMurray, KartSport North America's Eric Jones, 2019 winners Mike Welsh and Tony Neilson, along with others.
Dolian completed the month of June with a trip to the KART/MARRS road race at Hallett Motor Racing Circuit in Oklahoma. Competing in the Spring Briggs LO206 class, Dolian recorded a first-place trophy on Saturday and runner-up on Sunday. Add in successful results at the USAC Karting Battle at the Brickyard and Texas ProKart Challenge in July, Dolian is gearing up for another successful Labor Day weekend at the upcoming Rock Island Grand Prix.
June 2019 EKN Driver of the Month – Jeff Dolian
Bio
Born: Springfield, Illinois
Hometown: Plano, Texas
Marital Status: Married to an amazing karting wife, Amanda
Children: 1, Emerson is 10 months old and has already picked out his first kid kart
Height/Weight: 5'10" / 185 lbs
Education: Masters Degree in Civil Engineering from the University of Illinois at Urbana-Champaign
Occupation: Civil Engineer – helping developers develop their property (including designing race tracks)
Racing Resume
Chassis: Margay
Engine/Engine Builder: GT Machine LO206 by Dave Koehler
Sponsors: My wife says, "Me!".
Series You Compete In: I prefer to race in one-off events (especially street races) but I have run in the Texas ProKart Challenge, KART, and Texas Sprint Racing Series this year.
Years Karting: 8 years when I was in my teens and 4 years in my 30's
How did you get started in karting? I saw a kart race on ESPN when I was 9 years old (I think it may have been the Elkhart Grand Prix) and asked my parents for a kart of my own to race around the neighborhood.  Fortunately, they did their research and found the Mid-State Kart Club in Springfield, Illinois and gave me a kart for my 10th birthday.
What has been the high point in your racing career? As a kid it was getting my first win at the Quincy Grand Prix of Karting at South Park.  As an adult, it would have to be winning two classes at the USAC Battle at the Brickyard in 2018 and going on to win the Triple Crown of Karting.
What are your goals in racing? Win whatever race I am entered in that weekend and be able to get home so I can go to work the next day.  Professional drivers are retiring at my age!
In a few words, how would you describe your driving style? Intense but passive
Funniest moment at the race track? Any 10+ mile story told by Mike Birdsell.
Likes
Favorite Track: Quincy Grand Prix of Karting at South Park.  This is an absolutely majestic street racing circuit that is made even more perfect by the thousands of fans that come cheer us on.
Favorite form of professional motorsports: Formula 1
Favorite karting driver: I always looked up to Ryan Cassity when I was racing as a kid…and I don't think I ever beat him in the dozens of races we both entered in.
Favorite professional driver: Michael Schumacher, the real Stig!
Favorite website: www.margay.com
Favorite movie: Saving Private Ryan
Favorite actor/actress: Tom Hanks
Favorite music/group: Mumford and Sons
Favorite vacation/activity spot: Running with the bulls in Pamplona, Spain in 2013
Favorite food: Donuts with vanilla icing
The Real Deal
What do you do when not at the track? Plan vacations that the family can take during the off-season.
What are your goals outside of karting? After designing a secret race track for a popular Japanese automaker, I would like to design more race tracks around the country.
What type of street car do you drive? BMW 528i and a 1998 BMW M3 on the weekends.
What type of street car would you like to drive? Porsche Carrera GT
What are your pet peeves or things that irritate you? Cats… and trash talking and dirty driving.
What do you think could be done to improve the sport of karting? I think there are too many engine platforms that are pulling racers in too many directions.  I also think we need to find a way to get karting back in front of the masses to help the sport grow (getting a race on a national sports network or just taking a kart to a local car show).  This sport has the opportunity to change the lives of families and children but too many people don't even know it exists.
What are your favorite aspects about the sport of karting? The close racing that comes with running in the Briggs 206 classes and spending the weekend with my karting friends.
June 2019 Driver of the Month – Honorable Mention:
– Jeremy Fletcher: USPKS Carolina Grand Prix – X30 Junior winner
– Daniel Formal: ROK Cup USA Biloxi Festival – Shifter Senior Rok winner
– Josh Green: USPKS Carolina Grand Prix – X30 Pro winner
– Ryan Kinnear: ROK Cup USA Biloxi Festival – Shifter Master Rok winner
– Arthur Leist: ROK Cup USA Biloxi Festival – Senior Rok winner
– Ben Maier: WKA CMS Karting Challenge – Mini Swift winner
– Luca Mars: ROK Cup USA Biloxi Festival – Junior Rok winner
– Brooke Nachtmann: USPKS Carolina Grand Prix – KA100 Senior winner
– Sebastian Rivest: WKA CMS Karting Challenge – KA100 Senior winner
– Riley Scott: Quincy Grand Prix – 2 Wins (Briggs 206 Medium / Heavy)
– Kai Sorensen: ROK Cup USA Biloxi Festival – Mini Rok winner
– Carson Weinberg: WKA CMS Karting Challenge – Micro Swift winner
– Westin Workman: USPKS Carolina Grand Prix – KA100 Junior winner