Chloe Chambers: My Next Guest Needs No Introduction
USA karter part of Netflix show featuring David Letterman with Lewis Hamilton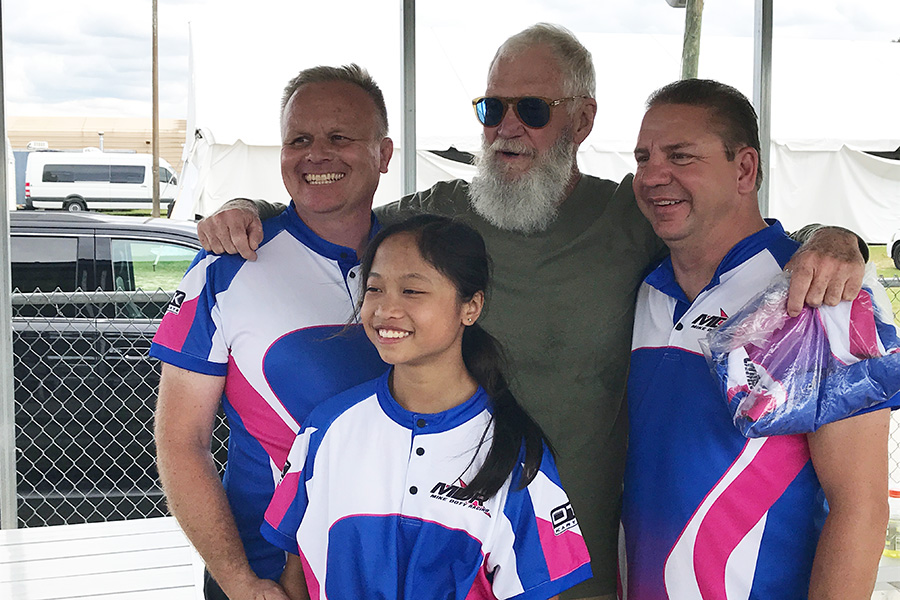 Chloe Chambers takes photo with David Letterman along with her father and tuner Tony Lischak
One of the top female karter in North America today is Chloe Chambers. The 14-year-old from New York has competed in all different organizations and series, racking up victories and podiums along the way. Chambers was provided a unique opportunity to be part of the new season of "My Next Guest Needs No Introduction with David Letterman" on Netflix.
In November 2018, I was contacted by Zero Point Zero Productions through email on a "documentary" they would be working on for Netflix. At first, we were a little skeptical of this opportunity as the producers at ZPZ were vague on what the show would be about. It was necessary to us that the documentary represented myself and karting in an authentic and positive manner. After speaking to the producers and doing some research into the quality shows ZPZ produced, my Dad, Mom and I agreed to meet with the show's producers, Michael and Helen, at their offices in New York City.
The interview was great. Helen and Michael at Zero Point Zero were very friendly and interested to learn about kart racing. It was at the interview that we learned that the show was Netflix's My Next Guest Needs No Introduction with David Letterman. When Helen asked me if I knew who David Letterman was, I replied, "Doesn't he own an IndyCar team?". I am too young to remember he was the host of The Late Show for many years!
When I learned the show was My Next Guest Needs No Introduction with David Letterman, my first question was what my role would be in the show? Helen said that there would be a main guest and that Letterman also wanted to focus on karting in the episode. Letterman and the producers wanted to shed some light on karting and the role karting plays as a stepping stone to professional motorsports. Helen and Michael also explained that they were interested in highlighting the developing diversity in motorsport and the parent/child bond and teamwork of karting. I also learned that Christian Rutty, a fellow Northeast kart racer and star of KidzSpeed, would be in the segment with me.
The producers still did not share who the main guest would be on the show. My mom suspected it would be a professional racer with well-known ties to karting and she believed the guest would be Lewis Hamilton. A week later, my mom was proven right, and Helen confirmed to us that the guest was indeed, Lewis Hamilton. We also had to sign a non-disclosure agreement that we wouldn't share or post our role on the show or that we knew the identity of the guest.
On December 17, my Dad, Mom, little brother, Oliver, Mike Doty, Christian Rutty, Christian's mom and dad and I got to attend the filming of the sit-down interview between Hamilton and Letterman at John Jay College in NYC. The identity of the guest is kept a well-guarded secret and 99% of the people attending the filming of the show had no idea who Letterman would be interviewing. All cell phones and recording devices are turned off and locked in a special case so that the audience cannot photograph or film any parts of the interview. Our seats for the show were in front of Lewis Hamilton's father and we got to speak with him prior to the start of the filming. You can actually see us in front of Hamilton's dad, in the audience when Letterman asks his father to stand up in the actual episode. The entire interview in the studio took more than two hours.
My Dad and I got to work with the producers at Zero Point Zero on the plans for filming the segment. The producers and Letterman had originally thought to film at a actual race. Since filming for the episode had to be done in the winter, we were limited to races and locations to film. My Dad expressed that it would not practical to film at an actual major race weekend. So, my Dad reached out to Jorge at Ocala Gran Prix. Jorge at OGP loved the idea and gave us full backing in making it happen. In January, my tuner, Tony Lischak, my dad and I all travelled to Ocala for the filming. I wanted my teammates to be part of the filming so I invited them. Since the filming was ahead of the SKUSA Winter Series the following weekend, Mike Doty, Chris Bogart, Tony Lischak, and my MDR teammates, Josh Green and Aidan Fox, were also able to take part in the filming for the race scenes.
We did some filming on Sunday and Monday, January 6-7, 2019, which was super fun and cool. The head cameraman, Mo Farrah, was great to work with and had raced a shifter kart before. The film crew placed cameras all over the track and filmed Chris Bogart tuning the karts. I had 13 GoPro cameras on my kart and helmet. My Dad recommended they film my eyes when driving, so, they taped a GoPro to the outside of my helmet, which was the shot used in the opener of the show. One of my favorite scenes in the segment, is what the producers called the "hero shot" – Mo and Michael waited all day, until sunset, to film me suiting up and putting on my helmet. It took six takes to get the shot that appears in the segment.
David Letterman arrived at the track on Tuesday, January 8th and we filmed the scenes and race with him. He was really funny and I enjoyed meeting him and working with him. He really was trying his hardest and was determined to race — Letterman really did get stuck in, we really did lap him and he did spin twice on track and he really did push Christian off coming out of the tree turn when he was going to pass him! It was great seeing him put in a lot of effort.
We knew the segment was going to be really good, Helen, Michael and Mo were as passionate about filming as we are about racing. My dad tried to get a preview but we had to wait till 5/31 for it to be available…Dad got up at 2am in the morning of the weekend we were in Biloxi for the ROK Festival to watch it.
One of the hardest things was to keep quiet about the show because I wanted to tell everyone I knew. I think the show was amazing and I absolutely loved it, not just my part, but the whole show. Lewis Hamilton really is my racing hero and I am so honored to have been a part of his episode. It was a once in a lifetime opportunity and I can't thank everyone enough at Zero Point Zero Productions, my karting family and my family for the opportunity. We're hoping this summer to get on the track with the ZPZ producers and film crew—they all want to try karting now.