The Rock Celebrating 25th Anniversary in 2019
Rock Island Grand Prix is a karting 'bucket list' event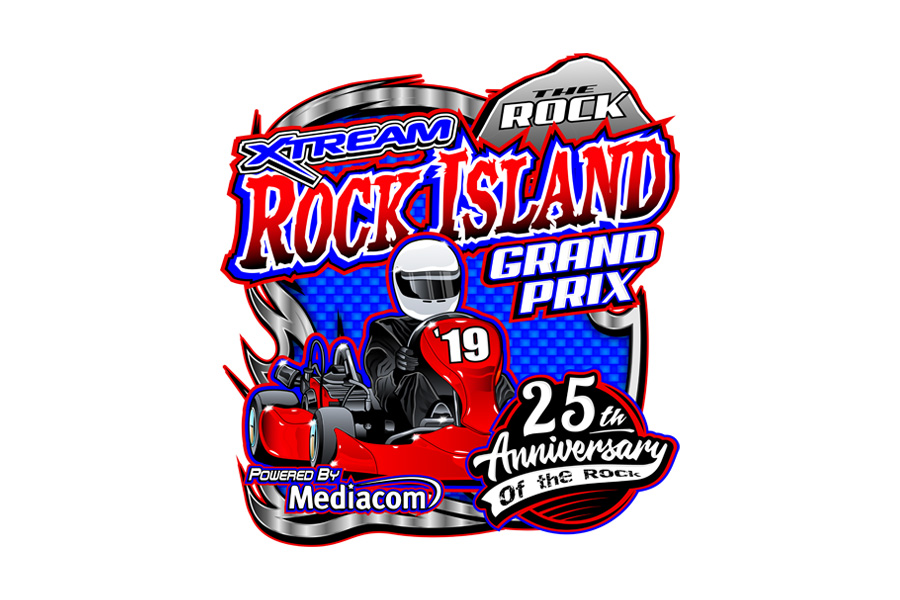 For the last 25 years, the Rock Island Grand Prix has been one of the core karting events in North America. We use the term 'bucket list' when describing the race because it's a one-of-a-kind event that every karter should experience at least once. That said, if you attend once, you're very likely coming back. The entire approach to the annual Saturday-Sunday Labor Day weekend is unique. It's a more relaxed schedule and Sunday is reserved for main events that take place in front of an excited crowd that lines the fences, filled with annual attendees who cheer on their favorite drivers year after year. The race has endured the leaner years of the sport and its always worked ahead to evolve with the changing climate of karting in the US.
The Rock Island Grand Prix was originally scheduled to kick off in 1993 until the 'Great Flood of 1993' put plans on hold, with the inaugural event taking place under cold, wet conditions in 1994. The cancellation of the 1997 event make this year's race the 25th edition of the Rock Island Grand Prix.
The event hosted the Superkarts! USA's King of the Streets event beginning in 2000 and eventually made the race their own. The King of the Streets category has been enjoying an increase in excitement and momentum of late, and early online chatter point to this year's KoS grid being the largest in years with new groups coming in from regions like Texas.  In addition, the Margay Ignite program has provided the Rock with crucial numbers and stability in recent years, working in conjunction with unparalleled support from Briggs and Stratton.
There will be an evolution to the class structure for this year's RIPG, with the KA100 category making its debut.  The race will also provide a pure CIK Briggs 206 Senior class to come into line with the four-cycle programs in the region. A decrease in the recent interest in 80cc Shifter racing in the area has made way for a pure Stock Honda category, which will allow these racers to run in the Open Shifter classes with a weight break but also have their own category.
With the 25th anniversary coming this year, we tracked down RIGP Committee President Roger Ruthhart to begin our annual EKN coverage of the event, as this interview will serve as our initial long-range preview for this year's Labor Day Weekend spectacular.
eKartingNews.com: Roger, thank you so much for taking the time to chat with us. The Rock Island Grand Prix holds a special place in our hearts and we know that so many people feel the same way. This year's marks the 25th running of the race, which is a stunning achievement in the sport of karting. First off, can you believe that you and your staff have reached this milestone?
Roger Ruthhart: It's really hard to believe, actually. There is only maybe one other US karting event I can think of that's been around 25 years. Given the competition between sanctioning bodies and series, and the sport's propensity to try and destroy itself, it makes it even more unique. Since the very beginning, we have focused on trying to work with all of the series, manufacturers (here and in Europe), all of the various importers and teams, for the overall good of the sport. Then we have had to work with the local community to make sure this is something that is really positive for the downtown. We have been fortunate to have had a solid nucleus of people who have been around for most of the ride, and a lot of others dedicated to the event for long periods during its history.
EKN: What is in the works to celebrate the 25th anniversary of the event?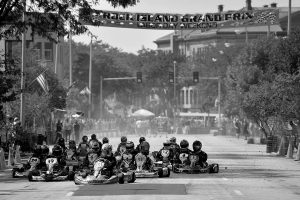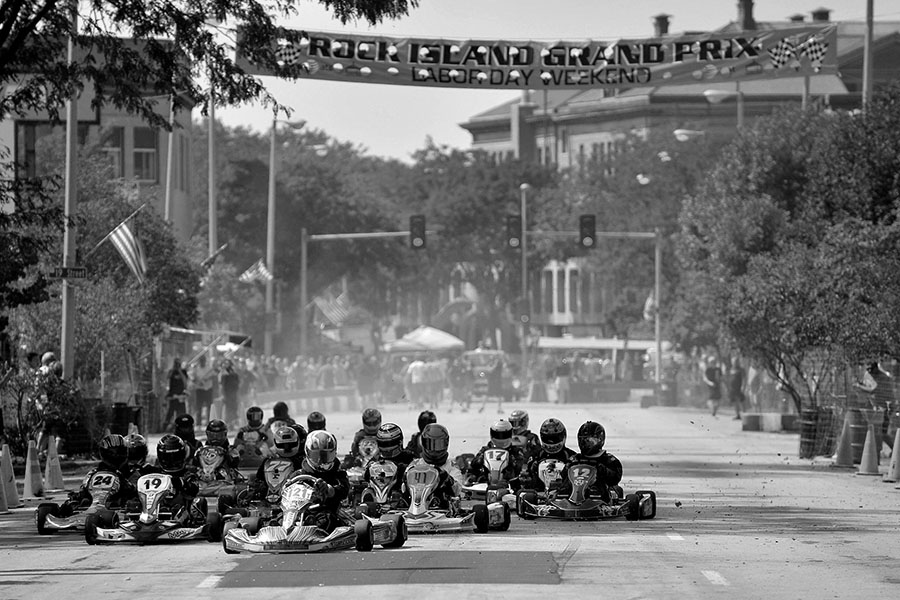 RR: We are using this opportunity to take a thorough look at the event, what has worked for the past 25 years and what we need to do for the next 25 since we can't expect our committee to carry such a large load forever. So we're looking at new things we can do, things we have been doing that we can do better and new partners we can work with to produce the event. That could mean someone else taking over race operations, hiring people to do marketing and sponsor solicitation, working to get the event on TV and many other things. All of these balls and others are in the air right now. We've also gotten lot of buy-in and support from the city, parks department, convention and visitors bureau and others. It's probably a press we should have undertaken a while ago, but sometimes it's just too easy to pull the binder off the shelf and do what has worked in the past.
As far as operations, we had a lot of encouragement to change up the track after 25 years. For the most part, we are locked into the streets we use due to width, pavement quality etc. and there are other obstacles that a temporary circuit provides that would make it very difficult to run backwards. But we are going to change up two corners this year, which we think will not only impact the racing but also improve safety. We'll be releasing more on that soon.
EKN: As a one-off race, we've always believed that one of the Rock's biggest challenges is evolving with the changes in the sport. Each year, you guys need to set a class structure that provides the best opportunity for drivers to enter to be part of the action, because the RIGP is really that one opportunity each year for all the different disciplines and engine packages – four-cycle and two-cycle – come together. We detailed the new classes for this year in our intro, so please provide us with some insight into the addition of KA100, a pure Briggs 206 CIK class and the revival of the TaG Senior category.
RR: As you alluded to, it's difficult to sit down in January or February and decide what race classes might explode by September. But we have always been that one race where 2-cycle, 4-cycle, TaGs, shifters and vintage karts all race on the same weekend. So we are at the point now where we offer what we think the racers want, but it's up to them to support it. The more people who enter a class, the bigger the purse – which many other races don't even offer. If we don't get enough entries by August 1, it's likely the class will be dropped… or perhaps run with another class and scored separately.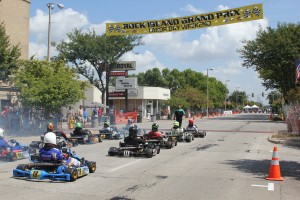 We have been committed to TaG because the program was started by our former race director Tom Argy Jr. and is now run by Dave Larson, another great friend of the RIGP. But entries had been flagging since the recession. The program was originally started because there were a lot of TaG engines, but none of them had enough in the country to warrant a stand-alone class. Tom knew that some would die and others would grow to support their own program and that's exactly what has happened. With TaG numbers down, last year we tried to switch to the X30. We cancelled the class due to lack of support, but later heard from drivers who said they had planned to race but hadn't entered. We have since heard from some Rotax teams and others stating that they would support TaG, so we have brought it back. Now it's up to the racers to show their support. The same is true with KA100, which we added this year.
The Briggs 206 package with the CIK bodywork is another growing program, since that's what most new Briggs karts come with. We had heard for a long time that teams didn't come here because they didn't want to have to buy the full bodywork for one event… and didn't feel competitive without it. We want to continue to adjust to and support the future of Briggs racing — we've had a great, long-term partnership with Briggs & Stratton — so that class has been added as well and we'll just see how many teams race it. I suspect eventually that will be the biggest Briggs 206 class.
We also saw the midwest 80cc shifter program go away, so we've added a pure Stock Honda shifter class. The Hondas have been able to run with the KZ engines previously with a weight break, but some drivers told us they just didn't feel competitive on our track. They can still run in the open shifter classes… and we have added the new IAME SSE 175cc engine as well… but now there is a Stock Honda class too. This year will also feature the 20th running of the King of the Streets open shifter race. We are excited to see the shifter classes making a comeback in the Midwest and will continue to support them in any way we can.
We also changed up one of the Vintage classes this year too, providing an opportunity for old Yamaha engines to race here. Of course, all of these classes and others depend on what kind of support racers give the classes with their entries. I encourage teams to enter early – certainly by August 1 if possible.
EKN: Roger, we appreciate you giving us our initial long-range preview of this year's Rock Island Grand Prix and we know that we'll be publishing more news as the race date closes.  Can you provide our readers with the links need to get registered for the event, as you've stated that pre-registering is the needed to make sure each respective class maintains its spot in the race.
RR: Our website can answer many questions about The Rock, its history, rules etc. Our site can be found at www.rockislandgrandprix.com
It's also the easiest way to get to the registration site. But you can also get there directly through this link: https://rigp.raceday.pro/sign_in
If you haven't raced here before, you will have to create a free personal account first, but it's quick and easy. Then just go to 'Events' and click on this year's race.
If anyone has questions, call or email – info on website – and we'll respond is quickly as possible. Hope to see everyone here.