Morning Coffee – A New Brickyard Experience
Initial thoughts after a memorable IMS weekend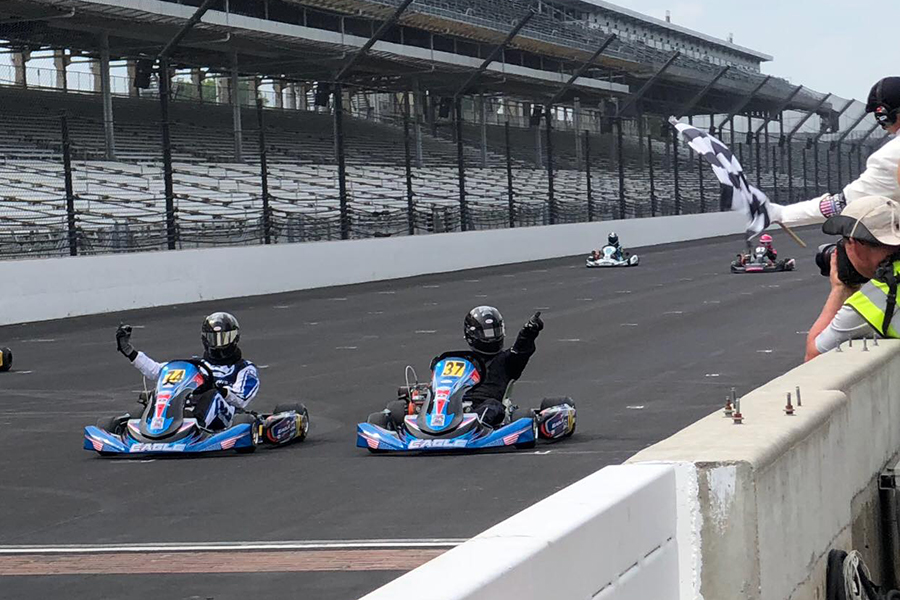 The EKN duo of David Cole (left) and Rob Howden (right) joined almost 200 drivers at the Indianapolis Motor Speedway for this year's USAC Karting Battle at the Brickyard
(Photo: Colten Smith - Comet Kart Sales)
It's a trip I'd take any day. The drive from the I-465 exit east on Crawfordsville Road toward the corner of 16th and Georgetown in Speedway, IN has the same effect on me as it did the very first time I made that journey numerous years ago. Every time I roll down that road, my initial glimpse of the world's most famous grandstands elicits a visceral reaction that quickens my heartbeat. When I see the Indianapolis Motor Speedway in person, in all its grandeur, I'm always filled with a sense of awe and gratitude. Since my first trip to the Indianapolis 500 as a spectator, I've been presented with many surreal opportunities as a broadcaster within the fences of the facility and it's truly become one of my favorite places on earth. I love IMS and I love what it does to my heart and soul every time I arrive.
This past weekend, my entrance through the tunnel between Turn 1 and 2 was much different, as instead of turning left at the IMS Museum and heading to the Pagoda, the Road to Indy paddock and IndyCar's Gasoline Alley, we made a right-hand turn that took us to the far north-end of the Speedway. Crossing over a section of the IMS road course, driving past the ninth and tenth holes of the Brickyard Crossing, we veered slightly to the left at The Dirt Track into the temporary USAC Karting paddock for the third running of the Battle at the Brickyard.
On this trip to IMS, I wouldn't be in the Pagoda's PA booth or on pit lane for IndyCarRadio. This time, I was carrying my helmet and gear to compete in what has quickly become one of the sport's foundation events. With almost 500 total entries, packing many of the classes with over 40, 50 and even 60 drivers, the Battle at the Brickyard was the largest event in which I've personally competed. My cohort David Cole and I had set up Briggs 206 Masters rides with Comet Kart Sales, who provided us with a pair of brand new Comet Eagle chassis powered by Comet-prepped engines. I reached out to my friends at Margay to inquire about a seat in their Ignite program, and the affirmative response set me on a course to work with one of the legends in our sport, Mike Birdsell. I likely pushed my program a little too far, truly, when I suggested that Mike bring up the 1982 Margay Xpert II vintage kart that he was building for me to run in the vintage exhibition that USAC Karting added to the schedule. I'll admit that three classes were too much for a guy who hasn't raced much in the last two years but, looking back, I wouldn't have changed a thing. I was exhausted by the time things were done each night, but I loved it.
David and I are working on an additional editorial piece to focus more on our thoughts from the paddock side of the event, and we'll be recording a Debrief podcast on Thursday in which we'll be discussing the overall event and our own personal experiences. We'll have a separate OnTrack report detailing our races and our thoughts on the Comet Eagle chassis, and I'll also put together another OnTrack focusing on my first experience with the Margay Ignite program, which was awesome. The real purpose of this Morning Coffee is really just to allow me to put into words some of the thoughts that are spilling out of my head now that I'm back in the office.
The bottom line is that I just really enjoyed the race. The venue was surreal, racing on segments of the F1 and IndyCar road course layout that's been navigated by so many talented professionals. Sitting on the grid with over 50 karts in Briggs 206 Masters reminded me that karting is still strong and that there are tons of passionate racers out there. I loved the track layout, which I think is incredibly unique for grassroots racing and I believe that it presented a real challenge to master, both from the driving and tuning aspect. It was fast and wide open, but each of the open sections was led into by a tighter technical complex that required smooth entry and exit. In my races, I battled hard with talented drivers who make me happy to be racing in the Masters class. There was close wheel-to-wheel driving and bump-drafting, and camaraderie off the track. I was thrilled to get a chance to race with, and meet, many of the drivers we've been writing about over the years.
A number of experiences stood out for me, like first walking into the Margay Ignite tent to see 65 karts housed in its shade, all prepped and ready for the upcoming event. The tent was filled with gorgeous karts, tool tables, driver signboards, and a nice hospitality area that would make this a memorable experience for everyone involved. One only needs to step back for a second to comprehend what Margay has built for the foundation of our sport and the sheer amount of time and effort that they needed to invest to prepare for this year's Brickyard. The Ignite program is truly remarkable.
I also won't forget the first time I slid my butt into the fiberglass Beasley seat that was bolted into my #37 Comet Eagle. I don't think that I've ever felt as comfortable in a four-cycle kart. I was at home every time our mechanic Colten Smith and I dropped the kart on the grid off the kartstand. It was an absolute pleasure to drive. It was a privilege to drive for Mark Dismore Jr. and his crew. The focus and determination in Gary Lawson's eyes when we first arrived gave me a little glimpse into why he's likely the most successful four-cycle driver in the history of American karting. I've seen the 'relaxed Gary' as a media guy, but under the tent with DC and I positioned to represent CKS, he was all business. He was happy to have us driving their team karts, but he also expected us to perform. I really enjoyed that. I just missed giving them a top-10 in Briggs 206 Masters, but I'm happy with my 12th place finish. I doubt Gary is, and I'm completely OK with that. I like being held to a higher standard. Hopefully I'll get another chance in the future to deliver on expectations.
It was love at first sight for all three of my rides last weekend. When I first laid eyes on the vintage Margay that Mike Birdsell had built for me, it was one of those moments where you can't believe you actually own something. The beauty is all mine – my little piece of karting history. I plan to drive the Xpert II for many years, and being built by Mike makes it extra special. I'll be producing a full overview article on the chassis in the near future.
My first session was a dream, hustling around a kart that was 37 years older than the Margay Ignite K3 that I raced all weekend. Adding to the experience, vintage racer Ken Wooldridge offered up his own Margay Lynx for Mike to join me in our second vintage session, so not only did I get to drive, but I also had the chance to mix it up with one of the sport's true legends on track.
I drove three different karts at this year's Brickyard, all of which were American-made. That felt poignant to me, piloting American metal that was bent and welded in St. Louis, Missouri and Indianapolis, Indiana, two of them powered by engines manufactured and expertly assembled in Milwaukee, WI, at America's most iconic racetrack on the Independence Day weekend.
Lastly, the USAC Karting staff were aces all weekend. Kudos to Mike Burrell and his entire crew for putting on a tremendous event while dealing with some crazy weather on Saturday night. I would have been fine with having the last Saturday Prefinals scuttled, considering the volume of standing water on the track, but they worked into the night to come up with a Sunday solution that provided those who encountered heat race troubles with five Prefinal laps to recover. I found the USAC staff to be welcoming and helpful all weekend, which helped set the tone for the experience.
Finally, I'm sure that I echo the feelings of everyone in the paddock when I state how cool it is to cross the finish line with Jason Burgess waving the twin checkers with such style and panache. I have the utmost respect for Jason's commitment to his period clothing and approach, and I'm going to have to admit that I didn't remember to take in the fact that I was driving across the 'Yard of Bricks' during 'The Lap' because I was too busy saluting Jason as he waved his checkered flags from the inside retaining wall. I guess I'll just have to come back to the Battle at the Brickyard in 2020 to look down this time, and to take in the reality that we all had a chance to drive at the 'World's Greatest Race Course'.