WKA National Road Racing Series Returns to Charlotte Motor Speedway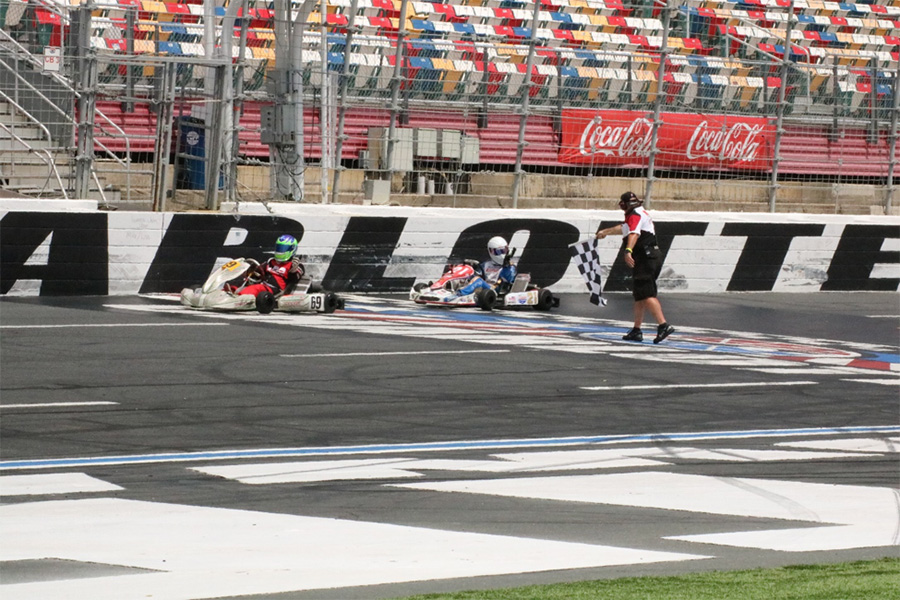 (Photo: Jennifer Edens Henry)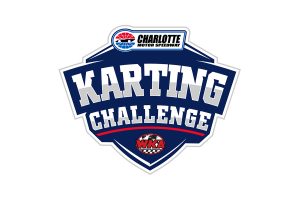 It's been a hot minute since the World Karting Association has raced at Charlotte Motor Speedway with the last time being over a decade ago.  This time WKA brought the triple crown to the track with not only Road Racing but also the Manufacturer's Cup and the Dirt Series.  With WKA's headquarters being located right there in Charlotte, North Carolina it only made sense to try and bring karting back to its roots.  This event not only brought out the seasoned veterans who had race here before, but it also brought racers trying to scratch another awesome track off their racing bucket list.
For those that do not know the history behind this track, Charlotte Motor Speedway was designed and built in 1959 by the current chairman and NASCAR Hall of Fame inductee O. Bruton Smith.  Also, the late Curtis Turner, another Hall of Fame inductee, served as Smith's primary business partner.  Together, they built the 1.5-mile superspeedway on the outskirts of the Queen City and, on June 19, 1960, the first World 600 happened at the new facility.  In addition to the 1.5-mile oval, the Charlotte Motor Speedway complex includes a 2.25-mile road course, which was used this past weekend by both the Road Race Series and the Manufacturer's Cup Series.
This weekend also marked a momentous occasion with the induction of Robby Harper to the WKA Hall of Fame.  The Harper family has been a household name in the karting world for 4 generations.  In fact, Robby's mom, Eloise used to race old 40's Ford coupes for a few years at a half mile dirt track called the Iron Bowl just outside of town near Tarrant City back during World War II.  Robby got into karting around age 14. They really weren't racing karts at that time; it was more like yard karts. He and his friends used to race them in a made-up course in the dirt parking lot of Huffman Ballpark behind the local Jim Skinner Ford Dealership.  In the early 70's the owner of Huffman Cycle Shop and Lawnmower Repair saw something in Robby and offered him a chance to race in an actual go kart.  They had a Fox kart with a Mac 10 engine and started racing at the Talladega Short Track.  From that point on Robby was hooked and has been a part of many different karting organizations.   During the late 70's and early 80's Robby began promoting different races. He started by organizing indoor dirt races at local agricultural centers in North Alabama, like Cullman, Oneonta and Priceville. Eventually all the promoting and hard work led Robby to create the Big South Road Racing Series with the help of Chuck West (Southern Kart Club / Roebling Road), Johnny Jacumin (Kershaw, Rockingham).  In the mid to late 80's Robby brought his 3 sons, Robby III, Daniel and Eric, onto the racing circuit with the Margay sprinters with 5hp Briggs engines and now even has his grandson Austin racing in the cadet classes.  In the early 2000's he became a member of the WKA Board of Trustees, and he is also the WKA National Enduro Director, promoting national events at places like Charlotte Motor Speedway, Atlanta Motorsports Park and NCM Motorsports Park. Robby's held many roles over his 52 years in karting from being a really talented driver, maybe an even better tuner, a multi time and defending WKA National Champion, a race promoter, a race director, flagman, tech man, a parts builder, a WKA trustee, and maybe most importantly one heck of a race dad/grandad. Congratulations Robby Harper.
This past weekend definitely brought out some good ole fashion racing.  The 1st race of the weekend was the CIK LO206 Sprint class which had 26 karts gunning for the 1st place trophy.  Matthew Turner came out of Nascar turn 4 leading the 1st official lap with Jerry Turner, Jeremy Yancy and Miguel Ruiz all drafting in the front pack.  Eventually Matt Turner and Jerry Turner were able to break away from the pack, while Clark Gaynor Jr and Gary Campbell were able to work their way through the pack of racers to 3rd and 4th.  Matt was able to hold onto the lead to secure a 1st place finish, while Jerry Turner took 2nd and Clark Gaynor Jr finished 3rd.  Unfortunately, Matt Turner was not able to secure another 1st place finish in the CIK LO206 Sprint class on Sunday.  That honor went to Kyle Banovertz who took the checkered flag while Trey Kelley placed 2nd and Matt Turner taking 3rd.
Race 3 on Saturday also brought an impressive amount of karters. The Animal Sprint 390 class hosted 24 karts all hoping to take the checkered flag at the WKA Karting Challenge.  Regan Vehring took the led right from the green flag and never looked back.  Croix Beasom was hanging onto 2nd place for quite a few laps, while Jonathan Tedder was in 3rd.  Coming into the halfway mark of the race, Regan was still holding onto the 1st place position while Jonathan Tedder had taken over 2nd place and TJ Zimmerman had worked his way up to the 3rd.   On the next lap TJ Zimmerman finally made it around Jonathan Tedder to take P2.  He and Regan were able to break away and get a little lead over 3rd place.  In the end Regan had what it took to secure the checkered flag and P1.  TJ Zimmerman took 2nd, while Daniel Ring worked his way up to a 3rd place finish.  Sunday's race was just as exciting with the top 3 racers from Saturday fighting to take home the 1st place trophy.  Regan Vehring just didn't have enough to secure the checkered flag, but Daniel Ring brought his determination which led him to victory lane.  TJ Zimmerman once again brought home a 2nd place finish, while Regan Vehring took 3rd.
Yamaha Senior brought their A game on Saturday with a great race between veteran drivers Brad Zoeller and Rusty Benson.  Brad came to Charlotte leading the points in Yamaha Senior while Rusty was 5th in points.  Brad had the lead at the green flag on the 1st lap with Rusty breathing down his neck in 2nd place.  By the 7th lap Rusty had taken over the 1st place position but Brad was not far behind.  This game of cat and mouse continued for most of the race until Rusty spun out but was able to recover and finish the race.  Brad Zoeller took the checkered flag with a 1st place position with Rusty Benson coming in 2nd and Nate Morgan securing a 3rd place finish.
"This was one of the most challenging races I have run in my 50 years of racing karts.  I feel fortunate to leave Charlotte with two wins, beating not only several formidable competitors but a challenging track as well.  I would like to thank TS Racing for the great horsepower, Vega Tire for superior grip, and RRR racing for providing a winning chassis."
The IAME Sprint race on Sunday brought 18 racers to grid ready to bring home the 1st place trophy.  Gary Sircy came to the CMS Karting Challenge leading the class in points, but would it be enough?  Heading down the straightaway on the lap 1, Clark Gaynor Jr, Gary Sircy and Blane Aarup made up the lead pack while Indy Kassy was hot on their trail.  After only 6 minutes, Indy Kassy had already taken over the lead position with Clark Gaynor falling back to 2nd, while Cole Peschang and Jason Lorang had worked their way to 3rd and 4th.  By the halfway mark Jason Lorang had moved up to 1st and had pulled away from the pack consisting of Gaynor, Kassy, and Peschang.  With less than 10 minutes to go Cole Peschang had taken over the 2nd place spot trying to chase down 1st Jason Lorang.  In the end Jason Lorang was able to hold into his 1st place spot over Cole with only 0.121 seconds between them.  Indy Kassy was able to hang on with a 3rd place finish.
"It was a challenging weekend," explains Jason. "With evolving track configurations and different weather conditions each day, in the end Charlotte treated me well… 3 times!"
The Unlimited class on Sunday came to race because unfortunately Saturday's race was rained out.  Leading on the 1st lap was none other than a member of the Harper family Robby Harper III.  Right on his tail was Dusty Dean and Robby Harper followed by Brian Wilhelm.  By the 10-minute mark Robby Harper III was still hanging onto 1st place with Brian Wilhelm following behind.  With less than half the race to go Brian finally secured the 1st place position over Robby Harper III.  Robby Harper moved up to the 2nd place position while Mitch White held onto 3rd place.
According to Brian, "The track was more interesting than the map showed. If you're going to race, you need to be able to adapt to different type tracks. I had a great time and I look forward to next time here!  WKA did a good job of putting on this event and accommodating everyone."
Thank you to everyone that make the trip back to Charlotte Motor Speedway!!  We look forward to seeing everyone at the next stop on the schedule which is Heartland Park in Topeka, KS on August 16-18 with K.A.R.T.