Good Race for Dante and Maranello Kart at the WSK Euro Series in Lonato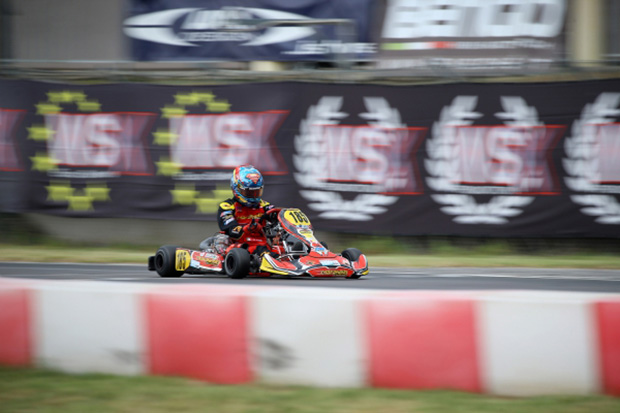 Massimo Dante, Maranello Kart and team SG Race displayed a great level in the hard-fought WSK Euro Series in Lonato claiming a good P12.
WSK Euro Series at South Garda Karting has been a great occasion for Maranello Kart's drivers to test the material ahead of the remainder of the season and the most important appointment of the year: the World Championship that will take place in Lonato on September 22nd.
Among the protagonists of WSK Euro Series held on June 23rd, Maranello Kart has been shining in KZ2 with Massimo Dante, that has run a solid race among the fields of team SG Race being always among the quickest and claiming a very positive P12.
"I run a good race – Massimo Dante stated at the end of the Final – but the very hot weather made me struggle a lot physically. This race made me realize that I need to prepare better ahead of a race like the World Karting Championship on September 22nd. Chassis and engine have been perfect therefore I will need to train more to aim for a higher result."
Maranello Kart and SRP Racing Team also fielded Enrico Bernardotto, who had unfortunately to retire from the Final after a good qualifying that allowed him to partake in the Final. Andrea Ceresoli, Alessio La Martina and Gabrio Bizzozero could not qualify for the Final and stopped their weekend after Prefinal-A, while Luigi Del Vecchio of team Oracle did not go through Prefinal-B. The young German Jannik Julius Bernhart of Rehm Racing had a positive weekend in OK Junior, but could not go beyond Prefinal as he came 26th.
The next appointment on track for Maranello Kart will be the 6th Summer Trophy in Lonato on June 29-30th.