Tony Kart First at the European Championship in Sarno for KZ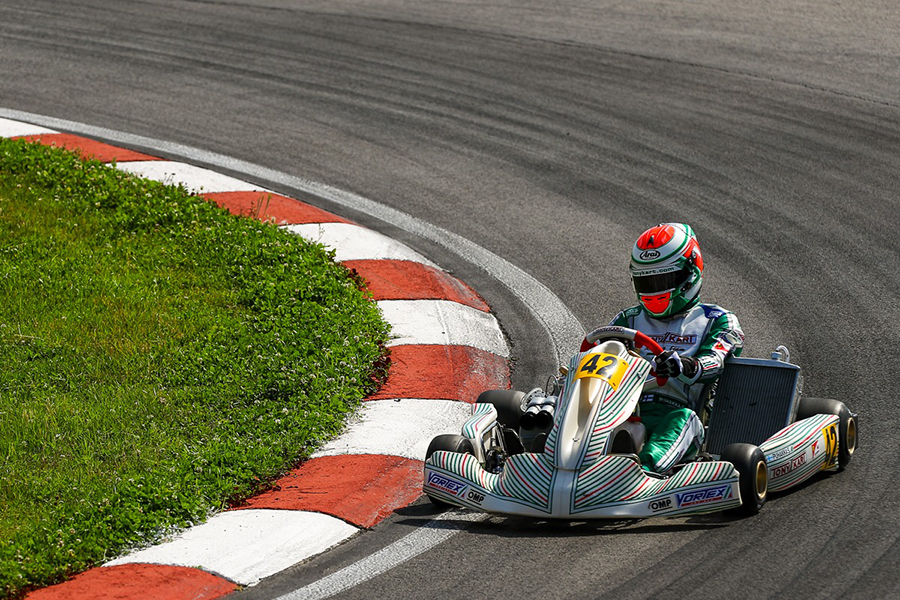 On the fast Naples International Circuit, Tony Kart centers the victory in the second round of the FIA Karting European Championship with Lorenzo Camplese.
The Tony Kart Racing Team at the Naples International Circuit, Italy, is constantly at the top for the final and decisive stage of the KZ and KZ2 FIA Karting European Championship. The Tony Kart Racer 401 R – Vortex duo proves to be extremely effective right from the start together with Lorenzo Camplese, an SC Performance driver equipped with OTK material, who wins the KZ Final leading a great race. The Italian is also the author of a victory in the heats and a fantastic pole position. Moreover, he finished second in the whole championship, missing the Title of European Champion just for a single point.
The final is rather lacking in satisfaction for the drivers of the Tony Kart Racing Team, authors of a brilliant race up to that moment and with all the papers in order to bring home a prestigious result. Simo Puhakka is the most competitive driver of the weekend, getting a victory and two second places in the heats; unfortunately a contact in the final forces him to give up the Title. The same happens to Matteo Viganò, while a failure stops Marco Ardigò when he was in third position. Even Noah Milell is damaged by technical problems and fails to show his whole potential.
An unlucky ending, which does not reflect at all the great performance of the material shown by the team during the weekend and confirmed by Camplese's victory.
In KZ2 David Vidales is definitely the main protagonist: after finishing fifth in qualifying, the Spaniard is getting great results in the heats on Saturday, winning all those he takes part in. The third place in the Sunday morning heat ensures our driver the start from the pole position of the final. Here, however, Vidales is taking the lead for most of the race but fails to get the result he deserved by slipping to the ninth place at the end of a truly fierce battle.
Alessio Piccini also was fighting hard in every session: the Italian wins a heat and gets other placings, but unfortunately the position on the grid is compromised by his withdrawal in a heat due to a contact. Alessio, however, does not lose heart and makes the most of the Vortex engine's power mounted on the Racer 401 R to recover 11 positions and reach the top ten in the final.
The Tony Kart Racing Team will be soon engaged in another important race meeting: the third round of WSK Euro Series taking place on the South Garda Karting in Lonato from 21st to 23rd June. The 60 mini, OKJ, OK and KZ2 categories will get on track. For KZ2, the race will also award the Final Title.