Morning Coffee: WKA Hall of Famer Keith Freber
My personal take on Keith's impact on the sport and my own career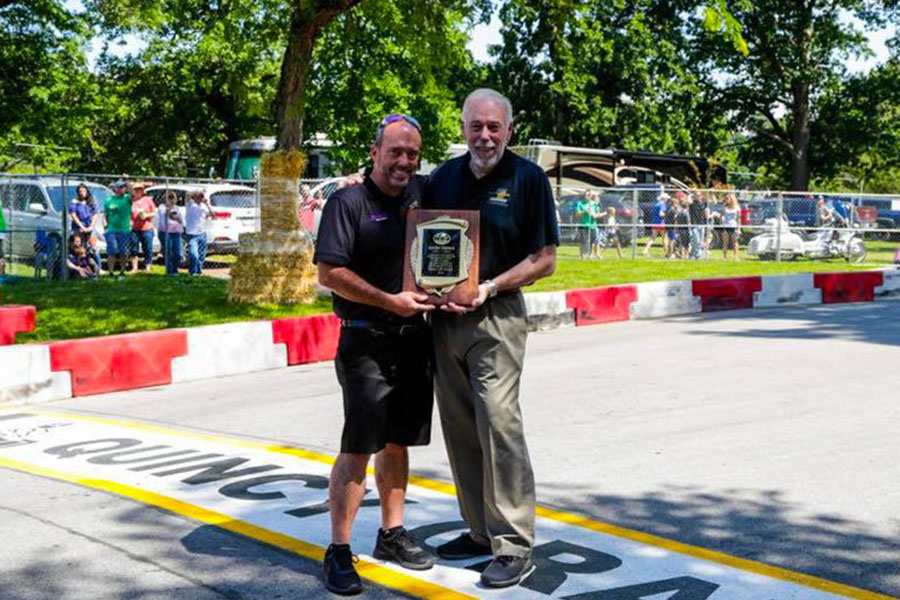 Margay President Keith Freber was inducted into the WKA Hall of Fame during this year's Quincy Grand Prix
Just over a week ago, at the second edition of the Quincy Grand Prix revival, the World Karting Association honored a pair of very deserving gentlemen with induction into the WKA Hall of Fame. Quincy event promoter Terry Traeder and third-generation Margay Racing owner Keith Freber were put into the national spotlight by former WKA president Randy Kugler, who was on hand to announce the event and to also celebrate Terry and Keith's years of effort and dedication to the sport of karting. It was a well-deserved honor for both men.
I couldn't personally attend the iconic event this year, but when I read about Keith's induction into the WKA Hall of Fame on Facebook during the Quincy GP weekend, I couldn't help but immediately think about how influential he's been in my karting career as well. Keith's efforts have been instrumental in the careers of many, and I'm thankful to be among that group. Through his time at the helm of Margay, Keith has maintained a laser-focus on grassroots club and regional racing, making sure the legendary brand has always been there to support the foundation of the sport. I've known Keith Freber for almost 25 years and I've been fortunate to race Margay machinery on numerous occasions. Having been in this sport for a quarter century, it's both fun and a little surreal to look back at my overall journey, and when I begin at the genesis in the mid-90s, Keith Freber was there as a major influence and confidante.
As a subset of everything that Keith has done for the sport, he also played a key role in the early development of my own career. Please bear with me as a detail some of the timeline, all in an effort to thank my friend for his impact on what I actually get to do for a living, and further add my congratulations on his induction into the WKA Hall of Fame.
I began my life in motorsports journalism in 1993 with a Canadian newspaper called 'Performance Racing News', covering a myriad of disciplines including stock car racing and road racing, unique groups like snowmobile grass drag racing and jet ski racing, and finally, karting in Ontario. I gravitated to karting and poured more and more of my time into it, developing and expanding that section of the paper. Eventually, the limited pages I was initially afforded grew into an occasional karting-only insert as I worked to take Canadian karting coverage to the next level. With total support from the national karting community in Canada, I began looking south for advertisers who wanted to market their products north of the border so I attended my first WKA Kartfest tradeshow in Charlotte in the winter of 1996. I was an outsider from 'up north', attending a show in North Carolina, trying to convince business owners to spend money on advertising into the Canadian karting market. It was a tough road. Many fluffed me off, but a few welcomed me with open arms. One of those guys was Keith Freber.
Margay had a solid market share in Canada those days, with a couple of key dealers, but Keith went further and truly took me under his wing. My education was fast and furious, getting the low down on American karting while talking with Keith in their booth or being guided on the tradeshow floor. Freber went the extra mile, introducing me to everyone and inviting me to races. He put his money where his month was and invested significantly in advertising in PRN, which set me along my path. The growth of PRN's karting section thank to the influx of American advertisers caught the eye of National Kart News publisher Curt Paluzzi and I eventually received a job offer to become their 'Editor-at-Large'. I believe that I owe much of that opportunity to Keith. My move to NKN was a crucial step for me.
In 1997, during my first year with NKN, Keith paved the way for my introduction to his fellow WKA Hall of Fame inductee Terry Traeder when he insisted that I attend the Quincy Grand Prix. I had to come to 'The Park'. I also met the legend Gus Traeder for the first time, eventually getting a tour of the track and grounds in a golf cart with the man himself. I had flown to St. Louis for a tour of the Margay factory and then traveled with Keith and Darron Rudolph to 'The Park' to cover the race. Keith had an ulterior motive, as I would discover, plying me with Miller Lite before offering up the use of a spare Brava 1 chassis if Rudolph would supply the engine. So, as it played out, with Rudolph on-board, I agreed to race in Yamaha Pipe at around 11:30 pm on Saturday night, certainly under the influence with diminished decision-making capabilities. I laugh when I think that Keith cornered me when my guard was down. After a quick practice on Sunday morning, I gridded up 37th for the Le Mans style start and finished 12th in my only Park appearance. I'm so glad that I took Keith up on his offer. Racing at The Park has been a badge of honor on my resume ever since.
From there, I raced a Brava 1 in the OKRA Super Series Senior Yamaha class in Ontario in 1998 as part of a project article series for National Kart News, and then raced TaG Master at the Rock Island Grand Prix on a Margay in 2004 with Keith spinning the wrenches himself. It was a privilege to have Keith working directly with me that weekend. We finished sixth that year, and would likely have fared better had we not enjoyed The Travoltas quite so much on Saturday night.
Keith Freber most certainly helped shape the early years of my career and, while he and Margay did not follow my aggressive path into shifterkart racing in 1998 when I worked with Superkarts! USA and eventually launched Shifter Kart Illustrated, we remained close. I developed my immense respect for Keith from our first introduction, fueled first by the kindness he showed me and then continually fed by his dedication to the sport and his steadfast focus on the products that he was greenlight at Margay. We've not always agreed on everything, but the importance of the foundation of the sport has always been common ground. The Briggs 206 engine has certainly been the key to the recovery of club karting around the country, and it would also be easy to hail similar tributes on the continuing growth of the Margay Ignite program that brought affordable turn-key race-ready spec packages to new racers in some many regions of the country. The Ignite program is on fire, and their focus on 'fun' is one of the true bright spots in our sport these days.
My motivation to write this column and put Keith Freber in the spotlight likely centers on the same criteria that the WKA used to select him to their Hall of Fame. Keith is one of the good ones. He's a true believer in the value of karting as a sport, a hobby and a family gathering. Through Margay Racing, he supports grassroots karting with his business decisions and his checkbook, and the introduction of the Margay Ignite spec program has provided incredible stability to the Midwest and beyond. Keith still races a few times a year, hustling a Margay laydown enduro to regular WKA KartWeek race wins at Daytona each December, feeding his love for the sport from behind the wheel.
My friend Keith Freber most certainly deserved to be inducted into the WKA Hall of Fame in Quincy, and I just truly want to add a personal 'thank you' for all the support he has provided to me for the last 25 years as well.