VLR Victorious at SKUSA ProKart Challenge at CalSpeed Karting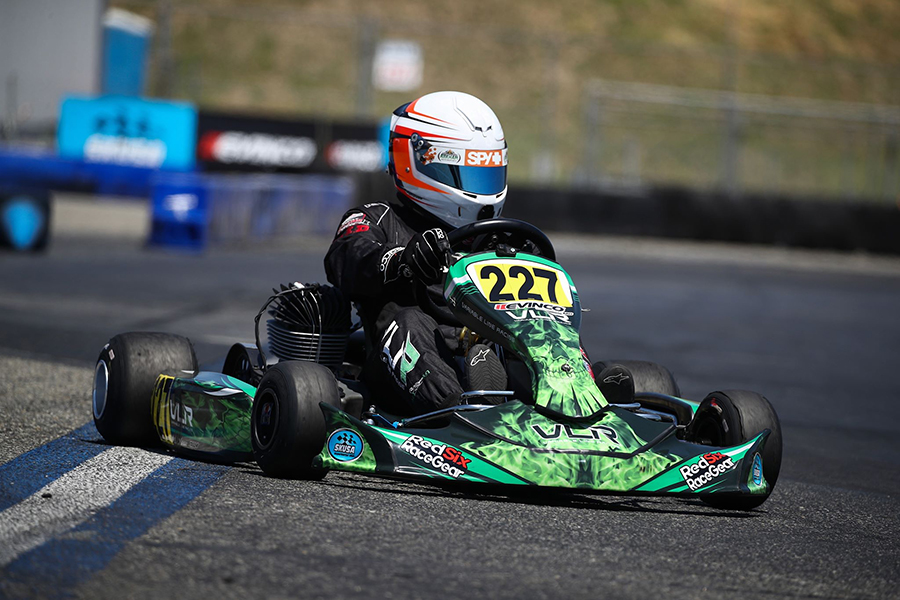 (Photo: DromoPhotos.com)
This past weekend marked the culmination of almost a full year of development for the VLR Chassis package in the TAG100cc category, as factory driver Mike Smith swept the ProKart Challenge double-header event at CalSpeed Karting. With temperatures approaching triple digits, Smith and his VLR chassis not only came first in every session, but did so in dominant fashion with the kart performing beautifully. Having already found success in cooler conditions at the Los Angeles Karting Championship with the VLR, this weekend's performance proved that the chassis could compete at a high level in all conditions and grip levels.
Utilizing the exact same chassis that has become synonymous with winning in all Briggs 206 classes, the package for KA100 category only varies slightly from its 4-stroke counterpart; namely the specifics for mounting the 2-stroke engine and pipe, larger wheels required for the 7in rear tires, longer hubs, seat position adjustment, and other inside-the-box adjustments. Because of this, the ability to move up from 206 to the TAG 100cc package takes very little work, and have very few barriers to entry.
"The aim of this project was always to have as close to a stock package as possible for a VLR owner", stated Mike Smith. "This makes it as easy as possible for someone to move up from 206 to 100cc, and use the same kart they are familiar with. With the success we have had, I think we have proven that the VLR chassis can be the go-to for any grassroots racer."
Now that the development of the package has been proven, RLV -the makers of the VLR Emerald chassis- will now go to work to provide an upgrade package for existing 206 customers looking to move up. With many drivers having already found success in the 206 ranks with a VLR, but wanting to go a little faster, now they don't have to buy a completely new chassis to try it out.
Questions regarding the development of the chassis for the 100cc class, or for help making the upgrade, can be directed to Mike Smith directly at Mike@CalSpeedkarting.com. To get a VLR of your own, contact RLV directly at www.rlv.com.