eKartingNews.com Driver of the Month: May 2019 – Ryan Norberg
Three-time SKUSA Pro Tour champion dominates SpringNationals, wins inaugural Stars & Stripes Trophy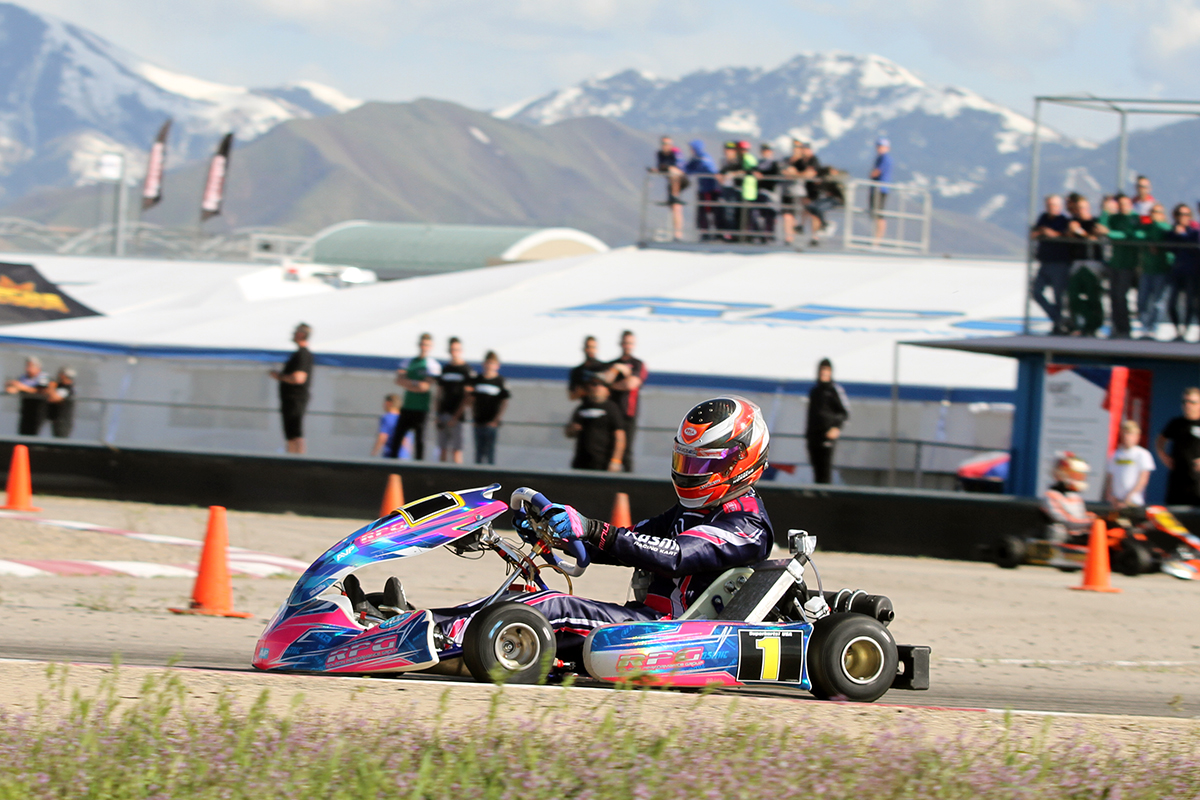 Ryan Norberg swept the SKUSA SpringNationals in May at Utah Motorsports Campus (Photo: EKN)
In a continued effort to highlight the many outstanding performances by drivers around the country, eKartingNews.com is proud to introduce the 'Driver of the Month' program. Each month, the staff at EKN will determine the one driver who stood out above the rest and give the viewers a chance to know exactly what they accomplished and who they are.
You may have heard this on sports talk radio before, but Tom Brady does not earn Player of the Week for the New England Patriots after every NFL game. The 'GOAT' of quarterbacks does have six Super Bowl rings to his credit, so a 'lower level' type honor may not matter to him, but reports say it does. You could say there is a similar situation for Ryan Norberg in USA karting. The three-time Superkarts! USA Pro Tour champion has gone his entire career without earning an EKN Driver of the Month honor…until now.
For the first time since he began karting 10 years ago, Norberg has been named as the EKN Driver of the Month. The honor had been missing from his CV throughout his career as the defending three-time SKUSA Pro Tour X30 Senior champion had not produced a month of results as he did in May. His run included three big victories, two of those wins coming at the SKUSA Pro Tour SpringNationals at the Utah Motorsports Campus in Erda, UT. Two weeks later at the same facility, Norberg came away with the inaugural victory at the new Stars & Stripes Trophy event.
Norberg found himself sitting in fifth in the SKUSA Pro Tour standings after the WinterNationals in March, unable to reach the podium in either two of the main events at CalSpeed Karting in Fontana, California. Needing a solid weekend to put him in position for a fourth straight title, the Rolison Performance Group driver stepped up. It was a near perfect weekend for the Florida native, sweeping the weekend for the first time in his SKUSA career. Norberg led a RPG 1-2 in Saturday qualifying with a 57.805-second lap with teammate Hannah Greenemeier in second. Ryan led all 12 laps of the Prefinal unchallenged. It was the same in the 25-lap Final, as Norberg led wire-to-wire for his sixth career victory in SKUSA Pro Tour competition.
The following day was a near repeat to claim his seventh SKUSA triumph, except this time with an early challenge. It was another 1-2 for RPG in qualifying with Norberg at the top of the time charts, this time with Colin Neal off by 85 thousandths of a second for the second spot. The Prefinal is where Norberg came under attack, as Canadian Thomas Nepveu led for the first half of the race until the defending champ reclaimed the top spot for the race win. The pole position is all Norberg needed, along with consistent laps out front to drive away to 2.2-second advantage in the Final. While Round Three was a perfect score, earning 320 points toward the championship, Sunday was 10 markers short of that total as Brandon Jarsocrak beat out Norberg for the fast lap of the race by four thousandths of a second. It was also only the second time Norberg doubled up in the win column on the same weekend, matching his two-win performance at the 2016 SKUSA SummerNationals at New Castle (Reece Gold was named EKN Driver of the Month).
One of the first events we met with Ryan Norberg was at the 2013 Rotax Grand Finals event. Norberg was added to the Junior Max Team USA roster as a late replacement for a Malaysian driver who was unable to attend. Norberg finished fourth at the US Rotax Grand Nationals that year. He returned to Rotax racing two weeks after the SpringNationals, taking part in the inaugural Stars & Stripes Trophy event promoted by J3 Competition.
A number of top-level drivers were in attendance, and weather brought on a challenge of its own. A wet track for qualifying shook up things with Norberg seventh in the order, but only one tenth of second off the fast time. Ryan drove his way up to second in the opening heat race, posting fast lap of the race. A pushback bumper penalty, however, dropped him down to fifth in the order. He bounced back and continued his run at the front, winning Heat #2 and Heat #3 to earn the pole position for Sunday Prefinal. Norberg went unchallenged in the Prefinal and 22-lap Final, driving away to a six-second advantage with fast lap of the race to claim the victory. With the win comes a ticket to compete at the 2019 Rotax Max Challenge Grand Finals, set for October 19-26 at Circuito Internazionale Napoli in Sarno, Italy.
First up, however, Norberg returns to his RPG / Kosmic for the second event of the California ProKart Challenge program, hosting a double-round weekend at the CalSpeed Karting facility in Fontana, California this weekend. Ryan won the opener at Buttonwillow back in March.
May 2019 EKN Driver of the Month – Ryan Norberg
Bio
Born: Orlando, FL
Hometown: Orlando, FL
Marital Status: Dating
Children: 0
Height/Weight: 5'8" (with platform shoes) / 138lbs.
Education: High School graduate, Sophomore in college
Occupation: Driving Coach / Ambassador / YouTube Channel
Racing Resume
Chassis: Kosmic
Engine/Engine Builder: Alex Vincent Performance (AVP)
Sponsors: Rolison Performance Group, Minus273, Bell Helmets, Razor Image, Go Design
Series You Compete In: SKUSA Pro-Tour, California ProKart Challenge, ROK, Rotax competition
Years Karting: 10
How did you get started in karting? I watched NASCAR every week with my dad, and after watching Jimmie Johnson win a few races, I asked my dad if I could try it. We went to Ocala Gran Prix and tried rental karts, and I was half decent at driving without much experience. That paired with the fact that I was not good at any other sport, my dad thought he should give me a chance. We bought our first kart from Andre Martins at Orlando Kart Center and from there the rest is history.
What has been the high point in your racing career? Winning the 2016 SKUSA Pro Tour championship was probably my favorite racing moment. I remember pitting next to two semi haulers under the awning of Brandon Jenkins (Allison Racing Engines) small RV at the first round (SpringNationals – PKRA). No one knew who we were and did not expect us to do well. We ended up winning Saturday's final and everything on Sunday until a crash in the final.
What are your goals in racing? Obviously, I want to progress in the sport. I want to make it as far as I can, but sometimes that does not happen. Right now I'm just trying to go through every door that opens.
In a few words, how would you describe your driving style? Calm and calculated.
Funniest moment at the race track? Its hard to think of one, there's countless number of stories.
Likes
Favorite Track: Orlando Kart Center
Favorite form of professional motorsports: V8 SuperCars, IndyCar
Favorite karting driver: Oliver Askew
Favorite professional driver: Max Verstappen
Favorite website: YouTube.com (Ryan Norberg Channel)
Favorite movie: Birdcage
Favorite actor/actress: Robin Williams
Favorite music/group: Most hip hop/ Rap
Favorite vacation/activity spot: Disney's Polynesian Resort
Favorite food: Chicfila Chicken Sandwich
The Real Deal
What do you do when not at the track? I'll hang out with my girlfriend/friends or family.
What are your goals outside of karting? I am trying to get a college degree in political science.
What type of street car do you drive? Chevy Cruze Eco, let me tell you its fast.
What type of street car would you like to drive? Lexus RC F
What are your pet peeves or things that irritate you? My room at my house being dirty, or my car being dirty.
What do you think could be done to improve the sport of karting? There is a lot of talk over race craft, which I don't think is that bad. I just want series to work together to grow the sport. Plan races near each other, so that travel is not impossible. Also, try and not plan races over each other.
What are your favorite aspects about the sport of karting? The fact that your only as good as your last race. It keeps you on your toes at every race. You go from hero to zero fast in this sport.
May 2019 Driver of the Month – Honorable Mention:
– Spencer Conrad: WKA Man. Cup Series – 2 Wins (Micro Swift)
– Brent Crews: SKUSA Pro Tour SpringNationals – 2 Wins (KA100 Junior)
– Will Holtz: Cup Karts North America Spring Nationals – 2 Wins (Junior)
– Jack Iliffe: SKUSA Pro Tour SpringNationals – 2 Wins (Micro Swift)
– Matt Johnson: SKUSA Pro Tour SpringNationals – 2 Wins (X30 Master)
– Ben Maier: WKA Man. Cup Series – 2 Wins (Briggs 206 Cadet / Mini Swift)
– Adam Maxwell: WKA Man. Cup Series – 3 Wins (KA100 Junior twice / IAME Junior)
– Josh Pierson: Stars & Stripes Trophy – Junior Max winner
– Jeff Scott: Cup Karts North America Spring Nationals – 2 Wins (CIK Masters)
– Freddie Slater: SKUSA Pro Tour SpringNationals – 2 Wins (X30 Junior)
– Cale Zimmermann: Cup Karts North America – 2 Wins (Sportsman)