Faces of the Grid: Gary Carlton
A life's work for GFC bloomed in late 2018 with own chassis brand and race team
Gary Carlton (Photo: EKN)
By Blake Hunt
Gary, something, Carlton? The F is a secret which has yet to be revealed. Going back to the late 1990s and the early days of Superkarts! USA, Carlton has been a force behind the wheel of a shifterkart. From his days as a Trackmagic factory driver, to his most recent exploits behind the wheel in Europe, Carlton is widely regarded as one of the greatest American shifter drivers of all time. Much of his time in the seat has been spent representing the factories of the most well-regarded kart brands in the world: IPK, Zanardi, and CRG, all while racking up countless podiums and victories. On the back of all this success, and at the conclusion of the 2018 Granja 500 in Brazil, Carlton hung up his helmet for good to put his focus into a grand project, one fit for a once-in-a-generation talent. Carlton's latest endeavor has been to develop a kart which would bear his name as the basis for a race team of his own.
EKN: Before we dive into your latest venture, let's hear a little about your own time behind the wheel and how that continues to impact you today?
Gary Carlton: My whole career has led to where am at in my life. I have been extremely lucky to be able to work with many different kart manufacturers, both here in the United States and in Europe, along with engine tuner and manufacturers again both here and abroad. I was able to work and learn from all these great companies because I was the driver who these companies saw value in and contracted me for work. So to answer your question vaguely, everything that I've learned behind the wheel translates into what I'm doing now in every aspect. From driver coaching, chassis and engine development, to physical training and mental strength. I believe all the experience I have had at the highest level of karting the world can offer is what separates my team, driver development, and chassis/engine development from most teams running here in the U.S.
EKN: Were there any of your fellow drivers who you developed a rivalry with or looked up to that were particularly impactful upon you?
GFC: I wouldn't say I had many rivalries against drivers. There were many times I would want to beat certain drivers or teams to prove a point, but never a singled out person.
As for looking up to other drivers, I would say they were many that I didn't necessarily look up to but had a lot of respect for. Names like Scott and Alex Speed, Marco Ardigo, Danilo Rossi, Alessandro Piccini come to mind. All were very fast but, more importantly, complete drivers.
EKN: Speaking of complete, you had quite an illustrious career, with many big achievements, but is there one that sticks out the most in your memory?
GFC: Yes and no. I would say I have had three races that stick out in my mind more than the others.
First one would be winning the Stars of Karting race in ICC at Tucson. I was with Trackmagic at the time and it was the day after the passing of the company's founder and life blood Fausto Vitello. I was told of his passing the night before and it was a huge blow to me. It was the first time in my life that I had experienced such a loss and I even had doubts of racing at all. We showed up Sunday and I remember thinking to myself there is no option but to win. Although I wasn't the fastest, I kept myself out front and took the victory. It was very emotional for my team and myself and it's honestly one of the only trophies I kept with the unopened bottle of champagne that I decided not to spray on the podium. Just talking about it, I get a little emotional about that day and the achievement.
Second race that stands out would be the one that got away. It was Portugal 2010, first round of the World Series in KZ1 with CRG. I was having a breakout weekend for my career in European competition against karting's absolute best. Pole position with a new track record, fastest in all the heats and the Prefinal, and led the Final with a comfortable gap up until two laps to go. The engine started misfiring and I fell to third by the end. It was very hard to swallow knowing I was so close and did everything right, and to lose out was devastating.
Third race would be the World Championship in Belgium 2011, with Chiesa Corse. All year, we had been struggling heavily with our engine program with both reliability and performance. I would do all the races under the notion that I really couldn't fight the first couple laps, being I couldn't take any risks of crashing because the engine tuners wanted to see if the engine would make the distance of the race. We came down to the last race of the year and after some rain that really saved us from not qualifying for the Final, I would start from the 24th position. My team boss Dino Chiesa told me I could finally just go for it and don't worry about crashing or saving the engine. The race was in dry conditions and I was able to drive my way up to 12th position with an engine that should be running in the mid 20's. Dino has worked with the best drivers in the world over his career and after that race he came up to me and said that it was one of the better races he has seen, and told me that I showed the ultimate amount of determination that he had seen him in a very long time. I know most people would never be happy with 12th place, but after hearing Dino's words and knowing I drove the best I have ever done in my career, it was a huge sense of accomplishment and made taking down the tent at the end of the race that much easier.
EKN: Those are some touching stories and great memories to hit on with some of the magic days at the racetrack. In more recent memories, your chassis brand launched at one of the defining points in the karting season, Las Vegas. Would you say the launch and subsequent start to the 2019 season has gone to plan?
GFC: At the very beginning on the 2018 season, my eye was on the two events in Vegas. As we all know, Vegas is the most talked about, recognized, prestigious, and exciting races of the year with all sorts of media coverage. So it felt right to launch the team and brand during that time. It was a huge undertaking being in January, I only had a tool box, a helmet and my experience to start. The whole season I felt like I was under a deadline and, as the Vegas events grew closer, it became very stressful and I was working 12-14 hour days for months straight without any time off. You only get one first impression and I was keen to make it the best I possibly could.
The first event (ROK the RIO) went extremely well with both the performance of the chassis and the inner workings of the team. Even though it was our very first event, we had all the tools necessary to provide our customers with everything they would possibly need and I took immense pride in that. Then also taking victory in the premier shifter division in our very first national event was just icing on the cake. After having a dream first outing, the next event I feel we excelled even more, yet our results did not show it. We had many international drivers come race with us and being that some of these drivers have been under huge factory teams in the karting business for over 20 years, for them to say they loved racing with my team and enjoyed the atmosphere along with the technical service was extremely rewarding. As for 2019, we have had a big step forward developing a core group of drivers and signing on Pickett Racing has been a key element into that success.
EKN: You touched on the atmosphere under the tent, as well as the quality of the technical support. What's your goal for the image of GFC as a team and as well as the brand? What factors are at the forefront of your mind when it comes to running a race team?
GFC: I have been extremely fortunate to be able to work with the most professional teams in the world of karting. I have seen how they operate and what are the most important factors to running an operation in the most professional way. It all comes down to details. Having all the things you need to be self-sufficient. My biggest pet peeve is when our team doesn't have something at the track and we have to go borrow it from another team. It's all the little things that add up and, as a team boss, I strive for perfection both under the tent and on track.
As for services offered, every big team offers the same things on the national karting scene. Things like data, video, coaching, technical support are a common and expected thing. But where I would like to try and make the difference is in the driver development and preparation. It's all comes down to being able to adapt to each driver's needs. Every driver is different so pushing and developing them will be different to each. With my experience, I would like to break the mold of driver development and give our team drivers more than just teaching them how to be fast on track. Without giving away our secrets, it comes down to training, nutrition, mental strength, and overall well-being before they even hit the track.
As for our brand of chassis, it's pretty straight forward. We are constantly in search of the best materials possible and working with the best partners to help our material brand be the fastest on track. We have been working hard with SwedeTech Racing Engines to give us the best possible horsepower, Greyhound Seats for the highest level of driver comfort and performance, New Line Radiator for all our engine cooling needs, Hammer Nutrition to keep our drivers at the highest levels of nutrition, Minus273 gloves for drivers that seek ultimate grip and feel, Neal Trucking for all of our transport needs, Molecule cleaners to keep our team looking clean, and Mychron for all of out telemetry needs.
EKN: What are some of your major goals as a team leader?
GFC: One thing that will always stand out in my mind will be fighting against the big factories in the KZ category. Brands like CRG, Tony Kart, Birel ART, and Parolin had at least one factory supported driver at the SuperNationals and us – as Team GFC were on our own branded chassis with a young American driver Mathis Ramirez – were a force to be reckoned with. Starting on the grid for the Final in the third position surrounded by karting's absolute best from around the world in only our second event was huge for the GFC brand in my eyes. It was a huge heartbreak to have an engine failure while running in the second position, but we proved the GFC brand is already a force in the karting world.
EKN: Some of the brands you just mentioned are the factories where many other brands of karts are produced, what motivated you to go with a smaller manufacturer for your kart rather than relying on an established player in the industry?
GFC: There were many factors that came into play in my decision to go with TB Kart. When I started doing all the development with both the GFC GT14 (Shifter) and SS31 (TAG) models, I was looking at many different manufacturers and even had karts made for various people. The advantage I have is working with various manufacturers when I was living overseas and I knew their inner workings and how they went about things, both technically and commercially. I believe the word that would be best used is 'flexibility'. I wanted certain things a certain way and from various different vendors to put together what I thought was the best possible complete chassis. And on top of everything else, it was a strong personal relationship that stemmed the partnership along with the on-track performance that we saw in the development stages.
EKN: Going back to your desire to outperform the big factory teams, what do you hope to see this partnership achieve on-track? Is European competition in your sights?
GFC: Technically, I believe we are ready to take on these big factory teams as was shown in Vegas. But financially we are a long way from being able to have a full-fledged team effort over in Europe. Yes, the desire and appeal will always be there but, in reality, we are a ways from that. We are taking things one step at a time. The GFC brand and team is not going to be here today and gone tomorrow, we will be a force in karting for a long time to come. With that being said, we have not been in business very long, so we must learn to walk before we can run.
EKN: In an industry where many brands come and go simply trying to imitate the characteristics of the OTK, what differentiates your kart in terms of the philosophy behind the design?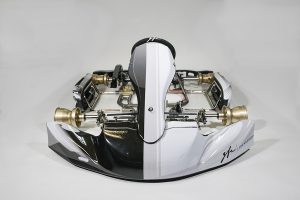 GFC: With rules of the CIK becoming more strict every homologation period, its becoming harder and harder to come out with more innovative solutions. As our own brand, we strive to develop our chassis with simplicity and adaptability. As many experienced drivers and tuners know, many chassis are capable of winning on any day. The trick is to develop a chassis that any driver, no matter their experience level, can feel comfortable in. With comfort comes confidence, and with confidence comes speed.
EKN: Do you feel that unshackled development with few regulations would hurt or harm the karting industry?
GFC: To be honest, I'm not sure. Some say it would and some say it wouldn't, but in reality no one really knows. The one thing I do know is the cream always rises to the top with drivers, chassis, engine tuners, and designers.
About the Author:
Blake Hunt is a veteran kart racer who is majoring in marketing at NC State with plans to take on journalism as well. Blake has also launched a new motorsports photography business and will be submitting a collection of interviews and articles to eKartingNews.com in 2019.