Registration for 2019 PRI Trade Show Now Open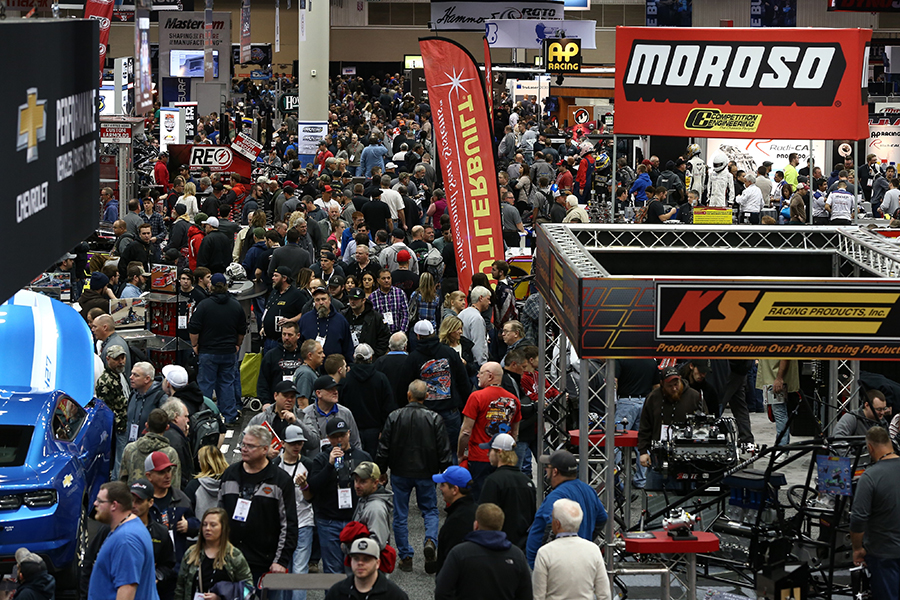 Motorsports professionals can secure credentials for the 2019 Performance Racing Industry Trade Show and reserve housing at prishow.com
Registration for the 2019 Performance Racing Industry (PRI) Trade Show is now open at prishow.com. With links to Indianapolis-area hotel rooms at exclusive discounted rates as well as a sign-up page for PRI's expanded educational program, the online application makes it easy and convenient for motorsports professionals to prepare for the Three Biggest Business Days in Racing, December 12-14 at the Indiana Convention Center in Indianapolis.
By registering early, buyers and exhibitors will receive their credentials before the Show — beginning in October — allowing them to bypass lines at the registration desk and save time on site. Journalists covering the PRI Show will be able to pick up their credentials on site in the PRI Trade Show Media Center. Located in the Convention Center's Green Hall, the Media Center is available exclusively to credentialed media and offers Wi-Fi, printer access, and work tables, among other amenities.
"The 32nd annual PRI Show will feature every type of racing discipline in a single location, with over 1,100 companies exhibiting in more than 3,300 booths," said PRI Trade Show Director Karin Davidson. "Attendees are encouraged to register and book a hotel today to see the latest products, services, machinery, simulation and testing technologies, and trailers available for the racing industry."
New for this year, the online application includes an integrated sign-up page for PRI Education. Taking place before and during Show hours, PRI's educational programming has more than tripled for 2019, with over two-dozen seminars broken out into tracks like Sales & Marketing, Business Operations, International, and more. The lineup of expert presenters and industry will be unlike anything that's ever been offered at PRI.
Also new in 2019, trailer exhibitors will have more space indoors to display their product lineups and conduct business as they move onto the field of Lucas Oil Stadium. The Lucas Oil Exhibit Area, where trailer exhibitors showcased their products last year, will continue to house PRI's Featured Products Showcase, a high-traffic display that gives exhibitors and attendees unprecedented product access and exposure for the hottest products in racing and performance.
"The industry-exclusive PRI Show attracts tens of thousands of attendees from all 50 states and over 70 countries, including professional race teams, retail shops, warehouse distributors, engine builders, fabricators, dealers, installers, jobbers and media," said Davidson. "It is the perfect place for attendees and journalists to connect with industry experts and companies serving all types of motorsports."
Numerous conferences and seminars, among them the Race Track Business Conference and International Council of Motorsport Sciences' Annual Congress, offer unlimited business opportunities and provide invaluable insight on the latest technologies and how to apply them throughout the racing world. Furthermore, special features like the Grand Opening Breakfast and Machinery Row make PRI the ideal event for motorsports pros to connect and discover what's trending ahead of the new racing season.
Known as Race Industry Week, the days leading up to and including the Show will offer a range of motorsports-related activities in and around the Indiana Convention Center beginning on Monday, December 9.
To register for the 2019 PRI Trade Show, secure hotel reservations, and sign up for free business seminars, log on to prishow.com.
Since its inception in 1986, Performance Racing Industry (PRI) has served as the motorsports industry's key source for trends, merchandising ideas, new products, business strategies, and more. Through its monthly business magazine, Performance Racing Industry, and the world's premier auto racing trade show, the Performance Racing Industry Trade Show in Indianapolis, Indiana, motorsports industry members from all over the world remain in tune with the worldwide racing marketplace. For more information, visit performanceracing.com.