AKRA Road Racing Series Kicks Off 2019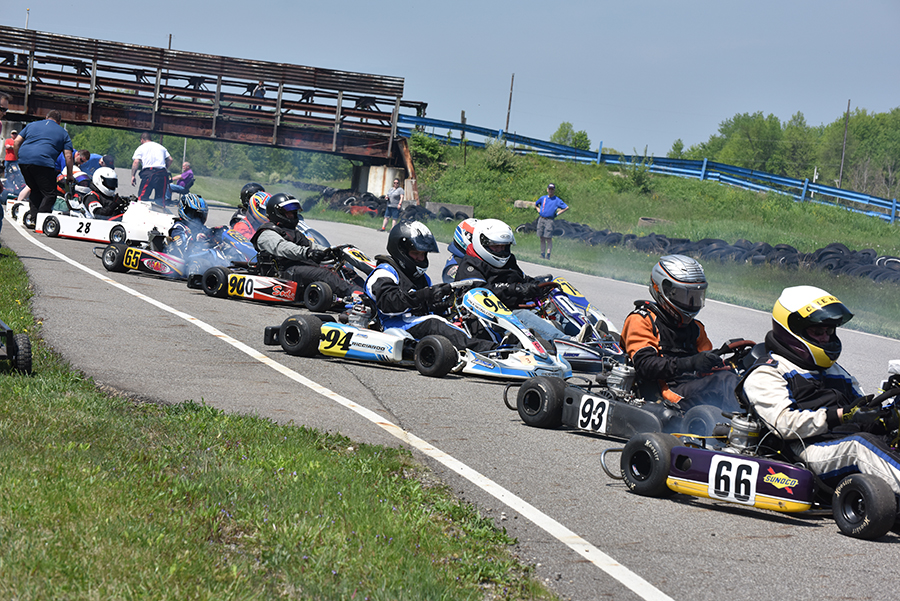 (Photo: Bruce C. Walls)
Over 300 racers entered the American Kart Racing Association's Road Racing Series season opener last weekend (May 17-19) hosted by Nelson Ledges Road Course in Garrettsville, Ohio. It was the first time in over 30-years that karts competed on the legendary 2-mile asphalt road course. Seventy-eight practiced that Friday and 229-racers started their 2019 AKRA Road Racing campaigns.
Fran Mazzuotelli pulled off a hat trick. Mazzuotelli led the way in Saturday's first race Formula 125 Final l backing it up Sunday with wins in Formula 125 Final 2 and 100cc Limited Enduro Final 2.  There he beat veteran kart racer Jerry Cole, owner of Michigan Kart Supply, to the stripe.
Two racers were double winners:
Ben Eberhart Swept the Vintage Piston Port USA Finals 1 and 2.  Saturday he owned a huge 3-lap lead over second place Herb Dickel. Sunday he had a 5-lap advantage over his nearest pursuer Fred Stoll.
Jerry Revely of Lake Villa, IL won both Open Sprint Finals 1 and 2.  "I'm getting use to the speed," said the Buller Racing Engines powered CKI chassis pilot. "The motor was good, but I was a little worried about the clutch, the clutch was giving me a little trouble," he added after his first win.
Steven Mitchell crossed 5-laps down for second and third place finisher Lance Hiser was further back, 14-laps down from Revely.  Sunday Mitchell was down 8-laps and Hiser was 16 laps behind.
A full race report will be published later in the week. Meanwhile photos from the Nelson Ledges Race are available for viewing and purchase at: www.actionpixandpromos.com.
AKRA's next Road Race Series race will be June 14-16 at Mid-Ohio Sports Car Course in Lexington, Ohio.