Quincy Grand Prix 2019 – Bigger and Better
Last year's successful return of 'The Park' fueling growth for current edition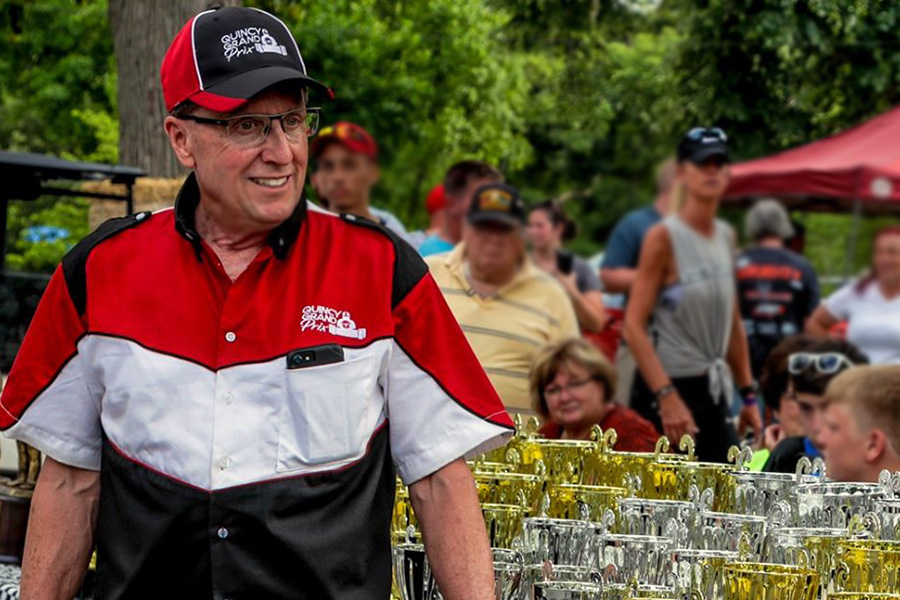 Terry Traeder of Quincy Grand Prix (Photo: Mark Schwigen)
In just over a month, one of the sport' legendary events will welcome over 300 entries to what is certainly one of American karting's most unique tracks.  The Quincy Grand Prix or 'the Park', as veterans still call it, was revived last June after a 15-year layoff and the support from the community was staggering.  The entry numbers blew away all the pre-event projections and the feedback from the racers, teams and families was nothing but positive. Without a doubt, the Park is back.
Just like the Quincy Grand Prix, event promoter Terry Traeder is one of the legends of the sport, as was his father Gus Traeder, who started the race.  As the owner of TNT Kartways on the west bank of the Mississippi River just across from Quincy, IL, the elder Traeder was a master promoter and showman. In fact, the event now boasts the 'Gussy', which is the trophy awarded to the race winners that honors the race founder. The trophy is a sculpture of Gus holding the checkered flag, something he loved to wave at each and every event.
Terry may be a little more understated than Gus, but his passion for karting burns just as bright as his father's.  Terry heads up a team that brought the race back onto the calendar, and equally as crucial to his dedication, the event is supported by strong industry players like Margay, Top Kart USA and the Harden Motorsports Group / TB Kart Indy. With this backing, the race has once again cemented its place within the sport, and with a focus on continuing improvements, the Quincy Grand Prix is positioned for another long run to expand its legendary history.  It's certainly a bucket list for karting around the country and around the world.
With the race set for June 8-9, pre-entry numbers have already climbed over 200, and ahead of this year's edition, we reached out to Terry to talk about the work that has been done to improve on the event.
eKartingNews.com:  Terry, the return of 'The Park' was major news for the sport in 2018. How many racers did the event draw last year?  And how many fans do you think the race attracted to the grounds?
Terry Traeder: We had budgeted for 200 entries and got a whopping 302, so it was a great bounce for us.  The city of Quincy was also so supportive of the event and the excitement grew quickly after we announced the return, so I'm not surprised that the estimated spectator attendance was 8,000 on Saturday and 15,000 on Sunday. It's a free event for the community and they love it. We had a great day in a beautiful park with a Formula 1 / IndyCar race atmosphere. What's not to love? In terms of numbers, we're hoping for 350 entries this year.
EKN: What are the improvements that are being made for 2019?
TT: Our major goal was to have a super safe race track for the drivers, crews and spectators. Everyone who was there in 2018 agreed that it was an impressive setup.  We wanted to change the global opinion that the race was 'dangerous'.  We are stepping safety up even further for 2019.  We had 1,000 plastic barriers last year and we're adding 500 more to make the total 1,500. We're also adding 250 more hay bales for a total of 750.  We continue to focus on improving safety.  Spectator fencing will have a majority of 6′ chain link, as well.
We'll be adding more 'bling', as my personal goal is to make the race the 'F1 / Indy 500' of karting.  I've got one of the most unique tracks in the nation and a city and park district who are totally behind it and it's all free to the residents. We're bringing in a bigger and better PA system for coverage throughout the park, and we'll have bigger and better concession areas. We're planning a fun night in the VIP tent area with a 'Karters Party' on Saturday evening. We'll also have online race scoring once again and we'll have monitors in the VIP tent so that our guests can follow along. So the bottom line is that we're making lots of improvements to an already-successful event.
EKN: That's tremendous!  Can you provide me with a list of the sponsors you have signed up?  Are there any new companies involved for 2019? 
TT: We're thrilled to have WGEM TV as a major partner, along with local companies like Adams Network, Consolidated Fencing, Culver Stockton College, HyVee Supermarkets, and Mississippi Bell.  Margay has always been a huge supporter of the event in so many ways, and we have Briggs & Stratton on-board as well.
EKN: As you've stated, the return of the event in 2018 was a tremendous success.  Can you give our EKN Nation an idea of some of the bigger teams that came to the revival?
TT: The Quick Grand Prix has so much history, and it was great to see our core teams come back again, as they were so excited to be back. As is said, Margay has always been one of our biggest supporters and they had their Ignite program there, with the team tent and hospitality area. It was super impressive. We were also fortunate to have the passionate folks from TB Kart Indy and Top Kart USA.  We have many of our veterans there too – guys who are part of the Park legend – like Scott Evans and his team, the Smith brothers, and Ron Jones from KartSport North America.
EKN: Terry, a race of this size requires manpower, and passionate people to make it all work.  Can you give us a list of the talent that you've assembled once again this year?
TT: That's for sure, Rob.  We're put together an impressive professional staff with Rick Fulks as our Race Director and Jason Burgess as our Flagman.  Randy Kugler will be back as our announcer and tech will be handled by Bob Scott (4-cycle) and Jack Hoegrel (2-cycle). Jeff and JT Miles are key personnel for the event, as our Safety Directors.  It's truly an incredible team.
This year's Quincy Grand Prix promises to eclipse last year's return.  If you haven't had the opportunity to race Quincy, it's certainly a 'bucket list' race and will be one of those adventures that will be part of your own personal racing story.  If you have the June 8-9 weekend open, you owe it to yourself to add it to your schedule for 2019.
For more information, or to enter the event, head to www.quincygrandprix.com and make sure to follow them on Facebook.