F-Series Competitive Karting Event Highlights 2019 SteelStacks Grand Prix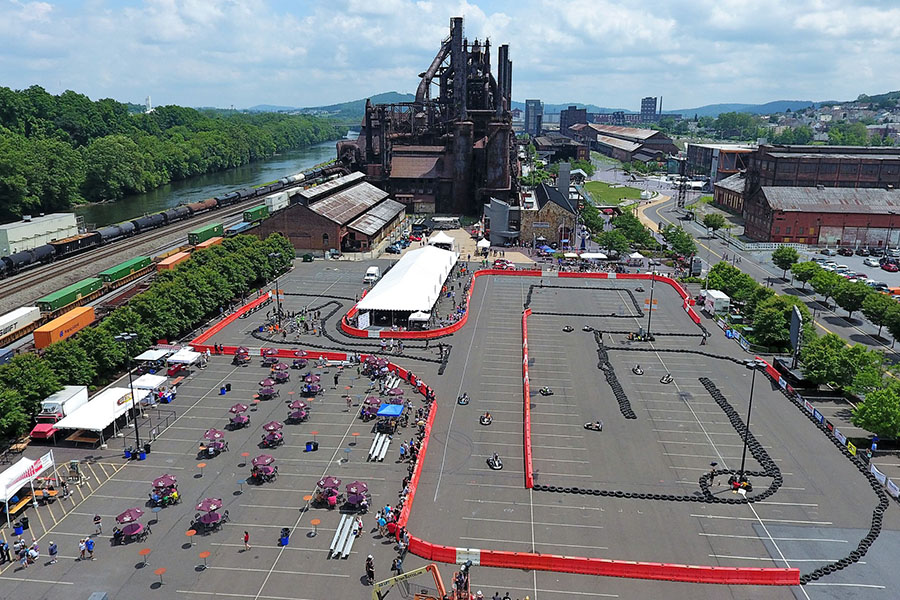 Competitive karting comes to the SteelStacks Grand Prix for the first time as the Father's Day weekend event welcomes the F-Series racing program on Saturday and Sunday, June 15-16. Racing enthusiasts are invited to watch all the action trackside, with admission free and open to the public.
A competitive karting series for youth to adults, the F-Series holds races along the East Coast, culminating with the official series championship each fall.  The F-Series event at SteelStacks will feature drivers competing in two classes – Mini Cadet for ages 8-12 and Senior Shifter for ages 15 and older. The racing action kicks off with practice on the Grand Prix's half-mile custom track on Saturday from 5-8 p.m., followed by qualifying and racing on Sunday morning and the finals from 1:30-2:30 p.m. Sunday. Over the past decade, interest in F-Series has grown by nearly 500 percent, with some events nearing 200 individual competitors.
"We are honored for this unique opportunity to bring F-Series competition karting to a fabulous place like SteelStacks," says Marco Oldhafer, CEO of the F-Series. "Of course, working alongside longtime partner Mike McCreary from Lehigh Valley Grand Prix is going to make this an instant success and give the spectators an experience they will not forget!"
In addition to watching all the F-Series action, the public is invited to take part in the Grand Prix's public racing sessions by jumping in one of Lehigh Valley Grand Prix's high-speed go-karts. Public racing takes place June 14, 7-10 p.m., and June 16, 10:30 a.m.-1 p.m. and 3-8 p.m. Cost is $25 per person and includes a safety briefing, helmet and eight minutes of track time. Tickets for the public sessions are on sale now at www.steelstacks.org/grandprix.
Started in 2017, SteelStacks Grand Prix brings together a Who's Who of the region's corporate community for a day of action-packed go-kart racing on the Saturday, June 15, of Father's Day Weekend. The public can also get in on the action by watching the event from the trackside grandstands, as well as taking part in the public racing sessions June 14 and 16.
The Grand Prix is presented by the nonprofit ArtsQuest and Lehigh Valley Grand Prix. Over the past two years, the event has generated more than $30,000 to support ArtsQuest's free music, arts and arts education programming for the region.