Troubled Weekend for Maranello Kart and SRP at the Opener of the European Championship in Wackersdorf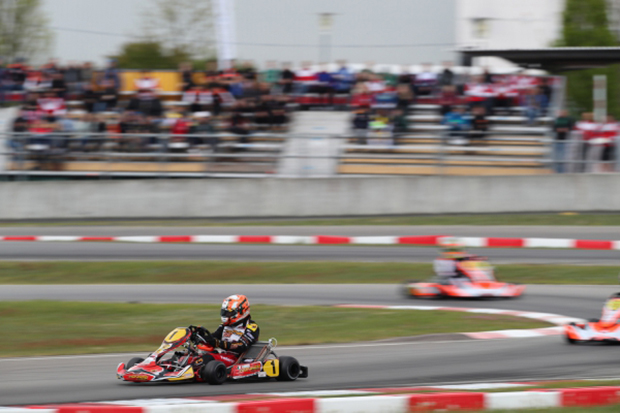 Despite some problems and bad weather, Fabian Federer confirmed to be very quick in KZ and managed to recover up to P9 in the Final. The young David Trefilovs shining in qualifying and heats in KZ2.
Maranello Kart and SRP Racing Team had a rather difficult weekend with their drivers at the opener of the KZ and KZ2 European Championship in Wackersdorf (Germany) due to bad weather and several problems to get tyres working at their best.
The first meeting of the European Championship has been nevertheless positive for Maranello Kart as its drivers displayed a good competitiveness when weather conditions allowed. Fabian Federer proved this point in the KZ Final, when the Italian completed a 13 place comeback ending his effort in P9 posting very quick lap times. Federer's performance confirms the quality of the Maranello Kart chassis and TM engine prepared by SRP Engines.
The young German David Trefilovs has been shining in KZ2 and is getting more and more competitive too. The speed displayed by Trefilovs was rewarded by the second time of Series-2 in qualifying, that was the fourth quickest time overall, and was confirmed in the initial two heats when he claimed a fair and square victory and a great P4. Several hiccups slowed then Trefilovs down in the other heats, as in the Final, when a double penalty relegated him only to P29. Fabrizio Rosati was disqualified, while Alessio La Martina and Brio Hueting could not qualify for the Final.
The second round of the KZ2 European Championship will take place in Sarno next June 16th.