Top Kart USA In Final Development Stages of Competition EV ION Package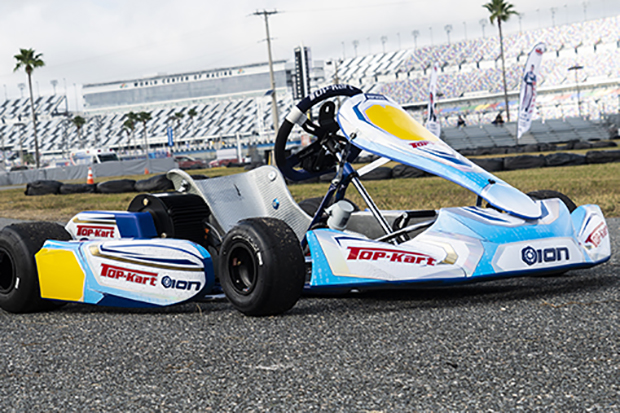 The North American Top Kart distributor is reaching new heights of their developments in 2019. Top Kart USA is looking to bring a whole new package to the kart racing industry that will be sure to catch your attention. The Indianapolis based company is in the final stages of testing and development process for their purpose built Top Kart ION model chassis specifically designed for the E-Rev motor program.
The E-Rev motor package consists of 48 Peak HP and 85 ft-lbs of torque, which is over six times the torque of the leading TaG engines currently in the North American market. The E-Rev will come equipped with a scalable motor controller that allows a downloadable performance package to be loaded into the system based on the different class options that will be offered.  A quick change Lithium-Ion 96V 15.3kW battery pack with a BMS (Battery Management System) will be the power supply for the electric powerhouse. This system's drivetrain consists of the 428-size chain and gear system comparable to what is seen in the shifter market today.
"Karting is about to get a shot of reality with the release of the ION. We have been developing this package for several years now and we are set to make it available to the karting community very soon." according to William McLaughlin Jr. "The internal combustion engine will be a thing of the past, you see it with car manufactures heading more towards electric vehicles as the technology becomes more affordable and performance and distance numbers increase."
Some other key aspects for the E-Rev are that the consumer will have no blueprinting costs, no motor rebuilds, no clutch repairs and maintenancing, no carburetor issues, no spark plugs, no fuel and oil costs, air filters, and flex to name just a few of the cost savings.
The system emits zero emissions and is extremely quiet yet very fast. This could open up further opportunities for tracks near cities to hold more events that have a sound ordinance and are limited to how often they are allowed to race the gas powered events.
Top Kart USA is working with select karting organizations to provide a class structure for the package to join the race competition.
President of the World Karting Association, Kevin Williams states, "Karting has always been challenged with creating developing growth prospects of bringing new karters into the sport. One way to grow is to offer a new product that appeals to new participants.  Electric Kart Racing introduces that growth potential."
The general idea behind this concept that Top Kart USA has designed is simply to help make racing less expensive for the average local and regional racer yet give them something really fun and fast at the same time. Based on average numbers from a regional racer using their current TaG equipment just seven months a year and twice a month over a five year time period the savings increase exponentially as you race more. Having compared costs to engine maintenance expenses after just 2 years the E-Rev package will be a free package to run.
Blake Deister adds, "We are working with the software company to write programs to control wheel spin (traction control) and the ability to energy regeneration under braking. There is so much we can offer the driver and crews. Blake goes on to say, "If you have been to large karting events you undoubtedly experienced 30+ two strokes firing up for a minute or two before they roll off the grid. The smoke pollution is extreme and the noise is deafening in itself. We have non of that with the ION."
From a driver's perspective, the moment you press the accelerator you instantly are driven back into the seat, the torque breaks the wheels free, you need to counter steer to maintain your direction, and your head is trying to get past the "WOW! What just happened?". You can turn laps faster than you have before, and with the Lithium pack, most race day schedules can be done on a single charge.
Top Kart USA has a strong relationship with a leading technology and innovation campus, Purdue University. Located just north of the Top Kart USA headquarters the two entities are able to closely work together on technology development and new concepts with all of the available resources between them. In addition to, Purdue and Top Kart USA are in their third year developing the MSTEM3 karting platform at the High School and collegiate levels. The program allows students with many different potential career paths the opportunity to get involved into the motorsports field whether they are interested in engineering, technology, business and marketing, and more. Participating schools involved have a strict rubric to follow to meet all of the requirements on the educational side and then they compete at the famed Indianapolis Motor Speedway for the EV Grand Prix World Finals in May before the Indianapolis 500 hosted on May 13-15.
Top Kart USA will continue their rigorous testing on the ION & E-Rev motor package to ensure they will be bringing a quality product to market expected to be in production late summer to early fall of 2019.
Stay tuned for more information and promotional content to be sent out in the near future as the team continues to update you on the progress!
About Top Kart USA – Top Kart USA is located in Indianapolis, Indiana and is a distributor for the Top Kart product line. Housing a national level race team and competing in the World Karting Association and SuperKarts! USA programs as well as throughout the regional level in the Midwest, Top Kart USA is continuing to evolve and develop Top Kart dealerships throughout the United States. Supported by Top Kart importer Grand Products, Top Kart USA is owned and operated by McLaughlin Motorsports.
To learn more about products, services, or arrive and drive programs offered you can contact Top Kart USA by phone at 317-870-3122 or email sales@topkartusa.net.