Tony Kart Racing Team: Vigano Pole and Podium at the KZ European Debut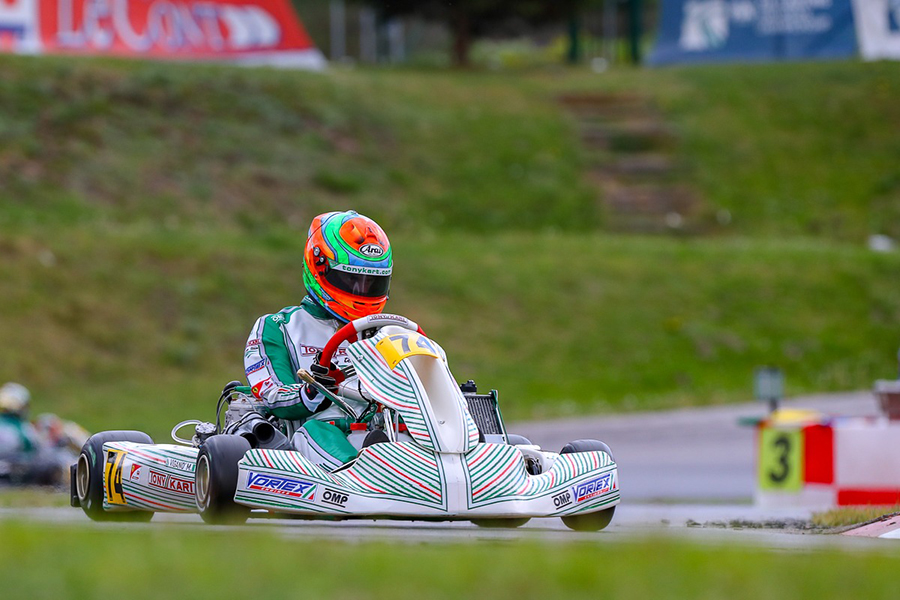 The Tony Kart Racing Team is always present in the fight for top positions of the first round of the KZ and KZ2 FIA Karting European Championship in Germany, ending with the second place of our Matteo Viganò.
First round of KZ and KZ2 FIA Karting European Championship, in Wackersdorf, charachterized by uncertain weather. A situation that exalted the driving skills of our drivers and the versatility of the Racer 401 R chassis powered by Vortexegine, protagonists in all conditions.
Starting from the secondfinal place of Matteo Viganò in KZ: a debut in the category that could not be better. The holder of the KZ2 International Super Cup Title immediately feels at his ease with the German circuit, winning the pole positionon Friday and then confirming himself in the Qualifying Heats with a victory and a third place on wet track. In final, after losing a position at the start, our standard-bearer springs forward and, with excellent overtakes, he gains the second place, keeping unitl the checkered flag.
Good weekend for Marco Ardigò and Simo Puhakka too, sixth and seventh respectively and both protagonists of an amazing duel in Final. In the decisive race, Noah Milell cannot repeat the convincing performances shown on Friday by leading a free practices session and the top ten in qualifying.
Excellent results also from our standard-bearers engaged in KZ2: David Vidales ends fourth after starting from the ninth position. Great comeback also for Alessio Piccini, who gains the tenth position after starting seventeenth.
The Spanish driver is one of the most constant drivers on the grid and manages the unpredictable Saturday conditions with a third and two fourth places in the Heats in the best way. Same performances and maturity for Vidales in the decisive race, where he nearly wins the podium
Alessio Piccini is the protagonist of an amazing weekend: he gains two fourth places, a best lap and a victory in the Heats, proving his ability to exploit the Tony Kart Racer 401 R in the best way, even in wet conditions. Victories could also have been two, but a penalty unfortunately compromised his starting position in Final.
Tony Kartis protagonist also with Alexander Schmitz, from Renda Motorsport Team, successfully ending three qualifying heats and best laps.
The next appointment for the Tony Kart Racing Team is scheduled in two weeks, on the Circuit Horensbergdam in Genk with the second round of the FIA Karting European Championship for OK and OK-Junior categories.