So Cal Oval Karters Return to SoCal Fair and Event Center on Saturday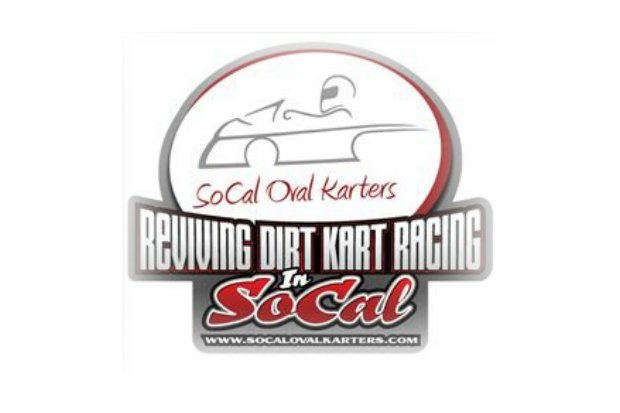 The So Cal Oval Karter club will contest round #4 of its championship season at the SoCal Fair Motorcycle Speedway on the SoCal Fair and Event Center in Perris this Saturday, May 11th.  Gates will open at 9:00 A.M. with practice at 11:00 and racing at noon.  Five classes – Yamaha of America KT100, Burris Racing F200, Caltrol Incorporated Senior Clones, The Colt Group Open Class and Dyno Cam Juniors – will all be in action.  Soon after Saturday's SCOK show ends, competitors and fans can stroll a couple of hundred feet for the American Flat Track Series "So-Cal Half-Mile" on the adjacent Riverside County half-mile clay oval.
Saturday's program will be the fourth of the 2019 season for the SCOK and the third at SoCal Fair Motorcycle Speedway.  Two weeks ago when the SCOK was last on the fairgrounds track,  Mike Demello of Wildomar won in the Senior Clones for the second race in a row, Cody Griggs of San Diego took the checkered in the KT100's, Banning's Scott Gaynor captured the trophy in the F200 class, Jason Bishop of San Diego notched the win in the Opens and his daughter, Lauren Bishop, claimed the honors in the Juniors.
Going into Saturday's race, only one racer in the entire club is perfect on the season.  That is Lauren Bishop who won the first Junior main of the year at the Patton Raceway and who has since backed that up with two straight wins on the SoCal Fair Motorcycle Speedway.   The only class this year without a repeat winner is the KT100's.  Anaheim's Tim Erickson and Brody Roa of Garden Grove scored wins in the class before Griggs became the class's third winner two weeks ago.
There will be little time for the teams to rest after Saturday's race as they will be in action on the infield oval at world-famous Perris Auto Speedway on May 18th.
The SoCal Oval Karters would like to thank the following sponsors for being part of the 2019 season.   Yamaha of America, Burris Racing, Caltrol Incorporated, The Colt Group, Fair Oaks Ranch, Ancon Marine and Dyno Cams.  If you or your company would like to join the SCOK as a sponsor for 2019, please call Matt Jones at (714) 614-8891 or E-mail him at mailto:mattjonesracing@yahoo.com
To keep up with the So Cal Oval Karters on Facebook, please use the following link:  https://www.facebook.com/search/str/so+cal+oval+karters/keywords_search
The So Cal Oval Karters website is available at http://socalovalkarters.com/