Exclusive Autosport Continues Partnership with WCKC
WCKC to award four test drives in Exclusive Autosport's Spectrum F1600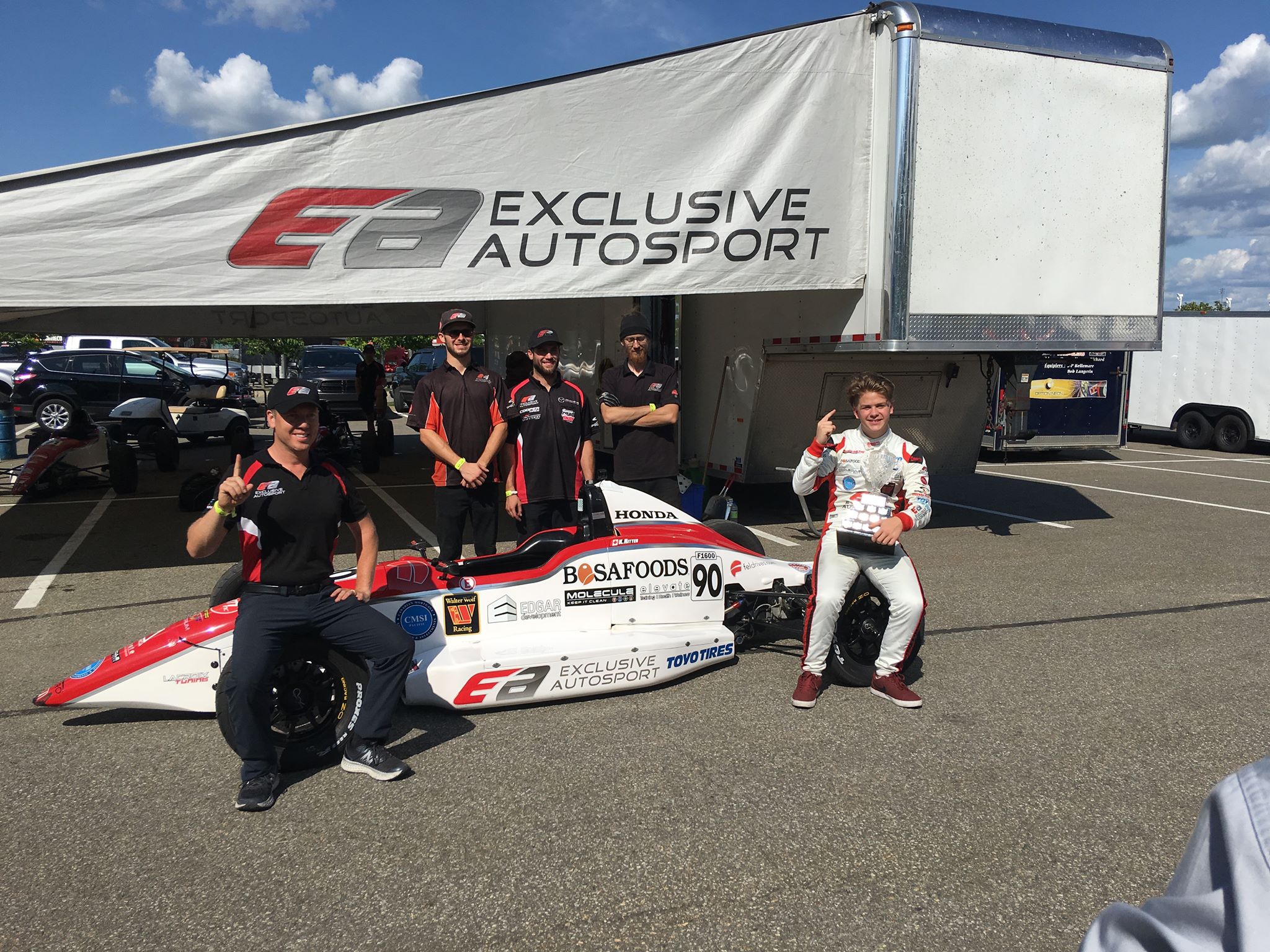 Reigning F1600 Super Series championship-winning team Exclusive Autosport will continue its sponsorship with the Western Canadian Karting Championship for 2019
Exclusive Autosport is pleased to announce their continued partnership with the Western Canadian Karting Championship (WCKC) for another year. This partnership creates a unique opportunity for young drivers, providing them with a chance to step up the ladder into a purpose-built race car. Four worthy drivers will be awarded a single day test in an EA Spectrum F1600. This test day will be awarded at the end of the year after all on and off-track requirements have been met.
"Being from Western Canada, we are very proud to support the Western Canadian Karting Championship for a second year," enthused Michael Duncalfe, Team Principal. "The organizers of the WCKC have done a tremendous job to revitalize the series and karting in Western Canada. We hope that through this partnership, we can create opportunities for drivers in Western Canada to make the transition from karts to cars. We are honoured to be part of it all."
The four drivers being considered for this single test day sponsorship will be the series MVP, one or two drivers in the Rotax Senior category, and one or two drivers in the Rotax Junior category. Drivers who are interested in being considered must submit a Letter of Intent to Kimberly@exclusivemanagementinc.com no later than May 31, 2019. This letter must include answers to the following questions:
Name and Age:
What are your goals in motorsports (both karting and cars)?
Why should you be considered for one of these four awards?
List all your social media handles (ie. Facebook, Twitter, Instagram, and/or YouTube).
"We at the WCKC are very happy to have Exclusive Autosport back on as the Title Sponsor of the WCKC series." commented Scott Campbell, WCKC Director. "This is a great opportunity for a driver to get the chance to drive a real race car. This is something that I only wish was around when I was younger, coming up the ranks in karting."
Exclusive Autosport operates top-level open wheel racing teams on the Road to Indy, running in both the USF2000 and Indy Pro 2000 series, and they are also multi-time champions of the Toyo Tires F1600 Championship in Ontario, the Quebec-focused Formula Tour 1600 series and the combined F1600 Super Series.  The team is honoured to provide an opportunity for drivers to have a one-day test with a professional, championship-winning operation. Partnering with WCKC has created this incredible opportunity to provide experiences some who might never otherwise have the chance.
Please remember to have entries submitted by May 31, 2019. For more information, please contact Exclusive Autosport via their website or social media outlets.
Exclusive Autosport is pleased to be able to partner with great companies, such as AERO™ Advanced Paint Technology (www.rethinkpaint.com), which is used on all their race cars.
EXCLUSIVE AUTOSPORT – SOCIAL MEDIA ACCOUNTS:
Website: www.exclusiveautosport.ca
Facebook: www.facebook.com/Exclusive-Autosport
Twitter: @ExclAutosport
Instagram: @ exclusiveautosport