Jarsocrak and KartSport North America End Partnership
Three-time United States Pro Kart Series champion moves back to Mike Doty Racing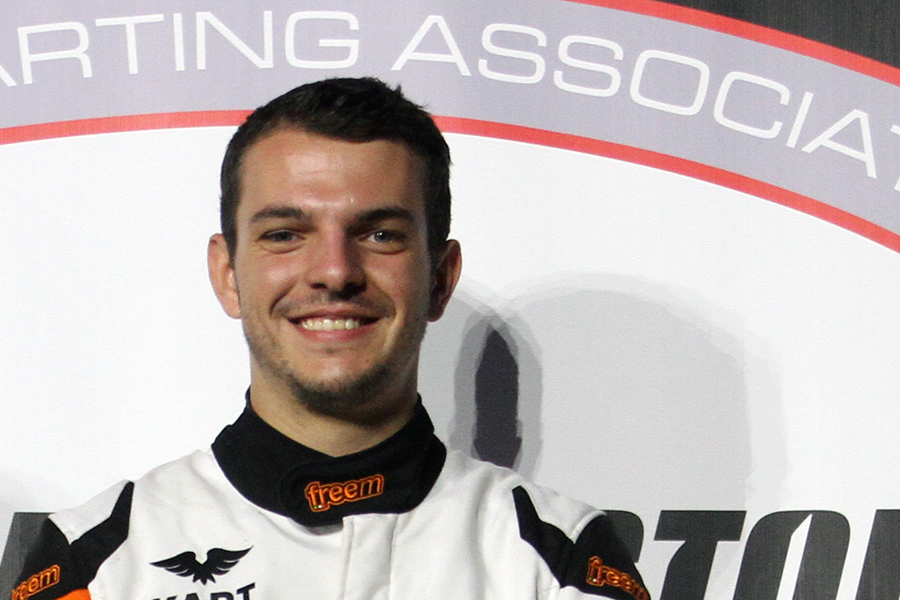 (Photo: EKN)
What began in December 2015 has come to an end. Three-time United States Pro Kart Series champion Brandon Jarsocrak has parted ways with KartSport North America. The driver from Reading, Pennsylvania has vacated his role as lead driver with the team and on the Kart Republic brand. The #4-ranked driver in the EKN TaG Driver Rankings is said to be making a return to the Mike Doty Racing operation, where it all began for Jarsocrak, at the upcoming Superkarts! USA Pro Tour SpringNationals.
It was Mike Doty Racing that introduced Jarsocrak to the national karting scene in 2008 at the WKA Daytona KartWeek. Since then, he and father Eddie have been a permanent fixture in the sport. His breakout season was in 2014 when he won the Yamaha Pro championship at United States Pro Kart Series while placing sixth in the Leopard Pro division. In December 2015, Jarsocrak joined KartSport North America aboard the Praga, winning in his debut at the Daytona KartWeek event. His first United States Pro Kart Series title in the X30 Pro class came in 2017. The program moved to the Kart Republic brand at the beginning of 2018, and Jarsocrak became the first two-time USPKS champion in the X30 Pro category. His last win with KartSport North America came at the recent WKA Daytona KartWeek.
"I would really like to thank everyone at KartSport North America for all the support and opportunities they have given me for the past three seasons. We created some great memories and achieved multiple victories and championships. I'm excited and looking forward for what's to come going back to Mike Doty Racing, where it all started 10 years ago. I believe that we can have great success together."
Jarsocrak rejoins Mike Doty Racing, set to make a return with the team this weekend at the Superkarts! USA Pro Tour SpringNationals, held at the Utah Motorsports Campus in Erda, Utah. The remainder of the 2019 season is uncertain for the engineer student from Penn State, who is finishing up his finals for this semester prior to flying to Utah.
KartSport North America will continue on without Jarsocrak, fielding a team of four drivers. Ethan Ayers, Max Garcia, Christian Miles will contest Mini Swift with Brent Crews racing X30 and KA100 Junior – all aboard the Kart Republic brand. Add in Blake Hunt in KA100 Senior and Michael Tejada in X30 Senior.