Sporting and Technical Success for LeCont at Angerville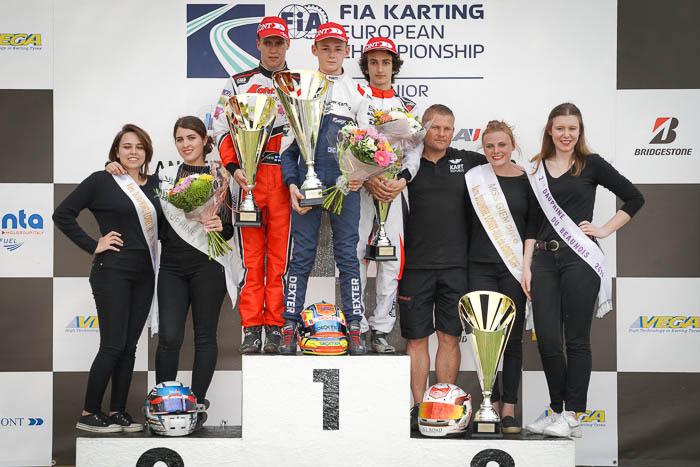 For this 2019 season, the tyre manufacturer LeCont won the latest tender launched by the FIA Karting to equip the OK category in the biggest international competitions. The European Championship started at the Angerville circuit with the French Kart Grand Prix, where the tyres of the Italian brand, in their "Prime" version, gave complete satisfaction to the 66 drivers present.
A partner of FIA Karting since 2011, equipped with a high-tech factory and recognised for the quality of its products, the LeCont brand has contributed greatly to the sporting success of the opening round of the European OK Championship. "Seeing the drivers, the teams, the international federation and the satisfied organisers during a meeting remains our priority," says Paolo Bombara, marketing manager at LeCont. "For this, we have to provide homologated tyres that bring performance, consistency and safety to all participants. For us, after a convincing experience in KZ, KZ2 and the Academy Trophy in 2018, rejoining the OK category that we supplied in 2017 was very satisfying. I really like the technical definition of this formula, with its direct drive engines and its drivers who include stars of karting and young talents representing the future hopes of motorsport. It's exciting to watch."
Very fast lap times
Many positive things have emerged from this first meeting of the season. Starting with the performance! With the best Qualifying time of 48 "795, Spain's Pedro Hiltbrand lapped 5 tenths faster than the pole position achieved by a KZ2 driver a few weeks earlier. In addition, the window during which the tyres provide optimum performance was wide enough, allowing the drivers to achieve their best time on their third or fourth lap, or even the sixth or seventh!
"As always, LeCont ensures that tyres of the same quality are delivered to all drivers," says Bombara. "That's how, in Qualifying, we saw nearly 50 drivers grouped in less than 5 tenths! Then, many of them were able to compete in their five Qualifying Heats with the same set of tyres thanks to a wear level that I will describe as quite normal, considering this very high level of competition and the intensity of the races that the drivers showed us."
The weather remained fine at Angerville, not requiring the use of wet tyres, to which LeCont also attaches great importance. "Our wet tire is not the fastest, but it has the distinction of being very consistent and durable. Even when the track dries up, the rubber wears less than other brands. In any case, if it rains this season, all drivers will be equipped in the same brand with our tyres homologated by the CIK-FIA since 2017. These will give way, from next year, to a brand new model, also very durable but with better performance."
Patterson wins in front of Valtanen and Minì
During the entire meeting, the gaps remained very small between the contenders for the podium. Scotsman Dexter Patterson took the lead at the end of the heats and held on to the Final, despite pressure from Italy's Gabriele Minì and Finland's Juho Valtanen, while Britain's Taylor Barnard remained very competitive, close to the leading group. "We noticed that the top 15 of the Final were from 13 different teams, which is the proof that the usage of our "Prime" tyres did not pose any problems, for the drivers or for the technicians. The extensive positive feedback I received on Sunday evening confirmed this observation."
"I would like to congratulate all the participants for their performance, and also to congratulate the FFSA who had the good idea of organising a big national race at Angerville two weeks before this event with the same tyres as the European Championship. At the same time, it is a good way to ensure the promotion of OK at ASN level, especially as this situation will be repeated in July at Le Mans just before the Final of the FIA ​​Karting European Championship."
LeCont's presence in FIA Karting
2011: U18 + Academy Trophy
2012: U18 + Academy Trophy
2013: KF3
2015: KZ2 + KF-Junior
2016: Endurance
2017: OK + Endurance
2018: KZ + KZ2 + Academy Trophy + Endurance
2019: OK