25th Annual Mayor's Cup Grand Prix Race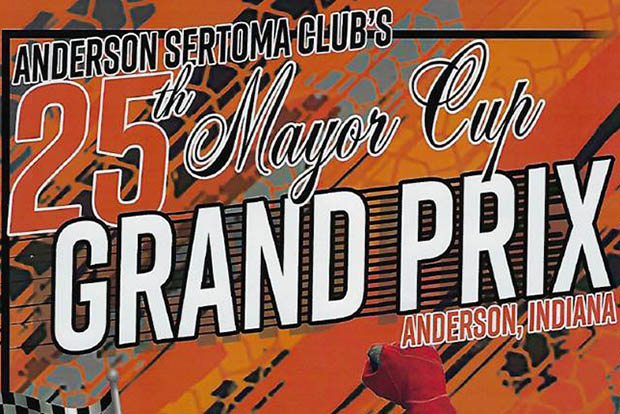 The Anderson Sertoma Club and Mayor Thomas Broderick, Jr. will be presenting the 25th Annual Mayor's Cup Grand Prix this weekend the 27th and 28th of April. This year the race will be held in downtown Anderson. Staging will take place in the WorkOne parking lot.
It is expected that the race will be a challenging and competitive event. Anderson Sertoma Club has committed itself to be in the forefront of providing safer racing with the use of the Scribner Safety Barriers System. The red and white plastic barriers have proven to be the Safe Walls for Kart racing.
With the barriers being owned and maintained by the Anderson Sertoma Club, the club has created a unique funding vehicle for our service organization. The past 24 years of hosting this racing event, over $244,000 was raised from this event. The net proceed efforts have been tremendously beneficial for local sponsorships and charities.
Mayor Broderick stated, "That we are excited once again we are able to sponsor this great annual event. I would invite everyone down to be able to experience the excitement downtown during the race."
In making the announcement the Sertoma Club expressed it's thanks to the race fans, racers, crew, great volunteer staff and their sponsors and advertisers for their generous support. In 2018, the Sertoma Club funded over $26,000 in sponsorships from various local not-for-profits. This weekend's event will help fund the Sertoma sponsorships, which include Special Olympics, Cub Scouts, Madison County Historical Society, Anderson High School Band Boosters, Gateway Association and Anderson Community Schools Middle School's Mental Attitude Award, the Annual Freedom Essay contest for 5th Graders, SERVICE TO MANKIND Award, Man-4-Man Ministries, The Christian Center, St. Vincent's Anderson (St. John's Regional), Children Classic Golf Tournament and many more local not-for-profit agencies.
In addition to enjoying the racing, everyone is invited to visit the food vendors and to purchase a Mayor's Cup Grand Prix 25 year Anniversary T-Shirt or purchase a Pit Pass to allow your access into the pit area and visit the drivers and crews. The schedule for this event is on the following page. Enjoy these two days of Grand Prix kart racing at its best.
Friday Afternoon, 4-26-19
4:00 pm approx Pit parking open (once Work One Building Employees lot Cleared)
5:00 – 10:00 pm Track preparation
7:00 – 8:00 pm SIRA Drivers Registration
Saturday, 4-27-16
7:30 – 9:30 am Driver registration opens
9:30 am SIRA Drivers Meeting
10:00 am -11:30am Practice by SIRA Groups
11:30 am Opening Ceremonies
Introductions –
25 years – comments, special awards
Invocation Prayer – Pastor Steve Gettinger
Presentations of Colors Anderson,
National Anthem
11:45 am Sponsor Races & Mayors Races
12:30 pm SIRA Heat Races
3:45 pm approx completion of Heat Races
4:30 pm TBA – Possible entertainment at Start Finish Line
Sunday, 4-28-19
6:00 am to 12:00 pm QUIET TIME! NO ENGINES FIRED.
9:30 – 10:30 am Drivers Registration
10:30 am         25th Year Photo- All Karts & Drivers to Front stretch for
Mayors Cup 25th Year Celebration Photo.
11:30 am         Drivers Meeting– 3 sets of Hoosier (Kartsport) Tires to be given away
12:00 pm                     Final Practice  (1 round )
1:00 pm                       Feature Racing begins
4:00 pm approx          Awards at the Start / Finish Line   Drivers bring helmets for photos
and winner will be given a bottle of milk for picture to drink or?)
5:30 pm – begin track breakdown
ALL Concessions / Food and drinks will be located around the track and public access
Greeks Pizzeria, Turn 1 (9th & Central) Pizza & Drinks, H & C Amusements, Turn 2 (10th & Central) including Kids entertainment Bounce house & various other  Cotton Candy, Elephant Ears, Drinks; Dev's Deep Fried Madness (Located next to the Registration Tent on 9th Street, Deep Fried foods & Veggies, Sandwiches, Drinks;  Anderson High School Band Boosters, (Located before entrance into pit area)  Hot Dogs, Brauts, Hamburgers, Chips, Nachos, Drinks.
PIT PASS WRIST BANDS ARE REQUIRED FOR ACCESS INTO PIT AREA
Pit pass cost is $15.00 for one day or weekend
Visit our face book page Anderson Sertoma Club – for info Call 764 208-0784