Maranello Kart and SRP Racing Absolute Protagonists of DKN Opener in Lonato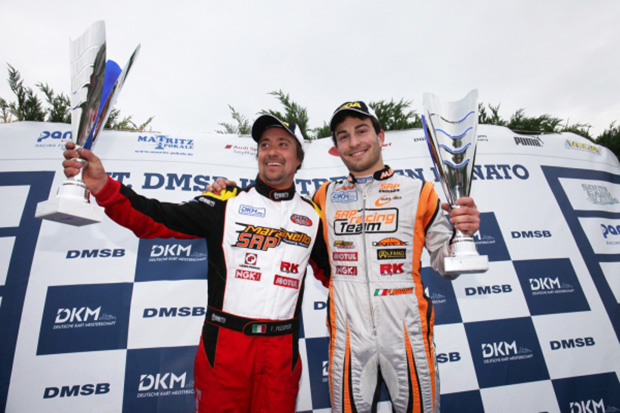 Rosati won race-1 of the DKM opener at South Garda Karting, Federer came second and third in the two finals and clinched the classification lead. Great fourth place for Trefilovs in KZ2 Cup.  
Maranello Kart displayed a good competitiveness level in the opening race of DKM in Lonato with SRP Racing Team and has been among the protagonists throughout the weekend that had a record number of nearly 200 drivers at the South Garda Karting.
Mutable weather made the opener of the DKM campaign quite tricky especially on Sunday when rain fell on-off and complicated tyre choices.
Team SRP's DKM reigning champion Fabian Federer has been excellent since qualifying practice in KZ2 and claimed a spectacular pole position in 45.192s, but his team-mate Fabrizio Rosati has also displayed a good shape in P9 of his group. Christoph Hold had some problems instead and settled for P18 of his group. Federer dominated also heats claiming two strong wins.
A light rain shower before the finals ended up with all teams opting for rain tyres, the only exception was Fabrizio Rosati, who started from P25 and gambled on the slick tyres to turn the situation upside down. He was soon rewarded by this brave choice: Rosati quickly recovered all the places as the track was drying up lapping 2-3s faster than his rivals (!). "He looked like an aircraft…" was the comment of most of his rivals. Rosati lapped several of his rivals and won the first final with a 18s lead on his team-mate Federer, who came second. Hold was 15th.
Race-2 was run on the dry but under a sky promising rain. All drivers got to the start on slick tyres, but Rosati and other two drivers opted for the rain tyres. Rain started to fall after lap one and drivers were forced to pit due to safety reasons, which stripped Rosati of a big advantage, but safety was the priority. The "king of the rain" Giannoni won the race leading Iglesias. Federer got again on the podium in third. Hold was 15th, Rosati 23rd. The double result in Lonato allowed Federer to take the lead of the championship with 45 points.
In KZ2 Cup the young German Davids Trefilovs of team SRP placed Maranello Kart on the five-place podium of the Final in a good P4. Alessio La Martina also run a good race ending in the top-ten in P8. The Dutch Brio Hueting was 22nd and the German Andreas Dresen 27th. In OK-Junior the German Jannik Julius-Bernhart was 23rd in Race-1 and 15th in Race-2, while Paul Rieberer just missed out on qualifying for the final stages.