Industry Insider: Shawn Bayliff – Trinity Karting Group
Growing team has packed tent for New Castle club program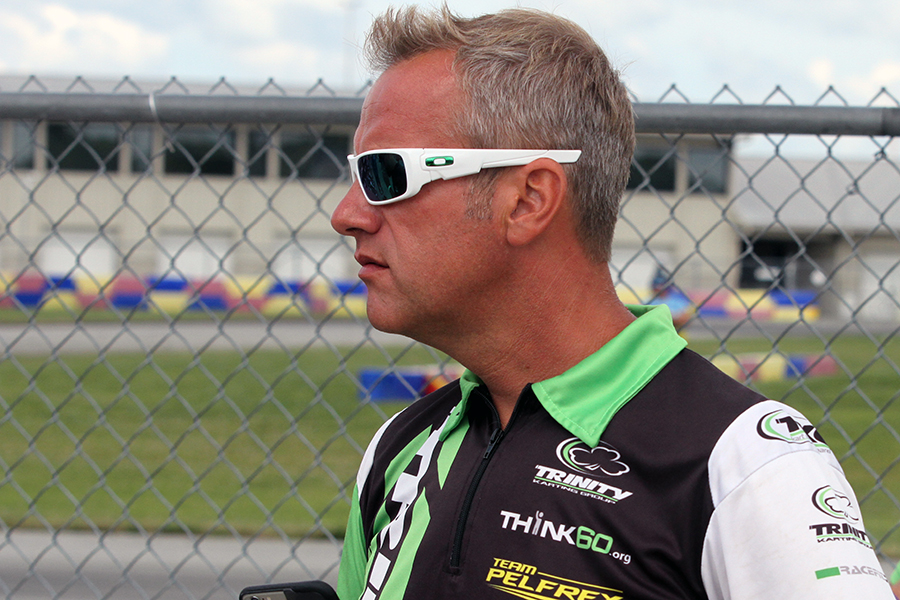 Shawn Bayliff (Photo: EKN)
Over the past five years, Shawn Bayliff has been working non-stop to grow his program – Trinity Karting Group – into one of the East Coast's core race teams. In the process, he's built one of the strongest club and regional operations in the Midwest, even though TKG is based at the unique Motorsports Country Club of Cincinnati, just over 120 miles from New Castle Motorsports Park.  With the opening rounds of the KRA series at NCMP being postponed due to weather, Bayliff and his drivers remained on the sidelines last weekend but are primed and ready to begin the season on Sunday.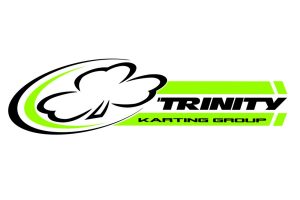 We've had Shawn as a guest on the EKN Radio Network in the past, leveraging his long history in both karting and motorsports to provide interesting content for our listeners. Bayliff fully employs that valuable experience in his race team and presents one of the most professional operations in the paddock.  TKG will have more than two dozen drivers under their tent at New Castle this weekend, and they expect to have a strong contingent of competitors in more than one of the assorted Midwest regional series as well.
From their home base at the MCC, Bayliff and TKG provide one of the most unique driver development programs in the country, pairing a private testing facility and experienced coaching with OTK and IAME equipment to offer customers a seamless path from newcomer to race winner.
He is easily one of the nicest individuals that you'll find in the paddock, and the sport is lucky to have a passionate guy like Shawn Bayliff and his family in the sport.
eKartingNews.com: Shawn, thanks for taking the time to chat with us. I know that you guys are flat-out preparing from the upcoming season.  Can you give us an overview on the events that Team TKG will be attending this year, and how does your driver line-up look?
Shawn Bayliff: Thank you, as always! We're busy, for sure, but that is always a good thing. I am really excited about the 2019 season. Our focus is going to be on all the events that we can attend at New Castle Motorsports Park (NCMP), of course.  We will continue to compete in all the KRA series races that they have slated – 14 races over 12 weekends – and we are also going to compete in all the traveling series races that visit NCMP.  We were really considering chasing the SKUSA Pro Tour events this year, but the WinterNationals and SpringNationals are just a bit too far away and our current crop of drivers are just a little too new to the sport.
We are hoping that we can get some more participation in the SKUSA Great Lakes ProKart Challenge, Route 66 Sprint Series, USPKS and WKA events here at our home track that might springboard some more interest in competing in 2020.  We will for sure compete in the SummerNats and we have Las Vegas on the schedule. We did the Battle at the Brickyard last year and it is a 'must-do' for our drivers this July.
EKN: That's certainly a strong program with an obvious focus on your core club and the regional series within your area of the country.  I expect it would be difficult to campaign everything that's available.
SB: I wanted to at least compete full-time in one of the regional series, but with the conflicts on our KRA dates with all of them, it just wasn't possible.  My responsibilities to our members at Motorsports Country Club and our program at NCMP must come first, then we run what makes sense from what's available.  We have a great line-up of new drivers in 2019, from Kid Karts to TaG Masters, not to mention our staple of drivers who have been with us for several years now.  I think we will have as many as 25 karts under our tent, and we have a lot more youth than previous years and that's good for growth and sustainability.  Last season showed that we have some rising stars in our program and I hope to show that when the traveling series visit NCMP. It is going to be a fun year.
EKN: With 25 karts, that's a packed tent for the KRA program at New Castle. What is it about the track series that makes it so successful?
SB: First and foremost, it is one of the premier karting tracks in the USA, and being fortunate to be able to call this track our home is awesome, well, our second track home. The Dismore family does a great job operating the facility, it's clean, you know what to expect.  Mike Adams is great and the way he approaches the races are to make them run as smoothly as they can to get you out at a decent time on Sunday night and to help keep the racer coming back.  If you have a problem, they can address it immediately, no lengthy board meetings, etc.  Like it or not, when a decision is made, you know what it is and you say "OK, let's get with it and back to racing".
The schedule is usually pretty good and spread out over the season with typically only two races per month. I say 'usually' because September is loaded up and that is our busy season at MCC (the Motorsports Country Club of Cincinnati), but I understand as it would be an impossible feat to please everyone, but they do their best.  We just attended a meeting that they called to ask the members what they want on rules, etc.  So, it's just a great fair place to race and arguably like racing a regional traveling event every race on the schedule; it's tough company typically.  Competing there has elevated our drivers and program, for sure. If you can win there you are well on your way to competing at the national level in my opinion.
EKN: You've just opened the Motorsports Country Club of Cincinnati for the season. Can you provide the EKN readership with an overview of the club and the facility, and the connection it has with the Trinity Karting Group? Motorsports country clubs are not new in our sport, but a karting-only facility is.
SB: Our official season at MCC is April 1 – November 1 and, weather depending, our team drivers and anxious members usually try to squeeze in some track time much earlier.  We actually had a few come out on a 58-degree February day to turn some laps.   The Motorsports Country Club of Cincinnati is going to celebrate its 12th year in 2019, and we at Trinity Karting Group are proud to say we are going into our sixth season managing this awesome facility for our owner-members. Basing our kart racing operations here, we can literally roll up the garage door and pull on to the track. Trinity Karting Group handles all the day-to-day operations from member services, from new member sales to event sales and event management, grounds maintenance, etc.  MCC is a private country club type facility that was originally constructed by several Porsche enthusiasts to keep them closer to home to feed their need for speed.  We also do several team building and fund raising events with our fleet of rental karts, as well.
The track is a 7/10-mile nine-turn road course, and we run four different configurations and one night oval event. The track also has a unique high-banked corner where you enter in a shifter at 85 MPH; not for the timid, for sure. Unfortunately, at the moment, we do not have the necessary paddock space to host any kind of public club type karting event, but that could change in the future. We currently have around 90 members and store around 150 karts on site.  Our members call ahead and we get their kart out, prep and get them on track. When they are done, they can shower in our clubhouse, and store their gear in the gorgeous locker rooms while we are putting the kart away after checking it over to see if it needs anything repaired for the next visit. The only thing we are lacking is a nice swimming pool, but I am still pushing for that to give the whole family something to do.
The unique thing we offer is a true controlled environment to develop our new drivers. Getting into karting and taking the kart to the track is a huge commitment in terms of time, equipment and knowledge, and while most of our driver take advantage of our full-service approach, we do have members, who we help flatten out the steep learning curve.  I believe we are starting to get recognized for that, as we have new team and club members from Illinois and East Pennsylvania.  I invite anyone that is considering karting to come visit and we can help you decide if this is a sport that you want to get involved in without jumping head first.  Karting is probably one of the best family sports, it is one of few that is for all ages, we have several father/son and father/daughter members that have a blast together.
EKN: When getting 'new people' into the sport is such a concern and a 'buzz word' in our community, it's refreshing to see that this is a primary goal for TKG at MCC. What kind of marketing efforts do you employ to fuel exposure and awareness into the surrounding community?
SB: No softball questions here today (laughing)!  Of course, we have to start with our partnership with eKartingNews.com, but in all seriousness, marketing is tough for sure and very expensive. Our biggest asset for attracting new members to MCC, and eventually kart racing, has to be our corporate events and fundraisers we host here at MCC, as well the members sharing their experiences with friends and family.  Hosting nearly 40 events lets us reach an audience in the corporate community of Cincinnati and the surrounding cities like Lexington, Louisville, Dayton, Columbus, who would otherwise not even know kart racing exists.  We make them feel like true race car drivers and, at the end of the day, we approach our events in the same manner as any professional event, from qualifying to endurance racing with play-by-play announcing and even the occasional "Book It", as well driver interviews, live results on Race Monitor…everything, right down to the final podium presentation.
So that helps spread the word on kart racing, then they also get to witness some of the race karts in exhibition runs. We typically have a display of karts from our race fleet and explain how karting is great sport for the family. MCC also helps with school fundraisers in the area with silent auction items trying to help raise awareness of the sport of karting to the demographic we should be reaching.
Additionally, we have a Kart Camp in June that uses our rental fleet. We go over all the fundamentals of kart driving, all the way to lining up for a start of a race against our instructors to end the camp.  The other thing I hope helps is our open format at the races we attend. We try to be as inviting as possible and welcome anyone in our tent to ask questions on how to get involved.  The big tents at the race can be somewhat intimidating to approach, but we welcome it and want to let anyone that is interested to just pop in and talk with myself or any of our team family members. We are a new driver development program and want to help how we can.
EKN:  That's exciting for you and the club, and it's exciting for the sport on the whole.  Growing awareness of karting is something that we should all being doing on the ground level.  Shawn, thank you so much for taking some time out of your schedule to chat with us, and good luck this weekend and through the 2019 season.  We look forward to seeing you at an event in the near future.
SB: Rob, I can't thank you, David and your whole staff for all you do for karting. It is an exciting time in karting and I can't imagine the void there would be without you guys promoting the sport in the US and Canada!  We will for sure see you at the Battle at the Brickyard and New Castle for SummerNationals.