Mad Old Nut Racing Signs Jake French for Remainder of 2019 Season
Official racing team of Croc Promotions USA continues to strengthen program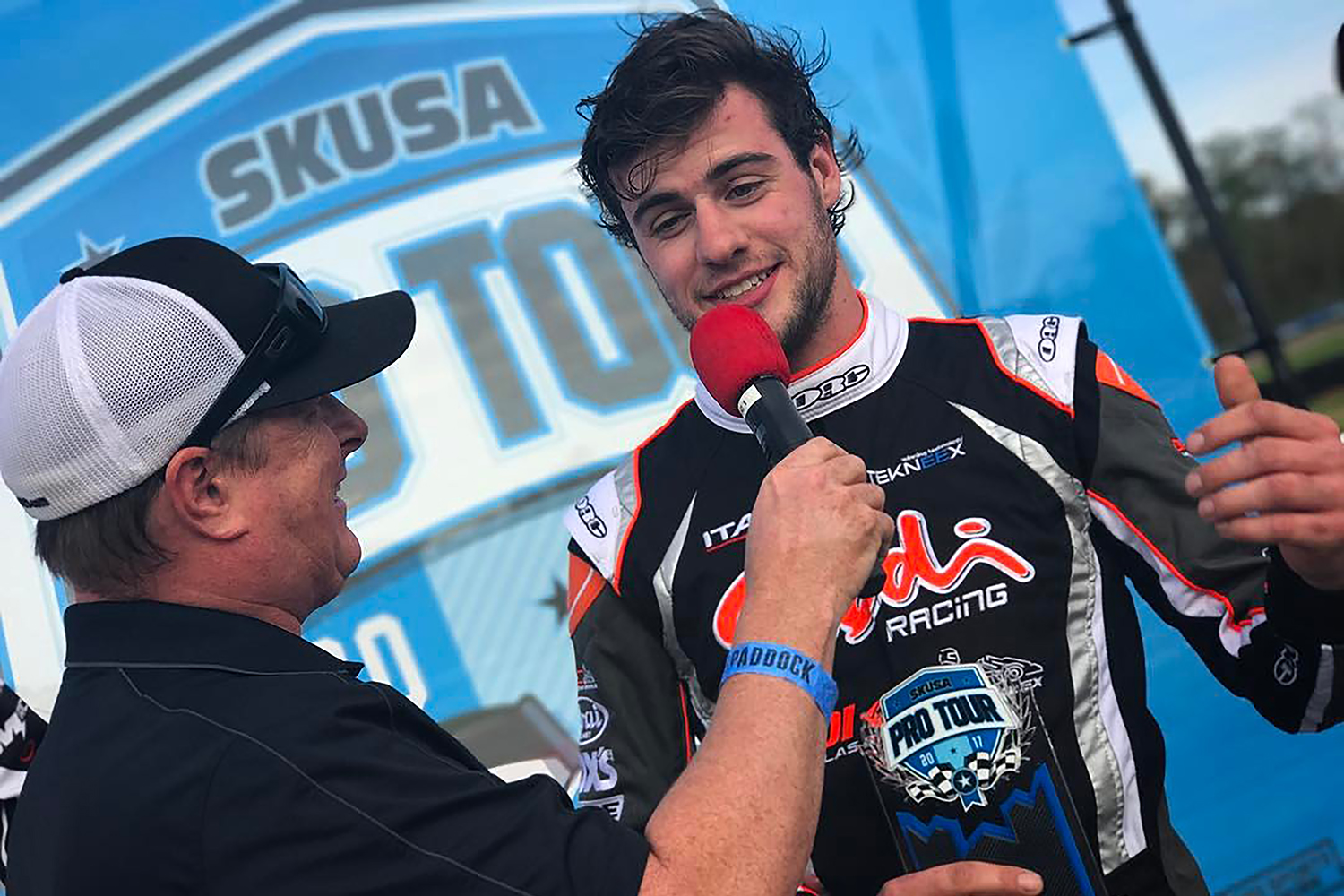 Mad Old Nut Racing is thrilled to add former SKUSA Pro Tour champion Jake French to the team to compete in the Pro Shifter and X30 Senior categories
(Photo: Superkarts! USA)
Mad Old Nut Racing – the competition component of Croc Promotions USA – is thrilled to announce that the team has come to an agreement with former Superkarts! USA Pro Tour S1 Pro Stock Honda champion Jake French to compete with the squad for the remainder of the 2019 season. The 22-year-old Texan will begin testing immediately with plans to make his debut in California at the next round of the Los Angeles Karting Championship ahead of the SKUSA SpringNationals in Utah during the first weekend of May. French will race both Pro Shifter and X30 Senior, picking up the team banner alongside SKUSA WinterNationals winner Andrew Bujdoso.
"We've had an amazing start to the year and there are always going to be bumps and bruises along the way, but I'm a firm believer in fate," commented Todd Ulman, the owner of Mad Old Nut Racing and Croc Promotions USA. "Signing Jake French to the Croc Promotion USA race team is truly a blessing. I can't wait to see where the future leads, and am excited for the ride!"
"Having a driver change mid-year, I wasn't sure how it would work out, but it couldn't have worked out better," added current Mad Old Nut Racing pilot Andrew Bujdoso, who scored his first national Superkarts! USA win at the WinterNationals earlier this month. "I'm thrilled to be racing alongside Jake and I look forward to continuing to develop this race-winning chassis."
Since stepping away from full-time competition at the end of the 2017 season, French has been working in the karting industry with a Dallas operation for several years, and has been coaching drivers young and old in the Texas karting community and beyond. The former SKUSA champion is extremely excited to have the opportunity to once again put all of his focus into competition.
"I'm super excited for this opportunity," French added. "I took a break to figure things out for this year or next and an offer from Todd with Mad Old Nut Racing opened up and couldn't refuse it! I'm looking forward to getting back in the seat in both the shifter category and X30 Senior. I'll be working very hard this next month to be getting ready for SKUSA SpringNats in Utah. I'm thrilled with the opportunity to work with Todd and to build up an awesome brand with great success."
The team has not yet confirmed Jake's final racing schedule, but he is expected to race the remainder of the SKUSA Pro Tour and the SuperNationals, in additional races with the LAKC and SKUSA regional programs.
The team is shipping a pair of new Croc Promotion MC01USA19 chassis to French on Monday morning so that he can immediately begin testing both the shifter and single-speed product ahead of the upcoming LAKC event at Calspeed Karting on April 14. Jake will once again have his father Mark managing his effort, reuniting the father-son team that has been so successful over the last 10 years.