A Tough Race with an Overall Podium for Alex Powell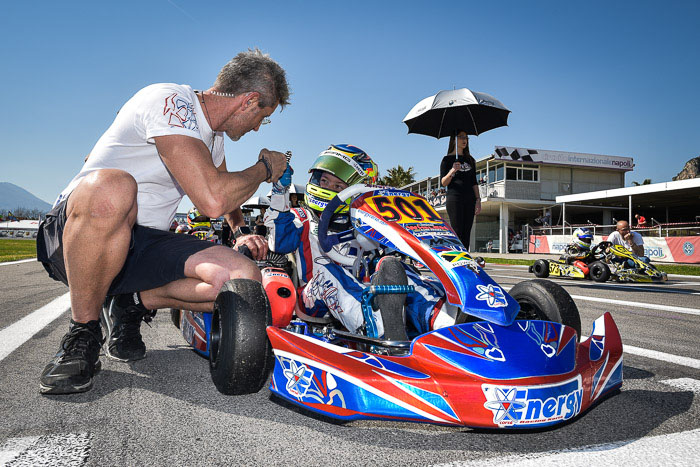 Coming back to 6th in the Final on the fast and ruthless karting circuit of Sarno, Alex Powell secured a magnificent 3rd position in the overall WSK Super Master Series ranking in the 60 Mini category. In 2019, the standard of this international competition was extremely high, with no less than 137 drivers ranked! Driving for the Energy Corse team, the young Jamaican hopeful is already ready to take on other challenges…
An emerging talent
Thanks to his first participation in the whole WSK Super Master Series, Alex Powell has gained valuable experience on the most spectacular Italian circuits. Since the beginning of February, the Jamaican has consistently demonstrated his talent despite weather conditions that have changed frequently as time went on. Located near Naples in the southern part of Italy, Sarno is characterised by a very fast layout, which is never easy to manage for the young drivers.
"It is important to take into account the phenomenon of slipstreaming and pay attention to the speed at the exit of the turn, because the gearing is specific to Sarno," said the technical team of the official Energy Corse team. "In a pack, you can quickly win a place, but also lose three or four at a time."
A highly contested Final phase
In Timed Practice, Alex Powell was unable to achieve the expected performance and settled for 20th place, which forced him to keep pushing throughout the meeting. Despite a clear run in the Qualifying Heats, Alex gained only two places in the provisional standings. He continued his efforts in his Prefinal and managed a remarkable comeback from 9th to 4th place, with brilliant lap times.
In the Final, Alex Powell again made an excellent and incisive start. He was on track to conquer the podium, but came up against a very turbulent pack, in which positions changed constantly over the laps. Finally, he crossed the finish line in 6th position after starting 7th. The Jamaican was better off, especially as he was only a point away from the title of Vice-Champion in 60 Mini. Alex has still made a bright start to the season, with two wins and podium at in the 2019 WSK Super Master Series on his brilliant Energy Corse-TM.