Breaking News: Mad Old Nut Racing Releases Myers
Emerging team parts ways with national #1 driver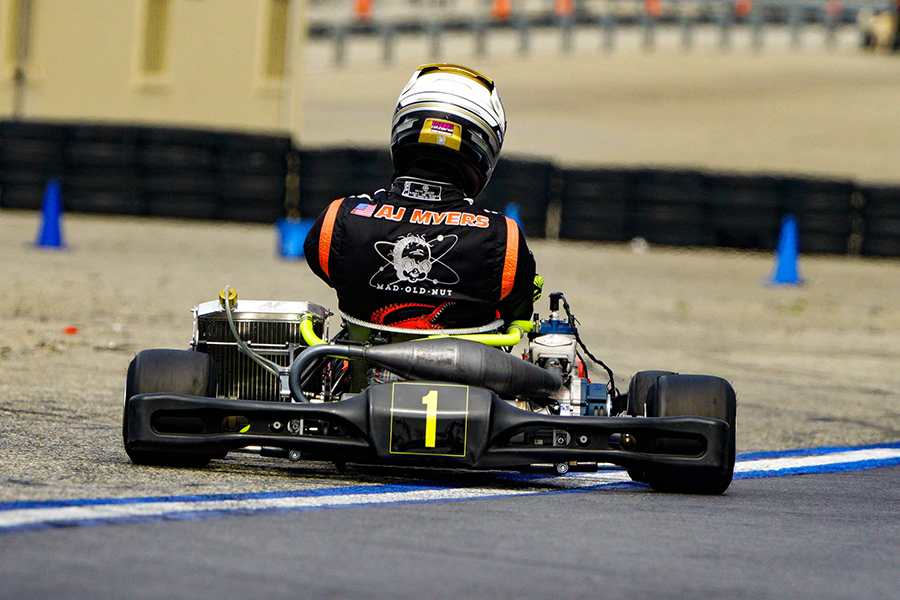 Mad Old Nut Racing and Croc Promotion USA part ways with AJ Myers (Photo: On Track Promotions - otp.ca)
EKN has learned that Mad Old Nut Racing – the competition component of Croc Promotion USA – has parted ways with #1 ranked driver AJ Myers, effective immediately.  According to our sources at Mad Old Nut Racing, the reasoning behind the surprise separation is Myers' inability to attend this coming weekend's SKUSA California ProKart Challenge opener at Buttonwillow Raceway Park, which the team states is crucial to their competition, promotion and branding efforts.  Myers was scheduled to lead the rollout of Croc Promotions USA's new livery at the event.
This news comes directly on the heels of Myers' winning the Rok Cup Florida Winter Tour Shifter Senior Rok championship this past weekend in Ocala, his second title of the 2019 season. Myers had previously secured the SKUSA Winter Series championship in the Pro Shifter category, winning three of the four main events.  Myers and his former Mad Old Nut Racing teammate Andrew Bujdoso swept the Pro Shifter 1 main events at the SKUSA Pro Tour WinterNationals at CalSpeed in March as well.
According to Mad Old Nut Racing CEO Todd Ulman, Bujdoso will remain with the team and will lead the Croc Promotion USA charge at the California PKC event at Buttonwillow this weekend. In addition, Billy Musgrave will drive the Croc Promotion chassis in the X30 Senior category for the entirety of the 2019 California PKC schedule.
"Mad Old Nut Racing has severed our ties with AJ due to scheduling conflicts," Ulman told EKN today. "We need our drivers to attend events big and small, and unfortunately with AJ finishing school, this was not possible. We wish him the best in his future endeavours and we were lucky to have him race our Croc Promotion brand to the top of the podium in nearly every race entered, including two championship wins already in 2019. AJ is a talent on and off the track, and he will be missed."
Myers made his debut with Mad Old Nut Racing last September at the Streets of Lancaster Grand Prix in preparation for the SKUSA SuperNationals in November.  At the SuperNats, Myers finished second to Musgrave in Pro Shifter on SuperSunday and used that result to claim the #1 position in the EKN Driver Rankings.
"I appreciate all they have done for me and wish them luck in their future," stated Myers, when contacted by EKN.
Ulman did tell EKN that he is now on the search for a new driver to pair with Bujdoso for the remainder of the season and beyond, to keep the Croc Promotion brand up front.